Strawberry Yogurt Tartelette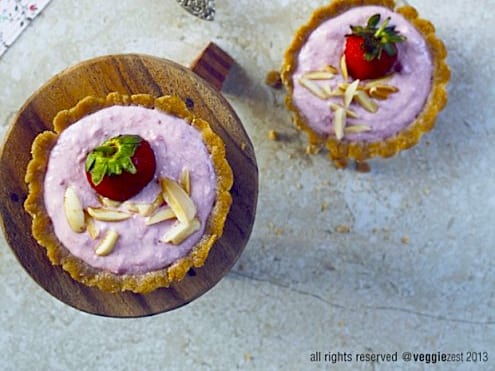 This is a quick and a delicious dessert which can not only be done with different fruits but is also on the healthier side.
By Pallavi Gupta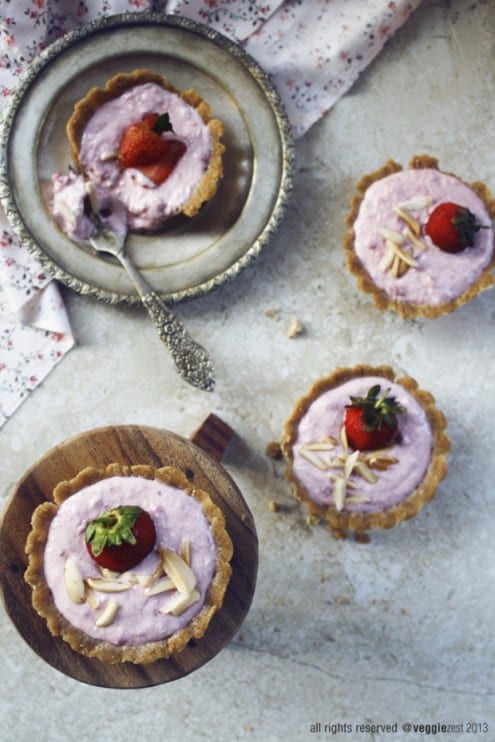 It is a quick and a delicious dessert which can not only be done with different fruits but is also on the healthier side. Spring is here – make most of the beautiful fruits that are being sold in your farmer's market. Enjoy!
Strawberry Yogurt Tartelette
This is a quick and a delicious dessert which can not only be done with different fruits but is also on the healthier side.
Ingredients
For the dough
1 cup whole wheat flour
1 tbsp honey
2 to 3 tbsp peanut butter
For Strawberry Yogurt
1 cup Greek yogurt
2 tbsp cream
1 pint fresh strawberries, roughly cut into small pieces (save a few for garnish)
2 tbsp honey (or more if you prefer it sweeter)
dash of vanilla extract
Instructions
Dough:
In a pan dry roast the flour on medium low till it becomes light brown in color and starts smelling nutty.
Once toasted, remove the flour from heat and let cool.
Add honey and peanut butter to the flour and knead it with your hands to form a dough.
Refrigerate for 10 minutes (wrapped in a plastic wrap) for 10 minutes. Divide the dough into 5 equal parts.
Take one part of the dough and using your fingertips press it into the tart shell till its equally distributed and forms the shape of the tart shell. Repeat for the rest of the shells.
Bake at 350 F for 10 minutes. Cool completely before filling the yogurt mixture.
Yogurt:
In a large bowl, add strawberries, honey and vanilla.
Using a fork mash up the strawberries till it becomes pulpish – but you can still see some chunks of the fruit here and there.
In a separate bowl whisk yogurt and cream together till it forms a smooth lump free mixture.
Fold in the strawberries into the yogurt mixture.
If the yogurt is not cool then refrigerate this filling for an hour before spooning it into the tart shell.
Spoon the cooled yogurt strawberry mixture into the tart shell.
Garnish with some slivered almonds and fresh strawberries.
Serve right away.
Pallavi Gupta
Pallavi is a vegetarian globetrotter, who currently lives in the southern part of India. Past ten years of her life includes living in six cities in three different countries. It has added to her vast exposure of cuisines from different parts of the world which is now reflected in her cooking. She shares her knowledge of vegetarian and vegan recipe from around the world via her blog Veggie Zest. When not cooking or photographing, she does graphic design.