A decadent twist on a summer classic, this strawberry goat cheese crumble with a basil balsamic reduction is everything your ice cream needs.  You'll fall in love with farm fresh strawberries and raspberries, maple goat cheese, and the spelt pecan crumble.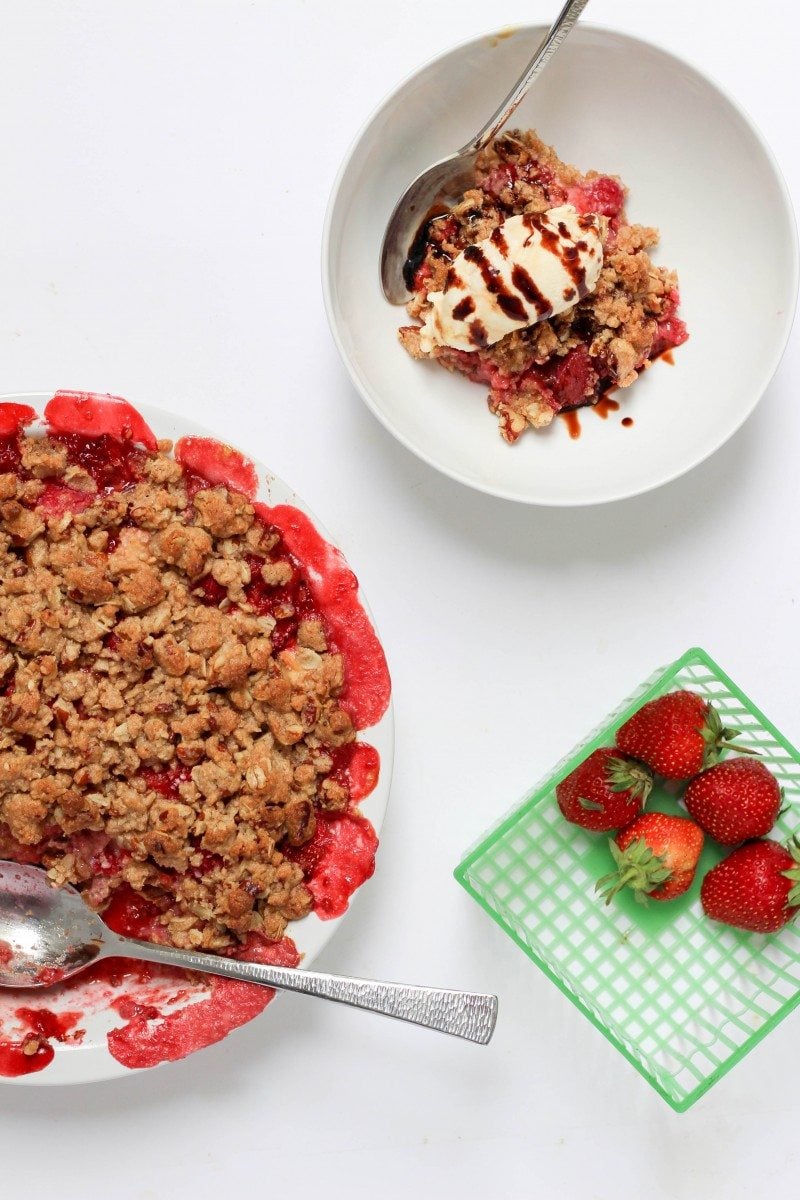 I am a crumble girl.  I can't even count the number of times I have made Smitten Kitchen's Strawberry Rhubarb Crumble.  It's all a blur to me now.  A wonderful, euphoric blur. The recipe is plastered on the inside of my head I love it so much.  But I am also a creative.  Which means I just can't help fixing something that isn't broken.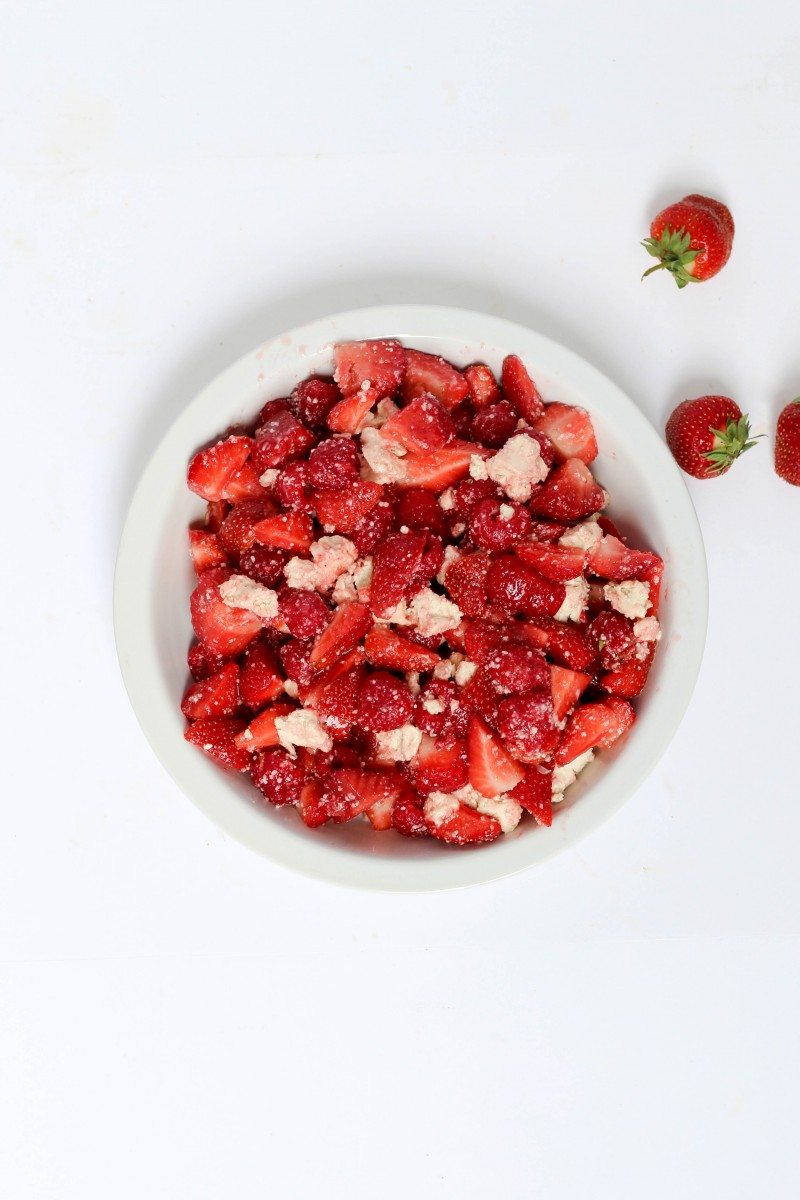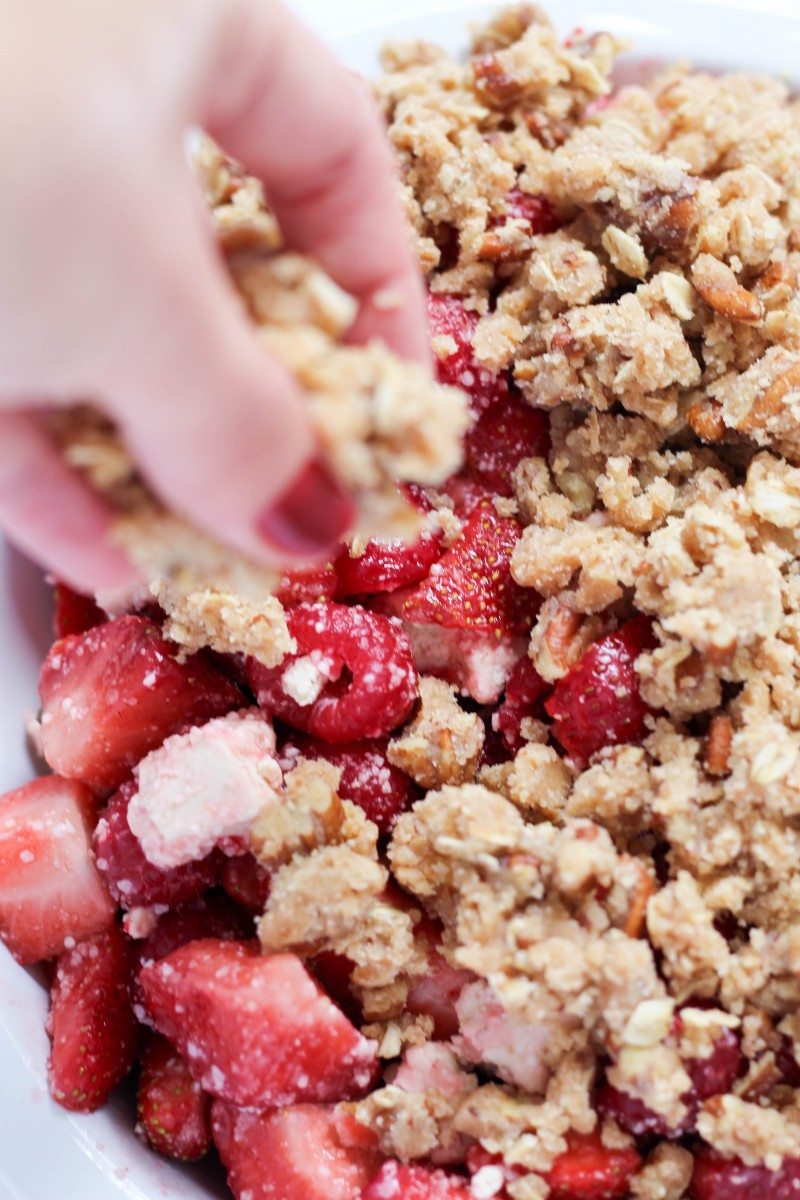 This strawberry goat cheese crumble is a result of a conscious effort to play around with flavors and textures.  It hones in on the sweetness of fresh farm raspberries and strawberries, the creamy tang of goat cheese, and the nutty, cookie-like crunch of the spelt and pecan crumble.  It's like pie met cheesecake, and then had the tastiest baby around. And if that, and a large scoop of vanilla, weren't enough, cuz it never is with me, it's drizzled with a basil infused balsamic reduction.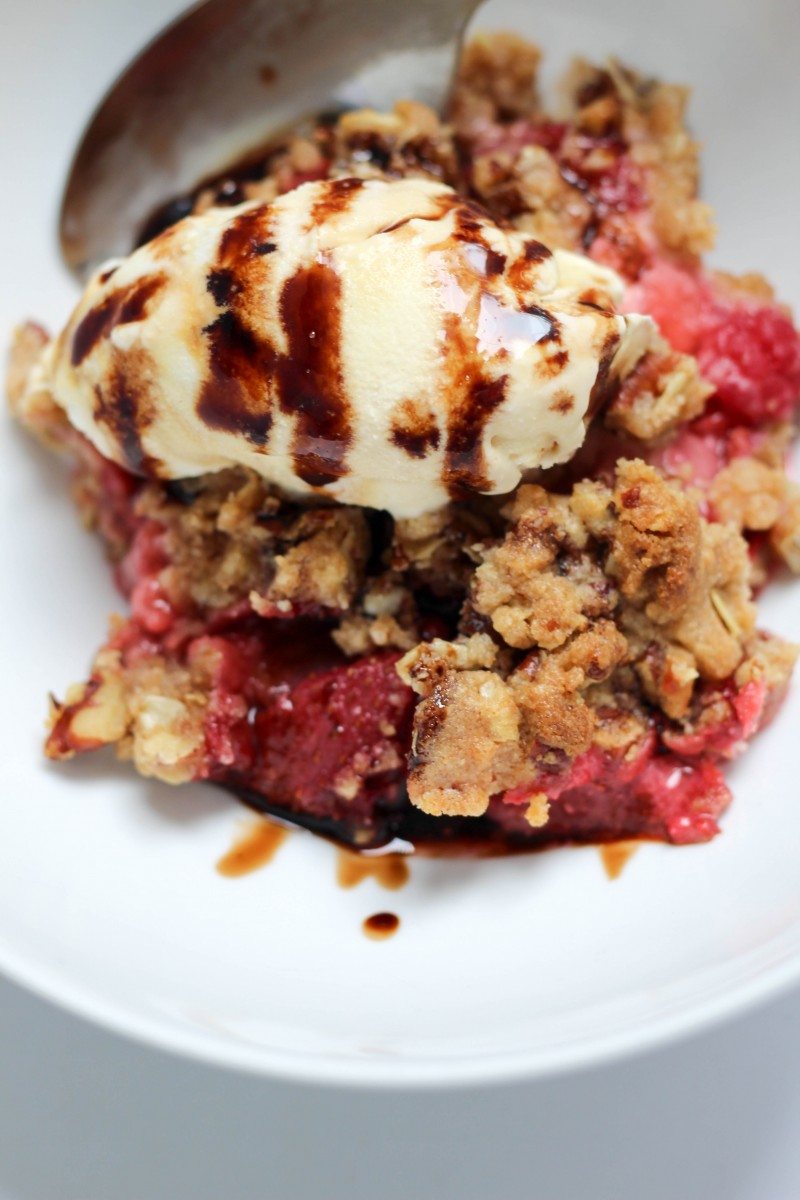 One taster commented that it had the flavor notes of witchcraft with a little hint of magic. Best compliment ever!
Whether you're up to your elbows with fresh picked berries or are a crumble addict like I am, this strawberry goat cheese crumble goes above and beyond the ability to not disappoint.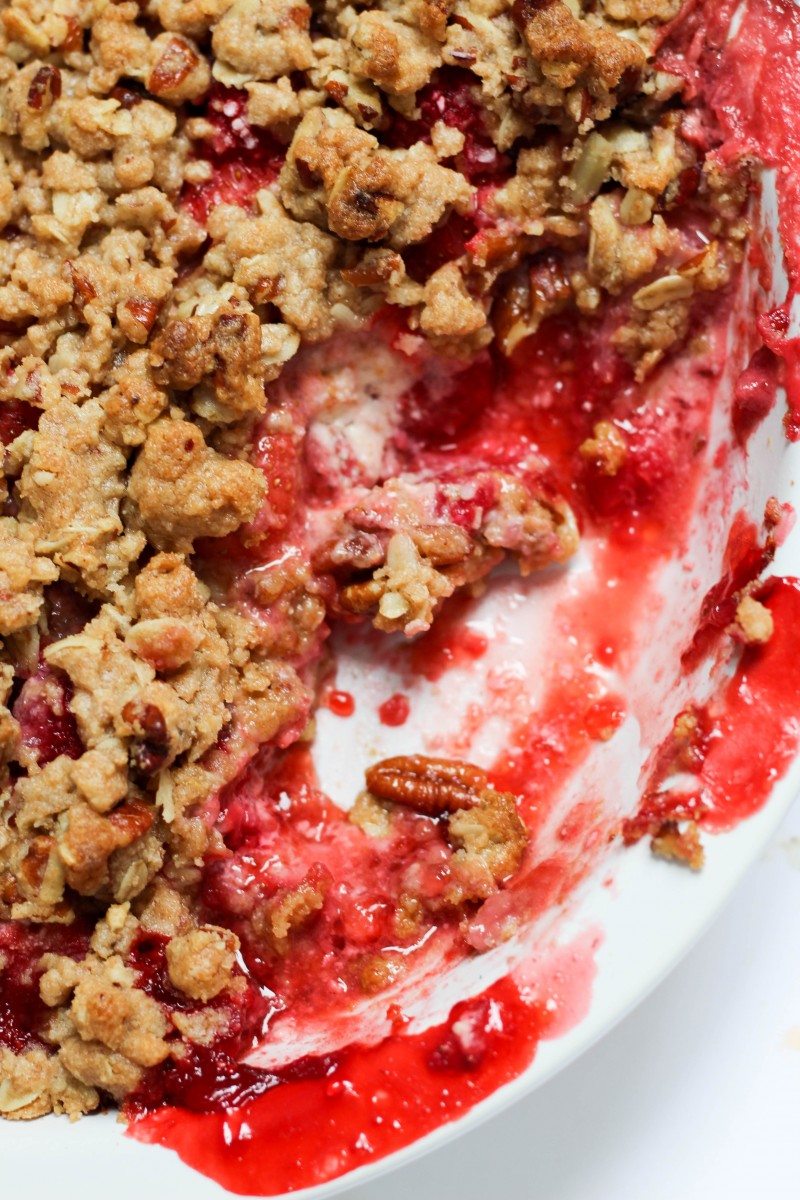 Print
Strawberry Goat Cheese Crumble
Author:

Stacy Feyer-Salo

Yield:

8

1

x
Category:

Dessert
Crumble
3/4 cup

spelt flour

1/4 cup

oats

1 cup

raw pecans (chopped)

3 Tbsp

coconut or cane sugar

1/4 cup

butter (melted)

1 tsp

baking powder

1/4 tsp

sea salt
Filling
1 quart

strawberries (stems removed and quartered)

2 cups

fresh raspberries

2 Tbsp

tapioca or

3 Tbsp

corn starch

1/3 cup

maple syrup

1/4 tsp

sea salt

5 oz

/140 g goat cheese (maple flavored if possible)
Basil Infused Balsamic
1/2 cup

balsamic vinegar

1/2 cup

fresh basil (roughly chopped)
Instructions
First, set your oven for 375 F/190 C/5 Gas.
CRUMBLE: In a medium size bowl, toss together all of your crumble ingredients except the melted butter, making sure everything is nicely incorporated. Pour in the butter and mix until combined. Place the crumble in the refrigerator while you make the filling.
FILLING: In another medium sized bowl, fold together all of the filling ingredients until everything is nice and coated with tapioca or cornstarch and maple syrup. Add medium size chunks of goat cheese to the filling and gently fold so that it is evenly distributed but so that the goat cheese remains in large pieces. Pour the filling into a 9 inch/23 cm pie pan or 2 quart/2 L casserole.
BALSAMIC REDUCTION: Add the balsamic vinegar to a small sauce pan over medium heat. Bring to a gentle simmer and turn down the heat just slightly so that it maintains a gentle simmer but does not boil. Simmer for 5 minutes. Remove for the heat and toss in the fresh basil and stir. Allow to sit for 5-10 minutes to let the basil flavors infuse. Strain out the basil and it's ready to serve. Store in an air tight container on the counter for up to a week.
BAKE: Remove the crumble from the fridge and break it apart over top of the filling so that it is evenly coated. Place in the oven with a sheet pan on the rack below to catch any over drip. Bake for 35-40 minutes. Allow to sit at least 20 minutes before serving. Serve with a drizzle of balsamic reduction and a scoop of ice cream. Store covered in the refrigerator for up to 5 days.
Stacy Feyer-Salo
Stacy is the creative director and photographer for the food blog POP KITCHEN. Creating accessible, vibrant, healthy and simple recipes while have fun doing it is her jam! As a trained chef, Stacy has worked as a meal planner and private chef for almost a decade and wants to share all her skills. She lives in Toronto with her family and enjoys listening to hip-hop and eating all the tacos.