Strawberry and Goat Cheese Crostini
Enjoy this scrumptious strawberry and goat cheese crostini recipe from twin sisters Kara and Marni Powers.
By Kara and Marni Powers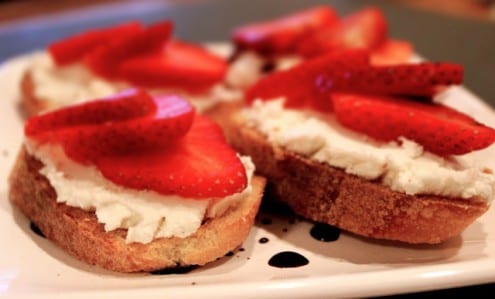 March 2nd celebrates the birthday of the creative, imaginative genius, Dr. Seuss. In reference to one of our favorite Dr. Seuss stories, The Cat in the Hat, we whip up an appetizer inspired by the fun-loving, mischievous anthropomorphic, kitty. With the image of his red and white striped top hat in mind, our striped crostini add a whimsical touch to any birthday gathering.
Strawberry and Goat Cheese Crostini
Enjoy this scrumptious strawberry and goat cheese crostini recipe from twin sisters Kara and Marni Powers.
Author:
Kara and Marni Powers
Ingredients
2 T EVOO
1 French baguette, sliced into ¼-inch biases
8 oz. softened goat cheese
salt and pepper throughout
Balsamic syrup for drizzling
1 c strawberries, hulled and sliced
Instructions
Preheat oven to 350 degrees Fahrenheit. Brush the sliced bread with EVOO, sprinkle with salt and pepper, and toast in the oven for 8-10 minutes or so, until golden brown.
Remove the toast from the oven and generously spread each slice with the goat cheese. Top with a drizzle of balsamic syrup, salt and pepper. Arrange 3 sliced strawberries on top and serve.
Kara and Marni Powers
Kara and Marni Powers are twin sister cooks, dining and blogging their way through Boston's North End and beyond. They see the act of cooking and entertaining as a form of creative expression, an art that encourages the mixing of flavors, spices, techniques and stories. Their interest in cooking dates back to their Greek grandmother's open-arms approach, letting them taste her savory creations like her famous spanakopita. Kara and Marni's fascination with food and culture continued during their travels abroad in Europe where they saw firsthand the limitlessness of cooking.