Almost Bellini – with a Strawberry Twist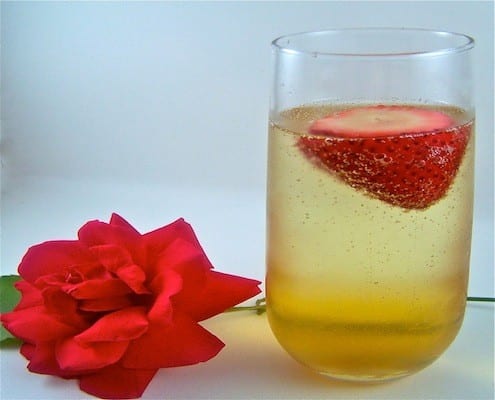 On Valentine's Day, the combination of peach, strawberries and bubbly wine, is destined to be successful.
By Jerri Green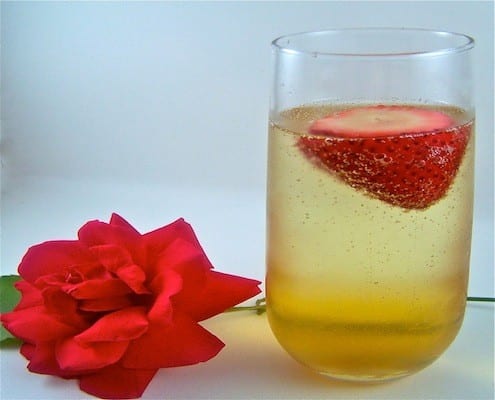 My cooking adventures are not only a challenge when it comes to planning meals that both my carnivore husband and I can eat together, but I am also always trying to expand the man's palate. If it were up to him he would eat the same five meals for the rest of his life and they aren't exactly complex. Think pizza or steak and potatoes. But, it doesn't stop with his plate. My carnivore also has strict rules when it comes to his adult beverages. They can basically be boiled down to "would James Bond or John Wayne drink this?"
However, it never fails that when I order some super fruity pink drink with an umbrella, he always wants a sip (or two). And, his usual comment is something along the lines of, "that's not bad," which in the words of my carnivore means it is actually pretty good. So, on the off chance we are having a special (read romantic) dinner at home together I try to make a cocktail we can both enjoy – even if it is a little girly. No one has to know, right? I had to give up imbibing while pregnant, so I recently rewarded myself (and the carnivore) with my favorite drink – a version of a bellini. James Bond or John Wayne might not drink this – at least not in public – but my carnivore hubs will – at home. I serve mine in stemless flutes to make them a little less girly.
Bellini with a Strawberry Twist
A simple drink for your romantic night in
Ingredients
Peach liqueur
Champagne or prosecco
Fresh strawberries
Instructions
Simply grab a good peach liqueur and a nice bottle of champagne.
Fill your ¼ of the champagne flute with the peach liqueur and the rest of the way with champagne. Top with a strawberry.
Hope everyone has a wonderful Valentine's Day. Cheers!
See Also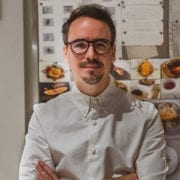 Jerri Green
Jerri Green is a vegetarian that lives with and loves a self-proclaimed carnivore. She makes meals work for everyone while juggling the mounting demands of motherhood. Nothing fancy but always fresh, she draws on her southern heritage to bring satisfying food to the table each and everyday.