This Stir-Fried Hoisin Beef Bowl is packed with flavor and can be ready in 30 minutes or less. Beef mixed with diced mushrooms, red onions, and spices are sautéed in a sweet and savory sauce.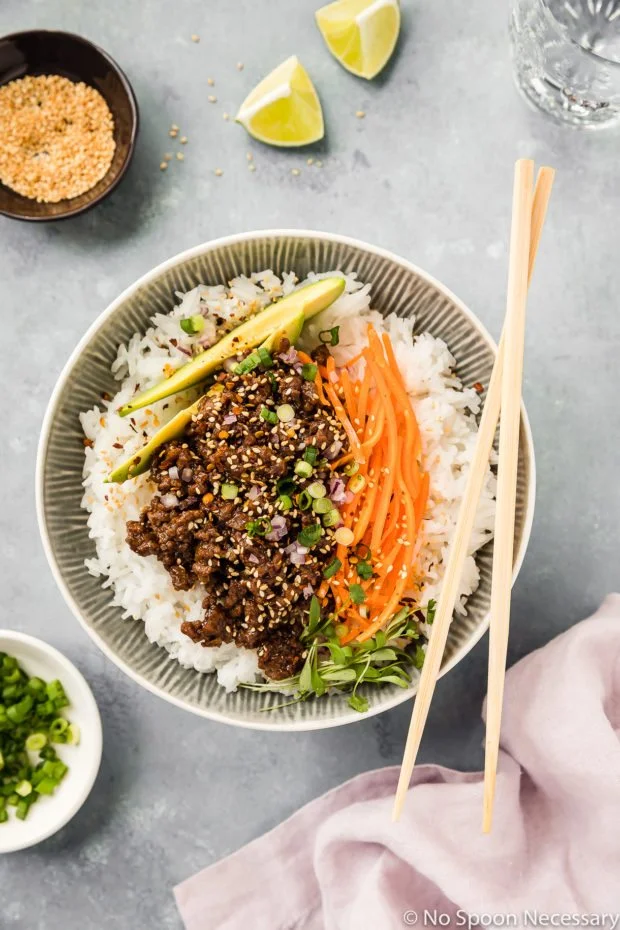 Meaty, umami packed mixture of lean ground beef, finely diced mushrooms, pungent red onion and mild Asian aromatics sautéed in a sweet, savory honey and hoisin sauce. Served atop a bed of fluffy jasmine rice, then garnished with creamy sliced avocados, crisp carrots, sliced scallions, fresh microgreens and nutty sesame seeds, these bowls are packed full of flavor.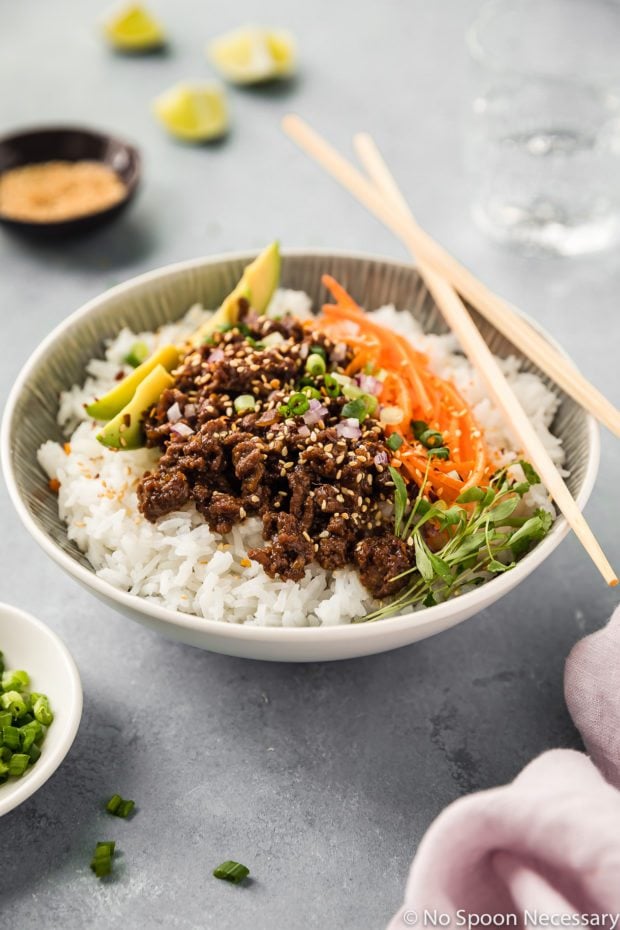 See Also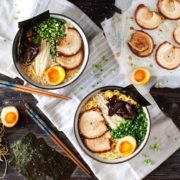 The recipe for these honey hoisin beef bowls utilize ground beef. While you can use any type of ground beef, I personally used ground sirloin since it is one of the leanest types of ground beef. While ground round beef, also referred to as extra-lean ground beef, is a leaner cut, it lacks the beefy flavor ground sirloin delivers. If you use regular ground beef or ground chuck, which have a higher fat content, you may need to wipe the excess fat from the pan after browning the beef, and before adding the mushrooms in step 2 of the recipe.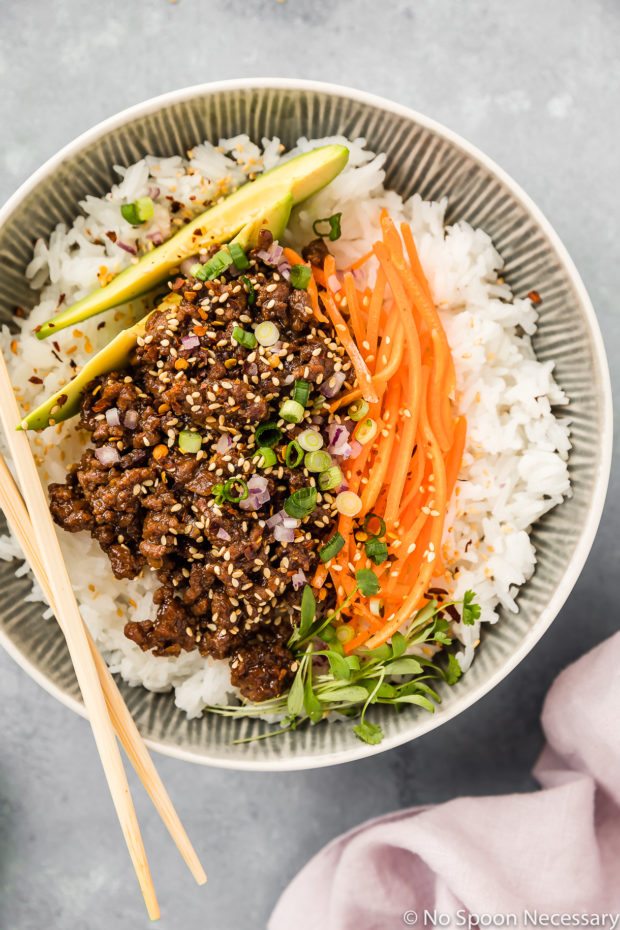 Print
Stir-Fried Hoisin Beef Bowl
Author:

Cheyanne Holzworth

Prep Time:

15 minutes

Cook Time:

15 minutes

Total Time:

30 minutes

Yield:

4

servings

1

x
Category:

Main
Stir-Fry:
1

TBS Oil neutral flavored such as vegetable or canola

½

small Red Onion finely chopped

½ Cup

Mushrooms finely chopped* (button or baby bella)

3

cloves Garlic minced

1 tsp

Ginger grated

1

pound Ground Beef *
Salt & Pepper to taste
Sauce:
Click the link above for the recipe
Bowls:
4 Cups

Cooked Rice long grain is best (such as jasmine or basamati)
Optional for topping:
Carrot cut into matchsticks
Avocado sliced or diced
Micro Greens
Scallions curls or sliced
Sesame Seeds Crushed Red Pepper Flakes
Instructions
Make the sauce: In a small bowl whisk together all the ingredients for the sauce. Set aside.
Stir-fry: Heat the oil in a large skillet over medium-high heat. Add in the onion and cook for 1-2 minutes, or until starting to soften. Add in the beef, and season generously with salt and pepper. Sauté until almost browned, breaking it up as you go, about 4 minutes. Add in the mushrooms and continue to stir-fry for an additional 3-4 minutes. Add in the ginger and garlic and season again with salt and pepper.* Cook until aromatic, about 1 minute. Add in the sauce and cook for an additional 2 minutes, or until everything is coated and the beef is cooked through. Taste and adjust for seasoning with salt and pepper.
Assemble the bowls: Add rice to the bottom of serving bowls and top with beef. Garnish with desired toppings and serve. Enjoy!
Notes
-This recipe utilizes ground beef, and while you can use any ground beef you would like, I used lean ground sirloin. If you use regular ground beef or ground chuck, you may need to wipe the excess fat from the pan after browning the beef and before adding in the mushrooms. Use your best judgement!
-The recipe calls for finely chopped mushrooms, and I highly recommend using white button or cremini (baby bella) mushrooms. Make sure you do NOT soak the mushrooms to clean them. Instead, use a damp paper towel to wipe any dirt from the mushroom, or give them a very quick, light rinse with cool water and pat dry.
-Make sure you season the stir-fry with salt and pepper in layers, as you cook – i.e. season the onions, season the beef, season the ginger/garlic, season the sauce. Adding salt and pepper in layers will ensure the dish as an entirety is seasoned properly!
Cheyanne Holzworth
Hi there! My name is Cheyanne. I am an avid foodie, culinary school graduate, recipe developer and newbie blogger. I find peace and joy being in the kitchen and am obsessed with feeding anyone who has an appetite. I am also a lover of food porn. I picked up a camera one day and fell in love with food photography. Then I got a wack-a-me-me idea to start a food blog and the rest is history. No Spoon Necessary is a place where I share my passion for food and photography with all who care to join me. I also rant, ramble on and share my life a little. In a world filled with so many talented food bloggers, I am simply trying to carve my space in www dot com land, take you all with me on the crazy ride and cook 'n eat some delicious food along the way! So, strap on that apron and work some culinary magic with me. Cheers!