Indulge your sweet tooth in NYC at Stieber's Sweet Shoppe.
By Suzanna Heldring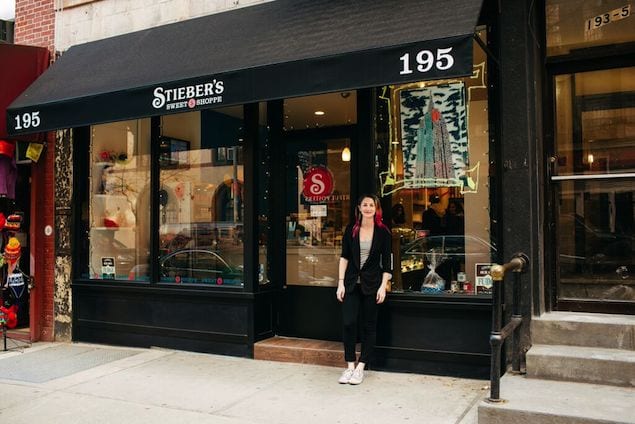 Move over, Dylan's Candy Bar. The newest addition to the NYC sweet-tooth scene is undoubtedly Stieber's Sweet Shoppe. This light, bright space located on trendy Bleeker St. in the heart of Greenwich Village, minutes from the West 4th St. Station, is absolute heaven for any candy-lover. With it's grand opening mere months ago in August of 2014, owner and candy connoisseur Lee Manne has done some amazing (not to mention delicious) things with this shop so far. The original Stieber's is owned by Manne's family in California, but she wanted to take her love for candy to the next level and open her own NYC location.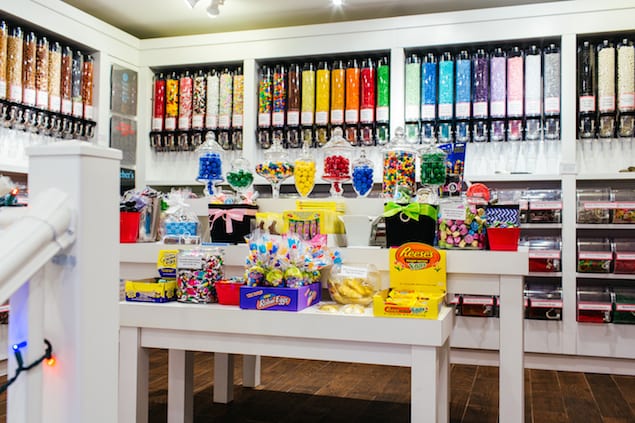 Upon walking in and having a preliminary glance around, one soon comes to the realization that there are some serious candy-related decisions to be made. The walls are lined with every type of candy imaginable, and some perhaps you have never even imagined before in your life. There is everything from your standard M&M's, sour straws, and gummy bears, to the more uncommon chocolate shells, rocks, and pebbles; licorice scottie dogs; and rainbow strawberry laces. There is also house-made fudge and bark in a variety of flavors sure to melt in your mouth.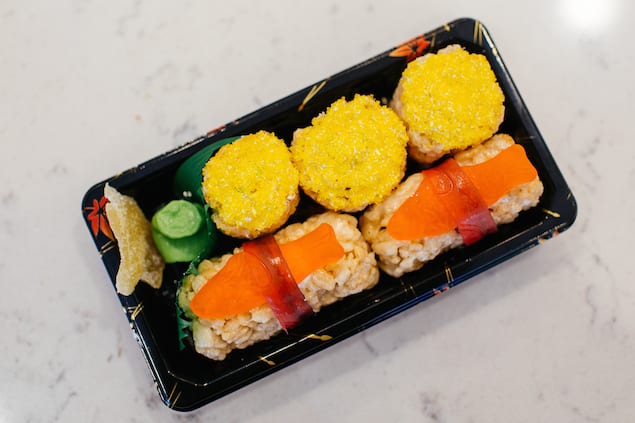 Lee Manne's candy innovation knows no bounds. Her most creative venture is her variety of candy foods she creates with the sweets in her store. It began with sushi, but has expanded to tacos, noodles, pizza, lasagne, lobster rolls: the list goes on and will continue to grow as inspiration strikes her. She holds candy-sushi making classes every week for those who want to get hands-on with the process. These can be private parties or open to the public, and according to Lee, she gets every type of group, from little kids' birthday parties to BYOB bachelorette parties! Fun for all ages.
The newest addition to this candy mecca is ice cream from Blue Marble Ice Cream in Brooklyn, just in time for summer! At the moment, the flavors in store are Vanilla, Mint Chocolate Chip, Caramel Sea Salt, and Mexican Chocolate but the flavors will be on constant rotation. While the ice cream itself is amazing, the main selling point is that you can top it with any –literally any — candy from the store. This includes the fudge and bark. Any sweet sold can go on top of your ice cream! As you might imagine, the concoctions can get pretty decadent and crazy. Stieber's is holding an ongoing Instagram contest to inspire. Load up your ice cream with all the insane toppings your heart desires, Instagram it using the hashtag #TOPTHAT, and the customer with the best submission receives a free ice cream — yum.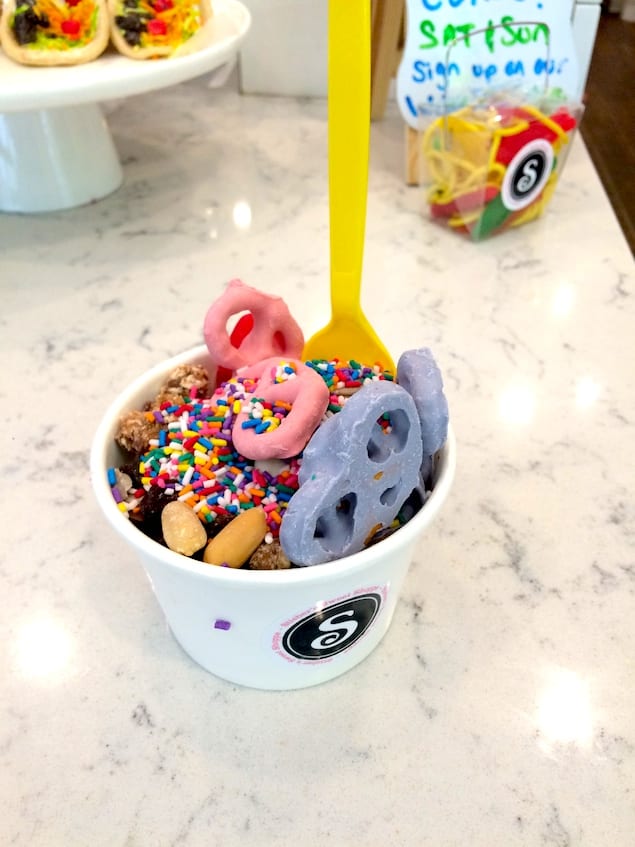 While I can't speak for anyone else, I know my sweet tooth is strong so creating an ice cream topped with whichever candy I wanted was pretty much a dream come true. On my first try I went in full force. I picked all the things that made my heart and tastebuds flutter. This included mint chocolate chip ice cream topped with: rainbow sprinkles, mini Reeses Cups, Snickers bits, blueberry and strawberry yogurt covered pretzels, Swedish Fish, 1 Mary Jane, 1 Squirrel Nut Zipper, yogurt trail mix, and chocolate-covered cookie dough balls, cake batter balls, and bacon toffee balls. Don't judge, for Stiebers is a safe space free from candy discrimination of any kind! The point is to make it your very own. The combinations are virtually infinite.
See Also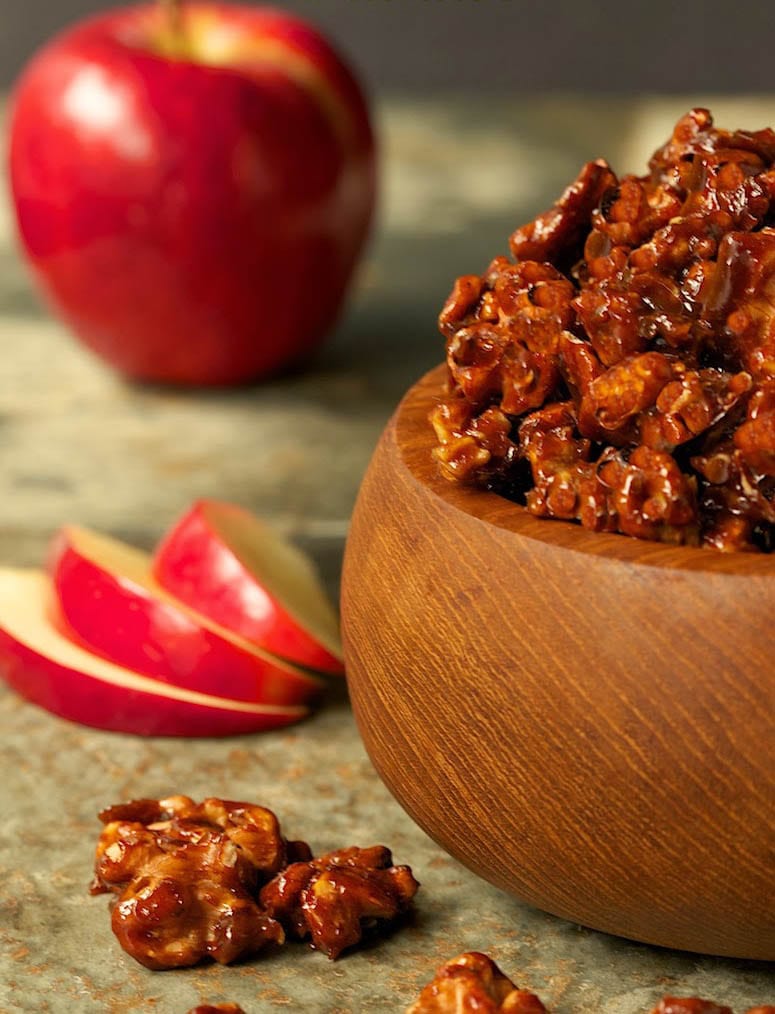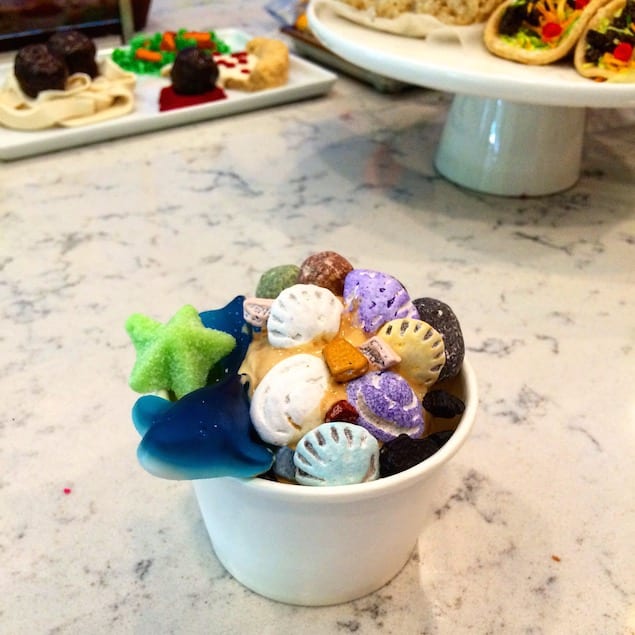 On my second go, I wanted to use a little more finesse and make something clever and aesthetically pleasing. Just so we're all clear, only the first creation was consumed by me. As much as I love sweets, there's only so much ice cream and candy I can possibly eat in one sitting. For this one I chose the sandy colored caramel sea salt ice cream and topped it with chocolate sea shells, pebbles and rocks, a gummy whale, and a sour gummy star fish. This ocean-themed ice cream turned out pretty adorable, if I do say so myself.
Stieber's Sweet Shoppe is more than just a candy store. Think Willy Wonka's Chocolate Factory, (minus all the dangerous candy-related mishaps). There really is something for everyone in this homey yet spacious set up. Be sure to stop by at 195 Bleeker for a candy experience unlike any other.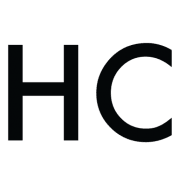 Suzanna Heldring
This New York City native and University of St. Andrews graduate has spent the last few years on culinary adventures around the world to finally find herself right back home again. Most days you can find Suzanna sampling all the green juice, lattes, and craft beer the city has to offer or daydreaming over a good book.