Rhubarb in a custard filling, makes for springtime perfection from a Vermont kitchen.
By Carol Egbert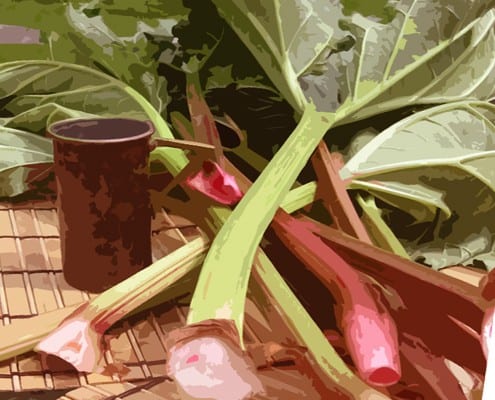 An unattended spring garden in Vermont is full of surprises, mostly weedy ones. We returned from Italy and found that the comfrey, a perennial wild herb, whose leaves are said to cure athlete's foot when tucked between toes and taped in place, was nearly three-feet tall and about to overwhelm the peonies. Lush, tall grass had moved into what were beds of flowers. The good news is that the rhubarb was thriving.
The tall rhubarb flowers led me to it and I harvested the rhubarb, removed the leaves and put the trimmed stalks into plastic bags and stored it in the fridge. I had enough to make four rhubarb treats in less than a week. First, I made a rhubarb custard pie with a recipe from a friend's grandmother, then rhubarb syrup, followed by a rhubarb crumb cake seasoned with cardamom and topped with whipped cream to share with friends, and used the last of my first harvest to make baked rhubarb to add to a salad. It was my friend Cathy who generously served me my first piece of this pie. Here's how I made it:
Rhubarb in a custard filling - perfection.
Ingredients
1½ cups (340 g) granulated sugar
4 Tablespoons plain flour
3 Tablespoons milk
1 teaspoon grated nutmeg
1 teaspoon vanilla extract
3 eggs
4 cups (300g) rhubarb, sliced
1 9 inch (22cm) unbaked pie crust
Instructions
Pre-heat oven to 375º F (190º C)
Combine sugar, flour, milk, nutmeg, vanilla and eggs in a mixing bowl.
Add rhubarb.
Spoon the fruit mixture into pie pan lined with an unbaked crust that extended two inches over the sides.
Fold the extra pastry back onto filling to give the pie a rustic look and make a fancy latticework unnecessary.
Bake for 70 minutes in a 190-degree C / 375-degree oven until the crust to brown and the custard to set.
Notes
Lovely for breakfast if you're lucky enough to have leftovers.
Carol Egbert
Carol Egbert is a writer, painter, graphic designer and cook. Her studio is on a country lane in rural Vermont. During mud season she escapes, for a couple of months, to a flat in Sicily overlooking the Ionia Sea. Her newspaper columns, magazine articles and blog are illustrated with her watercolor paintings – Honest Cooking means beautiful food.