Spinach and mushrooms served in good company with rice for a hearty platter.
By Priya Sreeram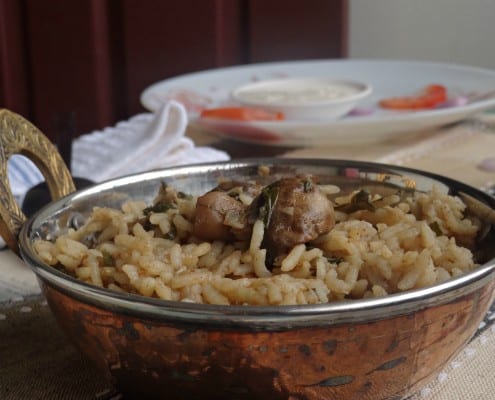 Without rice, even the cleverest housewife cannot cook –  so goes a chinese proverb, and I agree – this staple ingredient must be the most widely cooked & experimented ingredient. I am sure you all would agree, that cooking with rice, the nutritive powerhouse is usually enriching and mostly never fails.My hearth is no exception to that and for this dish yours truly sneaked in spinach & mushrooms to the rice and made it a sell-out.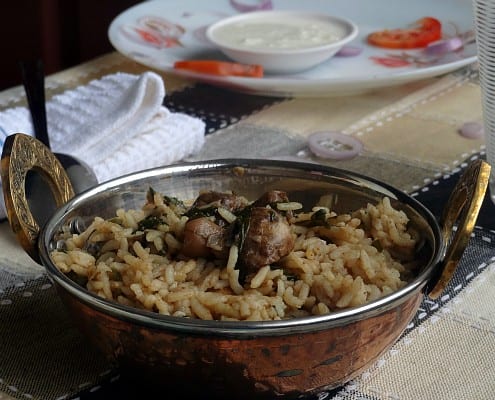 Spinach & Mushrooms in a good company with rice for a hearty platter.
Ingredients
Rice - 1 cup
Olive Oil - 1 tbsp
Fennel Seeds - 1 tbsp
Garlic - 4 to 5 pods - chopped
Onion - 2 to 3 - finely chopped
Bell Pepper - 1 - sliced thinly
Spinach - 1 small bunch - washed thorighly & chopped
White Button Mushroom - 200 grams - washed & cut in to 2 (if very big)
Garam masala - 1½ tbsp - to taste
Salt - to taste
Water - as required
Instructions
Wash the rice well and let it soak for 15 minutes. Drain and Set aside.
In a thick bottomed pan (or a pressure pan), warm oil and let the fennel seeds crackle.
Tip in the chopped garlic and as the hearth engulfs in the aromatic garlicky smell, drop the chopped onions and saute for a few seconds.
Now add the pepper and let it sizzle with the onions for a while.
The chopped spinach joins the fun and as it starts wilting, tip in the mushrooms.
Give the mix a good swirl and add the garam masala as well as the salt to taste.
Finally add the drained rice and the required water and let it cook with the lid closed.Alternatively, pressurecook it for 2 or 3 whistles
Enjoy with choice accompaniments
Notes
The recipe will sizzle even with left-over rice.
See Also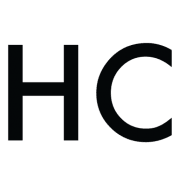 Priya Sreeram
Priya is an enthusiastic foodie who loves to experiment with different types of cuisine. She chronicles her heart and hearth adventures on the blog Bon Appetit, which has recipes ranging from simple to exotic.