The recipe Nancy Lopez-McHugh serves for you today is a little more grownup than just a slice of watermelon.
By Nancy Lopez-McHugh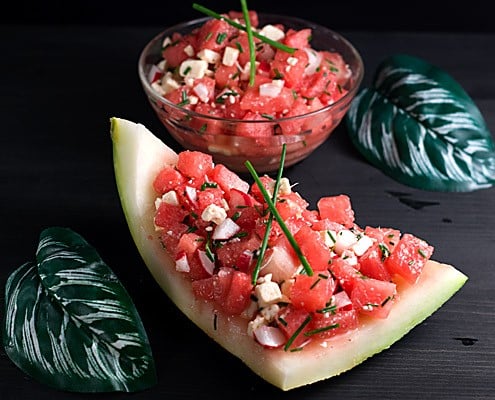 To me no other fruit that says summer like the heavy green oval fruit with a bright red center and little black seeds. Im talking about watermelon of course. It's not like that is the only fruit in the summer or that it's necessarily my favorite summertime fruit. I think it is because of  my personal summertime memories that repeat summer after summer in homes all across the world. You see when I picture a hot, sweaty summer day I see a kid with his or her face buried in a large slice of watermelon gobbling up the sweet fruit. Every bite squeezes out more juicy goodness that runs down the child's face, arms and most likely down the top half of their clothes. As adults that is not an acceptable sight or one that other adults will find as funny and cute as watching a child take such pleasure in a slice of watermelon. Kids get to have all the fun! Nonetheless I think we can all relate to that childhood memory of sitting in a yard in the summer sunshine refreshing our bodies with a chunk of watermelon.
The recipe I have for you today is a little more grownup than just a slice of watermelon. Not that there is anything wrong with a juicy serving of watermelon. I came up with this salsa as a way of using up what was leftover in my refrigerator. In fact it's not much of a recipe but more like a guide of throw this and that into a bowl to create a dish that takes advantage of the bounty of summer. The salsa is so in name but more like a fusion of ingredients so not specifically from one nation.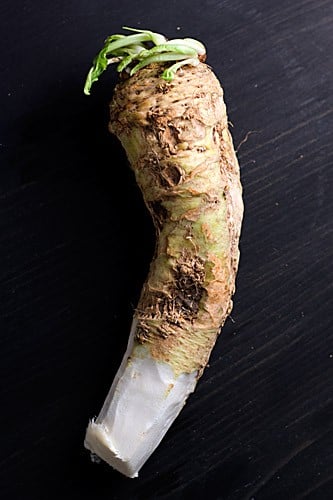 Here is what went into my watermelon salsa, watermelon, cubed and seeded. I threw in some cubed feta cheese along with roughly chopped red radishes. If you don't have red radishes then substitute with finely chopped onion, red would be good. Then I finely chopped a small bunch of chives and added them to the bowl. Guess what there was also a lime, so I squeezed the juice over the other ingredient. Then in the back of the vegetable crisper I found some fresh horseradish root to grate into the salsa, that is where the spiciness was going to come in. The horseradish root gives more of a nasal spiciness than a back of the mouth spiciness that a chile would give. Nonetheless it was a great addition to the salsa. Before you grate the horseradish make sure it is thoroughly rinsed as dirt and debris can become logged in the curves of this root. Then using a vegetable peeler, peel away the darker outer layer until you've reached the white and woody layer. Grate as much as you like into the salsa. Lastly gently toss the ingredients together until well combined. Taste and adjust anything you like.
The salsa was sweet, salty, a little tart and yes spicy. That is the perfect combination of flavors! I served the spicy watermelon salsa with grilled chicken. In fact this would be the perfect accompaniment for any grilled meats. You could also serve as an appetizer or snack with some corn chips. Since the 4th of July means cookouts why not make the salsa and impress your guest. Enjoy it!
Some other watermelon recipes here on Honest Cooking : Summer Sunshine In A Bowl by Alisha Randall, Mouthwatering Watermelon Cocktail by Jerri Green, Watermelon Water or Agua De Sandia by yours truly.
Nancy Lopez-McHugh
Nancy Lopez-McHugh is a food blogger, photographer and published author. Most recently she has published "Yummy Pics: A Food Blogger's Guide To Better Photos".