Tomato rasam is a South Indian dish similar to a spicy Italian pasta sauce that is eaten plain or over rice.
By Chitra Agrawal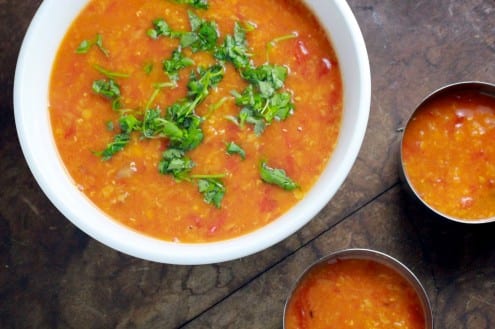 Growing up my mom would buy tomatoes from a local farmstand and I'd eat them whole just like fruit. I love tomatoes so much, I sign up for an heirloom tomato share on top of my regular farmshare every year because it kills me that their season is so short. And now I'm so spoiled from it that I rarely buy a tomato from the supermarket on the off-season. I just can't bear the thought of paying for a waxy, mealy tomato after eating tomatoes like a queen in the summer that cost a lot less!
Heirloom tomatoes in particular are special because they're grown from varieties of seeds that have been passed down for generations, some dating back even 100's of years. These tomatoes are the best tasting ones too because their seeds have not been modified to unnaturally last longer like the ones sold at most supermarket chains. That said though, they don't last long so you have to figure out what to do with them before they go bad.
There are many solutions to this problem – can them for winter, make pounds of gazpacho or tomato sauce to freeze….Or make tomato rasam. Tomato rasam is the South Indian equivalent to Italian pasta sauce in many ways. It's eaten in the home most everyday, but the difference is it's spicy, usually made with lentils and eaten plain or on rice.
Rasa in rasam is actually a Sanskrit word that means juice and rasam is most usually prepared with tamarind or tomatoes. There are several different varieties. Rasam is actually the most common name for it and comes from the South Indian language of Tamil.
See Also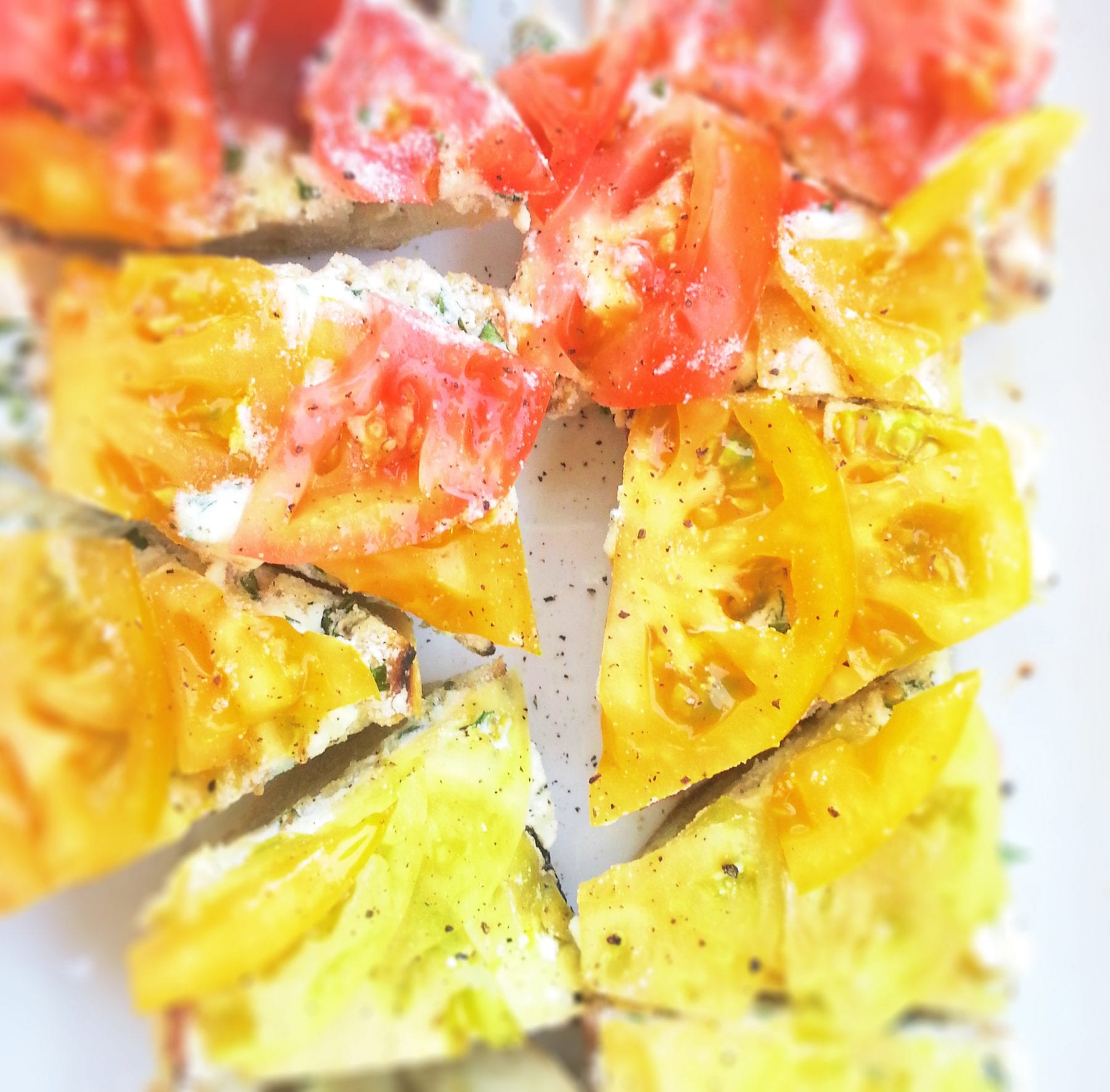 The kind I grew up eating is referred to as saaru in my mother's language of Kannada and most often is made with tomatoes, tamarind and a lentil called toor dal. The flavoring comes from a spice mixture called saarina pudi (saaru powder), which you can make at home or also buy at the Indian market made from red chili, coriander seed, black pepper, fenugreek seed, cumin, mustard seed and asafoetida. Similar to many Italian tomato sauces, you add a bit of sugar or jaggery (unrefined raw sugar) as well when cooking the soup. As a result, rasam or saru has a complex flavor of sour, spicy and sweet.
Print
Spicy Tomato Rasam
Tomato rasam is a South Indian dish similar to a spicy Italian pasta sauce that is eaten plain or over rice.
Author:

Chitra Agrawal

Prep Time:

30 mins

Cook Time:

1 hour

Total Time:

1 hour 30 mins

Category:

Side
4

tomatoes, chopped

1 cup

masoor dal or red lentils

6 cups

water

1 tablespoon

oil (peanut, sunflower or corn is best)

1/4 teaspoon

turmeric powder

5

fresh curry leaves

2 teaspoons

rasam powder – MTR is good brand (ingredients below)

1 teaspoon

brown sugar or jaggery (unrefined cane sugar)
salt to taste

1 tablespoon

ghee or butter
pinch of asafoetida or hing

1/2 teaspoon

cumin seed
cilantro leaves for garnish
Instructions
Wash masoor dal or red lentils thoroughly. Put, dal and water in a pot under medium high heat. This dal has a tendency to foam. Keep removing the foam and throw it away in the sink.
When the water is boiling and you have gotten rid of the foaminess, add the oil, turmeric, curry leaves, tomatoes and mix it all up. Cook until the lentils soft and falling apart – about 40 minutes.
When the dal is finished cooking add the rasam powder. Put the pot on medium heat and let it boil. Make sure that the powder is homogeneously mixed and that there are no lumps. Let it boil to a golden brown color ~ 15 minutes.
Add brown sugar or jaggery and some salt to taste. Let it all boil. If you have a mechanical egg beater, you can use it to mix the whole thing as its boiling in the pot. At this point also you can add more water if you want a more soupy consistency. (I like mine to be medium in weight but everyone has their own preference.) After saru has come to a boil for 5 minutes, remove from heat.
In a small pan take 1 tablespoon of butter and heat it under a medium flame. Add asafoetida and cumin seed. When the cumin seed is golden brown and fragrant, pour over the saru. Add cilantro for garnish.
Serve over rice or drink plain.
Notes: rasam powder is made from red chilli, coriander seed, black pepper, fenugreek seed, cumin, mustard seed, asafoetida
Chitra Agrawal
Chitra writes the food blog, The ABCD's of Cooking, which chronicles her adventures cooking American Born Confused Desi recipes. When she is not recipe blogging, Chitra can be found hosting her online cooking show and a supper club featuring Indian-inspired, vegetarian cuisine. She also teaches cooking classes and sells Indian street foods (sometimes yummy Indian tacos!) at events and artisanal markets in Brooklyn. Her cooking has appeared in the New York Times Dining Journal and she is a contributor to The Huffington Post, Gojee, The Daily Meal and Brooklyn Based.