Spicy Salmon with Absinthe and Tarragon Beurre Blanc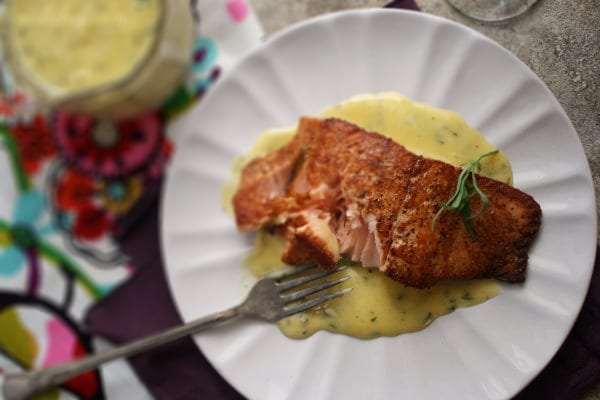 You'd think a piece of salmon (a fatty fish) that is served with a (ridiculously delicious) butter sauce would be heavy, wouldn't you? Well, you'd be wrong.
By Heather Schmitt-González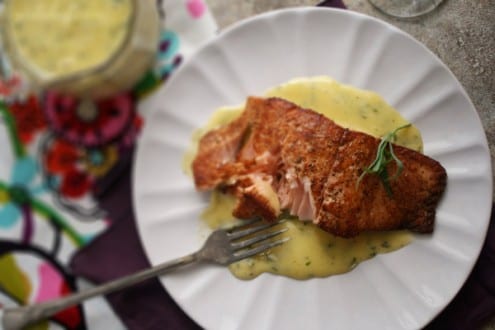 This combination feels light and Spring-like (I'm not saying it IS light, just that it feels that way). It must be the cool sensation imparted by that "flavor family". Enjoying it is one of those "close your eyes and melt" sort of experiences. The addition of some slender steamed haricot vert would complete the experience.
Spicy Salmon with Absinthe and Tarragon Beurre Blanc
You'd think a piece of salmon (a fatty fish) that is served with a (ridiculously delicious) butter sauce would be heavy, wouldn't you? Well, you'd be wrong.
Author:
Heather Schmitt-González
Ingredients
for the beurre blanc:
2½ Tbs. white wine vinegar
2½ Tbs. Absinthe
1 Tbs. minced shallots
½ tsp. salt
? tsp. pepper
pinch crushed anise seeds
1 oz. (2 Tbs.) butter
to finish:
8 oz. (16 Tbs.) unsalted butter, chilled, cut into 16 pieces
2 long sprigs tarragon, leaves stripped and chopped
salt
pepper
lemon juice
for the salmon:
4 (4 oz.) salmon fillets, skinned
½ tsp. coriander seeds
½ tsp. fennel seeds
½ tsp. anise seeds
salt
freshly ground pepper
~2 Tbs. unsalted butter
Instructions
Beurre Blanc:
Place all of the ingredients for the reduction into a 6-cup medium-weight saucepan and bring to a boil until reduced to a syrupy consistency (~1½ tablespoons should remain). This won't take long once it starts boiling.
Remove the saucepan from the heat and immediately beat in 2 pieces of the chilled butter. As it softens and creams in the liquid, beat in another piece. Set the saucepan over very low heat and, beating constantly, continue to add the butter, one piece at a time, once the previous piece is almost entirely absorbed. The sauce should be thick.
Immediately remove from heat as soon as all the butter has been added and stir in the tarragon. Taste and adjust seasonings with salt, pepper, and/or lemon juice. Hold in pan on the back of the stove to keep warm (no heat underneath) while you make the salmon. Whisk once before serving.
salmon:
Place all three seeds in a small pan over medium-low heat and toast, shaking and moving the pan around often, 3-5 minutes or until fragrant. Grind in a spice grinder or using a mortar and pestle. Add a big pinch of salt and a big pinch of pepper; stir to combine.
Lightly dust both sides of each piece of salmon with this spice mixture.
Place a large skillet over medium heat and add butter. Once butter has melted and starts to foam a bit, add the salmon to the pan, "good side" down. Cook without moving for 2 minutes. Carefully flip the salmon over and cook for another 3 minutes or until just cooked through. If you don't have a pan large enough to hold all of the salmon, sauté it in batches, dividing the butter accordingly.
Remove from pan and serve immediately with the Absinthe-Tarragon Beurre Blanc.
Heather Schmitt-Gonzalez
Heather Schmitt-Gonzalez is a Michiana-based food writer with a fondness for garlic, freshly baked bread, stinky cheese, dark beer, and Mexican food—who believes that immersing herself in different cultures one bite at a time is the best path to enlightenment.