The perfect party snack, these taco pinwheels will surely brighten up any festive occasion.
By Faith Gorsky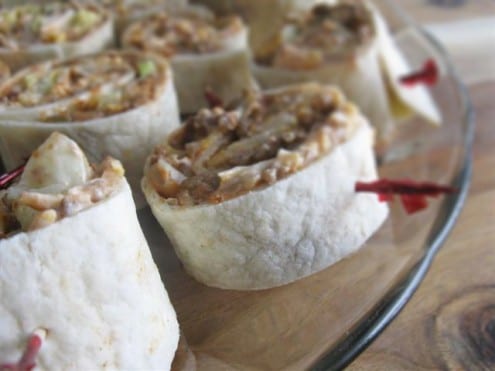 The perfect party snack, these taco pinwheels will surely brighten up any festive occasion.
Ingredients
8 (10-inch) soft flour tortilla shells
1 lb lean ground meat (turkey, chicken, or beef will all work well)
1 large yellow onion, chopped
2 cloves garlic, minced
1 (16 oz) jar Pace Picante Sauce
3 oz tomato paste
½ TB cornstarch
1 tsp each cumin & chili powder
½ tsp each salt, garlic powder, & oregano
¼ tsp black pepper
8 oz Neufchatel cheese
2 c pre-shredded cheddar cheese
½ head iceberg lettuce, shredded
Frilled toothpicks to hold the pinwheels together
Instructions
For the Meat:
In a large skillet, brown the meat and drain the fat if necessary. Add the onion and garlic and sauté on medium to medium-high heat until softened (about 5-7 minutes). Add ½ jar Pace sauce, 1 c water, the tomato paste, all the spices, and the cornstarch; bring it up to a simmer, then turn down the heat to medium-low and simmer uncovered (stirring occasionally) until the liquid has evaporated and the mixture is thick (about 15 minutes). Allow to cool to at least room temperature before assembling the pinwheels.
For the Cheese Mixture:
Mix together the Neufchatel cheese and ½ jar Pace sauce; stir in the cheddar cheese.
On each tortilla shell, evenly spread about ½ c meat mixture; then spread about ⅓ c cheese mixture on top of the meat, and sprinkle on about ½ lettuce. Tightly roll up each tortilla; trim off the ends and slice each into 8 rounds. Secure each pinwheel round with a toothpick.
Faith Gorsky
Faith Gorsky is the writer, recipe developer, photographer, and food stylist behind the blog An Edible Mosaic. Her recently-released first cookbook, An Edible Mosaic: Middle Eastern Fare with Extraordinary Flair (Tuttle Publishing), is a collection of authentic Middle Eastern recipes handed down to her from her husband's family during her extensive time spent in the Middle East. Faith loves to travel, especially to places steeped in rich culture and history.