Spicy Pork Sausage Spaghetti is a simple, yet flavorful recipe that every home cook should have under their belt. It comes together quickly and tastes great.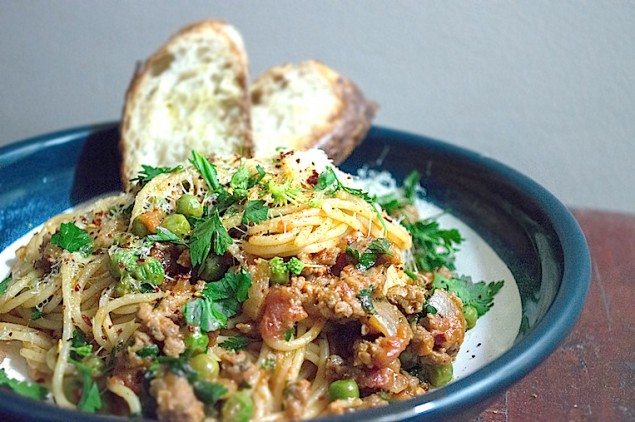 A basic pasta with tomato/meat sauce ought to be part of any home cooks repertoire. It's easy to knock up and it can be tailored to whatever you like and with whatever you have.
I love the taste of wild boar as it has a more gamey flavour, but if you've got your own favourite pork sausages, I'd say go with those. No rules, remember.
Many of us have that trusty bag of peas sitting in the freezer, so you can dive in and add some of those to this easy pasta. No need to defrost, either. That's the beauty of frozen peas; they're small enough to defrost in the cooking process.
I've used fresh parsley from our street community garden as it was sending up stems that were ready to flower. The leaves and tender thin stems are still useful in cooking, and at the same time slowing the parsley plants from going to seed. The thick stems are even good for a stock; so into the freezer they went, for another time.
See Also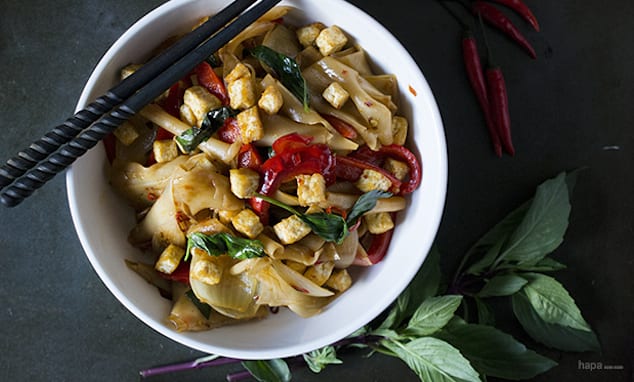 Got fresh basil or fennel tops? Throw them in if you want. The flavour of the sauce will obviously change, but there's nothing wrong with that.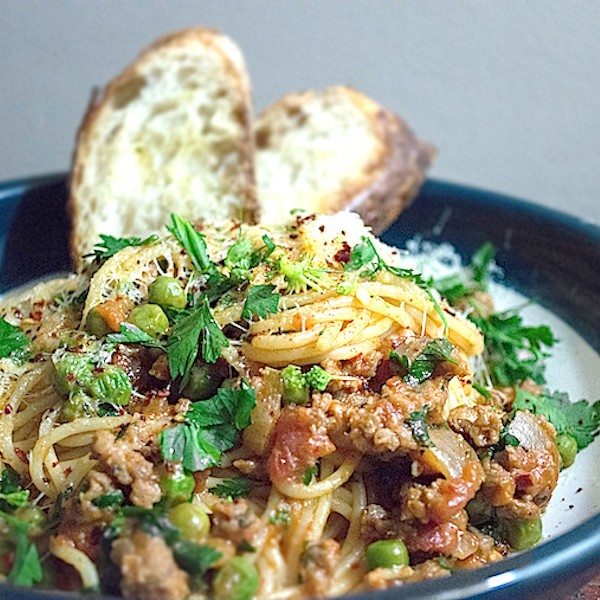 John Bek
Ingredients
3

tbsp

virgin olive oil

1

medium onion

chopped

1

clove

garlic

finely grated

1

tsp

paprika flakes

350

g

12 ounces pork sausages

1

x 400 g

14 ounces tin crushed tomatoes

½

tin water

1

tsp

chilli flakes

1

cup

frozen peas

Sea salt & freshly milled black pepper

250

g

9 ounces spaghetti

1

bunch parsley

roughly chopped

Freshly grated parmesan
Instructions
Squeeze the filling from each sausage and discard the casing. Break up the filling with your fingers and set aside.

Heat the oil in your favourite skillet or pan over a medium-high flame. Sauté the onion for 4-5 minutes, add the garlic, paprika and sausage filling and stir to break up the meat as it cooks until no longer raw.

Add the tomatoes, water, chilli, peas and seasoning. Allow to simmer for at least 15 minutes. The longer the better.

Meanwhile, have your pot of salted water on to boil as the sauce simmers. Cook the spaghetti for 8-10 minutes, or according to packet directions.

To serve, toss the chopped parsley over the sauce, drain the spaghetti and add it to the sauce. Stir through and serve garnished with more parsley and some parmesan cheese.
John Bek
John Bek is a trained chef that decided to throw in his professional apron and move into retail management. He's the guy behind heneedsfood.com - a platform that showcases recipes that cover the likes of everyday cooking, use of native Australian ingredients, as well as Croatian creations that come from his heritage. John also writes about where he's travelled around the world as well as any farmers markets he's visited.