In the spirit of topping burgers with interesting stuff, Joan Nova has a great tip for us.
Text And Photo By Joan Nova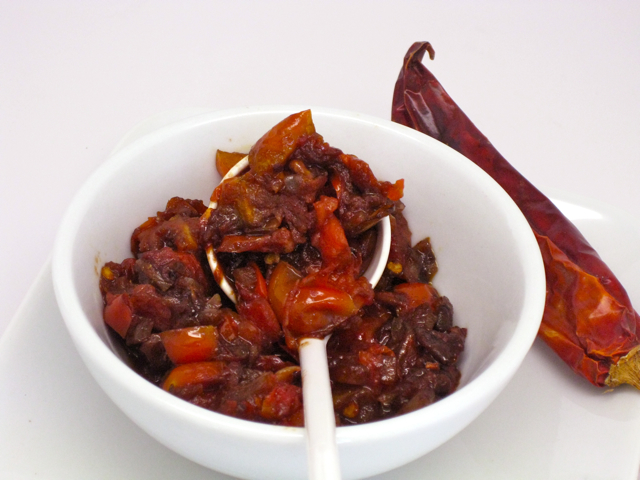 Do you top your burger with a slice of tomato and a slice of onion?  A pickle perhaps? Ketchup? I've got a much better idea.
I made this dish and used it in lieu of any other topping. While it has all the basic flavors of ketchup and the usual toppings, it's much more than a condiment. The flavors are very concentrated and depending upon the amount of chili you add, it kicks! I made it up as I went along and overdid the chili so I'll leave that quantity to you if you care to try the recipe. My lips still burn. It's better than collagen!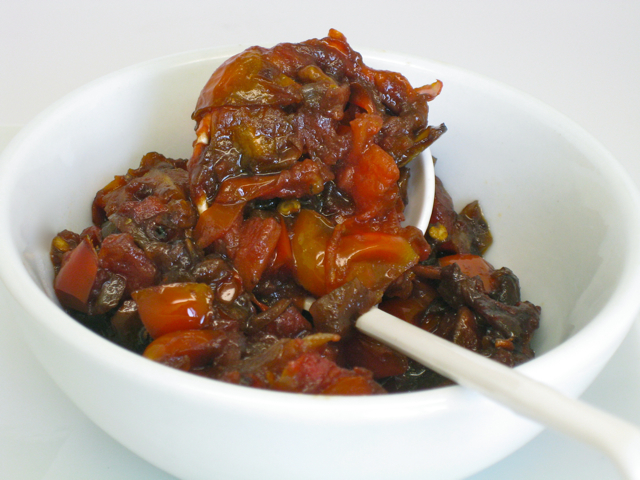 I definitely will be making this again, particularly during the summer when tomatoes are plentiful. I think it would make a great topping for fish or any grilled meats.
Print
Spicy and Savory Tomato Marmalade
1 pint

ripe grape tomatoes, halved and minced

1/2

Vidalia (sweet onion), thinly sliced and minced

1

garlic clove (whole, remove after cooking)

1/4 cup

balsamic vinegar
olive oil
dried chili
Instructions
Sweat onion and garlic in olive oil on medium-low heat.
Add chopped tomatoes and s+p
Cook down till tender.
Add chili and balsamic vinegar.
Cook on low heat for about 1/2 hour.
I served it on a burger with sweet potato 'fries' (sliced and baked in the oven) which was a great counterpoint to the heat of the marmalade…plus I love crispy sweet potatoes.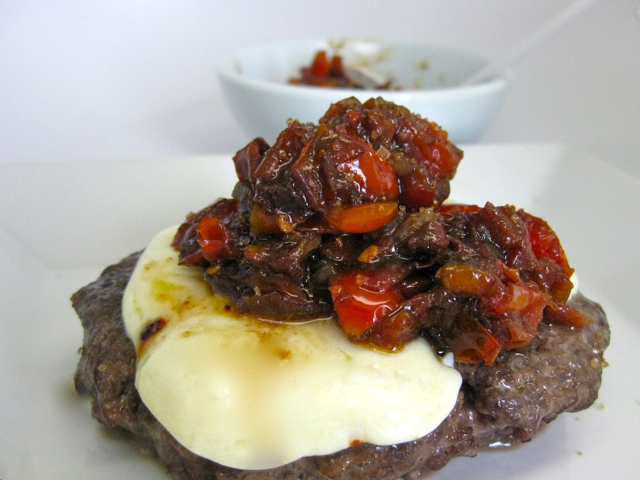 Finishing Touch (and just because I had it) was a sprinkle of Sweet Onion Sugar. Frankly, I can't say that it added anything that the balsamic vinegar had not already supplied.
Joan Nova
Joan Nova is the publisher of FOODalogue: Meandering Meals, Musings + Travel which melds her lifelong passions for food, travel, photography and publishing. Her culinary style is bold and colorful with finishing touches that take each dish to the next level. She is an active participant in many online food organizations.