Dum Aloo – Potatoes Steamed In Spices And Yogurt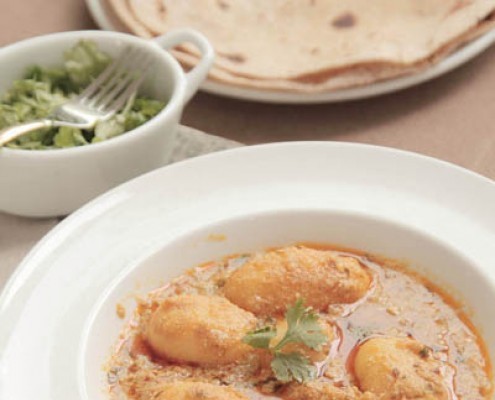 Dum Aloo is delicacy of Kashmiri cuisine, potatoes are slowly steamed in yogurt and spices giving it a tangy spiced base.
Text And Photo By Kulsum Kunwa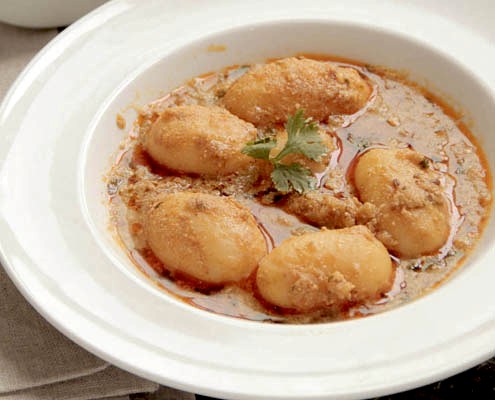 Dum aloo is delicacy of Kashmiri cuisine, potatoes are slowly steamed in yogurt and spices giving it a tangy spiced base. Dum literally means steam and aloo means potatoes in hindi. Even though I serve it with rice or roti, in all honestly I wish that the husband eats it with the carbs and gets full and the potatoes are left for me to eat by itself. That means it is great as side dish too. Make it! It just makes world a better place.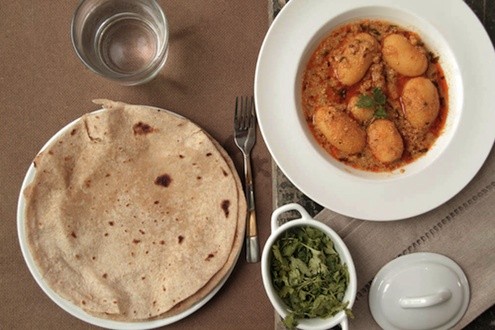 Dum Aloo - Potatoes steamed in spices and yogurt
A traditional North Indian potato curry steamed in yogurt sauce
Recipe Type:
Side dish, Main course
Ingredients
12 baby potatoes (boiled and peeled) *
1 cup ( 250ml ) yogurt
½ cup (125 ml) water
½ tbsp garlic paste
3 tbsp vegetable oil
Coriander leaves to garnish
Powdered spices
2 tsp fennel powder
½ tsp ginger powder
¼ tsp turmeric
2 tsp red chilly powder
1½ tbsp coriander powder
2 tsp garam masala
Whole spices
1 tsp cumin seeds
2-3 dry red chillies
1 bay leaf
1 cinnamon stick
3-4 cloves
3-4 whole black peppercorns
2 cardamom pods
Instructions
Heat oil in a wok and add the whole spices.
Once the spices start to sizzle, add the garlic and powdered spices.
Add in beaten yogurt along with water. Mix well.
The oil with start to separate and form a layer on the top. Add in the boiled potatoes and lightly mix everything.
Cover with a tight lid and steam for 10 minutes. Garnish with coriander and serve with roti or rice.
Notes
Make sure the potatoes are boiled a little less than fork tender. They should retain their shape. If you are using larger potatoes, prick them with a fork after boiling.
Kulsum Kunwa
Food Photographer and Writer Kulsum Kunwa, shares her love for Indian food on her blog Journey Kitchen.