Freekeh is a roasted cracked green wheat that is comparable to quinoa in protein and fiber that is easy to prepare, healthy and filling without being too heavy.
By Jill Nammar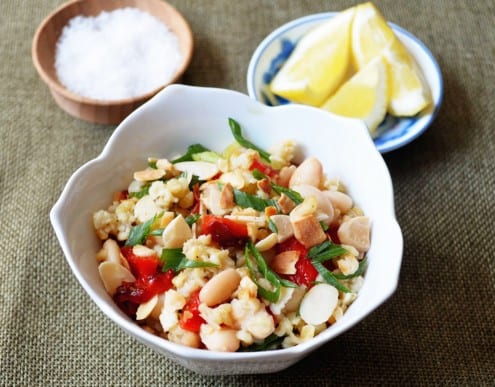 Spanish Style Freekeh Salad
Freekeh is a roasted cracked green wheat that is comparable to quinoa in protein and fiber that is easy to prepare, healthy and filling without being too heavy.
Ingredients
1 8 ounce package of Original Organic Freekeh, cooked according to the package directions.
3 red bell peppers, split down the middle, seeds removed
1-2 lemons
1 15-16 ounce can of cannellini beans, rinsed and drained
3 scallions, chopped very finely
A pinch of dried oregano
A pinch of smoked paprika (optional)
Quality extra virgin olive oil to taste
Sea salt to taste
Freshly ground black pepper
For Serving: Toasted slivered almonds, lemon wedges, a drizzle of best quality olive oil, flaky sea salt
Instructions
Place the sliced peppers, cut side down, on an oven safe baking sheet lined with tinfoil and broil them on high until their skins are charred and blackened. Remove from the oven, place peppers in a covered bowl or wrap in tin foil to steam. Set aside. When cool enough to handle, remove their skins and chop into small pieces.
Meanwhile, cook the freekeh according to the package directions, set aside.
In a large bowl, add the diced scallions, rinsed and drained beans, oregano, smoked paprika, chopped roasted red peppers and the cooked freekeh. Drizzle some olive oil on top. Squeeze the juice of one lemon, add some sea salt and good amount of fresh cracked pepper. Toss everything together. Serve with flaky sea salt, lemon wedges and toasted slivered almonds. Enjoy!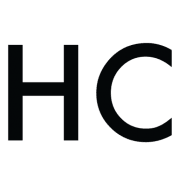 Jill Nammar
Jill has been cooking and serving meals for most of her life. As she was growing up, he parents owned a restaurant and an ice cream parlor where she became immersed in food. The kitchen is truly her comfort zone. Jill's recipes are influenced by France, the Mediterranean and Morocco, and often the bright flavors of Southeast Asian cuisine, too. She cooks to inspire others to whip up flavorful food in their own kitchens. Each recipe has a notes section with helpful tips, techniques and secret ingredients to follow. Taste and see how easy it is to create delicious meals.