Like so many great Italian dishes, the beauty of this meal is in its simplicity – which also means that the raw ingredients have to be quality.
By Carrie King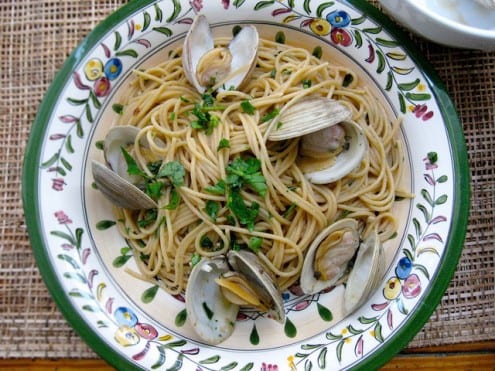 About once a month, a hankering for spaghetti with white clam sauce sneaks up from behind, taps me on the shoulder and tells me to pull up a chair at the nearest Italian restaurant so I can order a big, steaming bowl. The most memorable of these sneak-attacks was after my mother and I had seen a movie starring Bill Crystal and Robert DeNiro in which DeNiro, surprise surprise, portrays an Italian mob boss. The movie was rather forgettable – but the scene that starred a mountain of spaghetti with white clam sauce clearly stayed with us because right after exiting the theater we went on a mission for that sauce. Many miles and a few restaurants later, we silently scraped clams and twirled our forks around mouthfuls of spaghetti.

Spaghetti with White Clam Sauce
Like so many great Italian dishes, the beauty of this meal is in its simplicity - which also means that the raw ingredients have to be quality.
Ingredients
3 dozen littleneck clams (8-9 per person), cleaned
5 large garlic cloves, finely minced
4 Tbsp olive oil
1 Tbsp minced chili OR red chili flakes
½ cup dry white wine
1 handful fresh parsley, chopped
¼ cup pasta water
1 lb spaghetti or linguine
Salt and black pepper
Instructions
In a large pot of boiling water, drop your spaghetti or linguine to cook until al dente.
In a skillet wide enough to fit the clams almost in a single layer, add the olive oil, garlic and chili. Sauté over medium low heat for a few minutes, until the garlic starts to turn golden brown and becomes fragrant.
Turn the heat up a touch and add the white wine, then the clams and half of the chopped parsley.
Immediately cover the clams with a tightly fitting lid. Let the clams steam for roughly 8-10 minutes, this depends on the size of your clams, how jam-packed the skillet is, etc.
After 8 minutes, remove the lid and with a slotted spoon or tongs, remove any clams that have opened - set them in a bowl to the side. Keep the lid on for a few more minutes to continue cooking any clams still unopened.
Add ¼ cup of starchy pasta water to the skillet with the clam sauce and the remaining chopped parsley. Taste and season with a bit of black pepper and salt if needed.
Drain the pasta and drop it directly into the clam sauce, tossing a couple of times to coat the pasta in sauce. Transfer the cooked clams, shells and all, back into the pasta and sauce and serve.
Carrie King
Carrie King is a Brooklyn-based freelance food writer and trained chef. When not in her kitchen or at her desk, she's poking around a market, searching for the components of her next meal. Carrie believes that in the war against bad cooking, using local and seasonal ingredients is half the battle. You can share in more of Carrie's culinary adventures at her blog, A Cook Grows in Brooklyn.