In this version of Southekayi Hasi Gojju or cucumber in coconut sauce, all the ingredients are raw. So this dish is completely raw and yet delicious to taste.
By Nandita Nataraj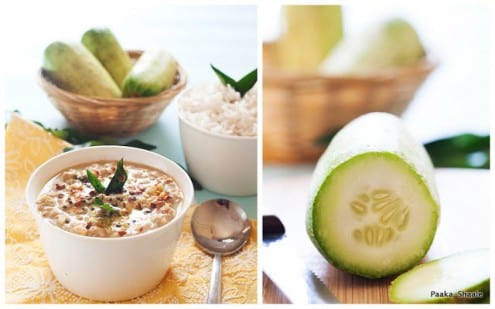 This is a true blue dish from Karnataka that makes an excellent side dish. Try serving this dish with either piping hot rotis or with rice and rasam. You will surprised as to how gratifying and wholesome this simple dish can be.

Southekayi Hasi Gojju - Raw Food at it's Best
In this version, all the ingredients are raw. So this dish is completely raw and yet delicious to taste.
Ingredients
Cucumbers- 3 small or 1 large, peeled, deseeded and finely chopped
Tamarind- a small lime sized, soaked and juice extracted
Coconut- ⅓rd cup
Roasted gram- 1tbsp
Cumin seeds- 1tsp
Mustard seeds- ½tsp
Salt to taste
Jaggery- 1tbsp
Green- 1 to 2
For the seasoning:
Oil- 2tsp
Mustard seeds- ½ tsp
Red chili-1 or ½a tsp of red chili flakes
Turmeric- a pinch
Curry leaves- 8-10
Asafetida-a pinch
Instructions
In a blender jar, combine the coconut, jaggery, salt, cumin seeds, mustard seeds, green chili, roasted gram and the tamarind extract and blend to a coarse paste.
Add the ground paste to the chopped cucumber and mix well.
Heat oil in a pan and add the mustard seeds. Once they pop, add the turmeric, asafetida, red chili flakes and the curry leaves and sauté for a few seconds. Once done, add the seasoning to the prepared gojju and serve immediately with hot rice.
Notes
Tomato and onion can also be added to this dish. This dish has a very short shelf life. So it has to be consumed almost immediately or has to be refrigerated till further use.
Nandita Nataraj
Nandita was born, bred and spread in India, but right now lives in Tanzania where her quest for simple and exotic pleasures of food led to the creation of the blog Paaka-Shaale. She believes that food is not just a means to feed a body. But it is also meant to appeal the mind and satiate the soul.