Arepas are made of ground corn dough or cooked flour, and they are delicious.
By Michelle Keith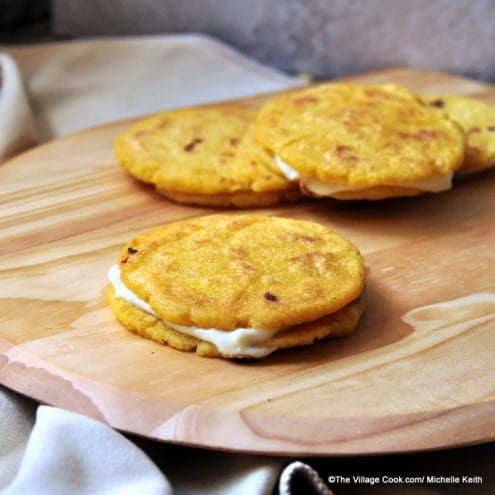 Whenever the fair is in town (or any festival with mobile food vendors) my favorite item to get is an arepa. I'll gladly pass up corn dogs, ice cream, fried candy bars and the giant turkey leg… just to have one hot-off-the-griddle-sweet corn and salty cheese filled arepa,
It's like corn muffins and mozzarella sticks had a baby pancake.
These are made with something called masacarepa also known as pre-cooked corn meal. A common one is PAN and it has a picture of a lady on it that reminds me of aunt Jemima. I think it's the kerchief in her hair.
I always tend to remember foods by the mascots. Wait: Can people be called mascots? Maybe the proper term would be representatives. Either way, I'm sure you know what I mean.
Mrs Butterworth, for example. I wonder if her and aunt Jemima would be friends in real life? They'd probable have a Food Network show or something.
Ah… my imagination. Back to arepas.
All you have to do is simply add warm water to form a dough and form patties, (they're cooked the same way pancakes are) then, you place a slice of mozzarella or any other white melting cheese in between.
This recipe makes a ton, and yes you can freeze em and 'nuke em for after school/work/ midnight snacks.

Arepas are made of ground corn dough or cooked flour, and they are delicious.
Ingredients
2½ cups masarepa
1 tsp salt
1½ tsp sugar
2 cups warm water
Instructions
In a bowl place all ingredients, allow to sit five minutes.
Shape into patties that are ⅓? thick and 3? wide.
Cook on a hot buttered or greased griddle until golden
Place a slice of white melting cheese on top, and top with a cooked arepa.
Michelle Keith
Michelle Keith is a South Florida native and the author of "The Village Cook". A self taught chef, her experience cooking and baking spans over 30 years. In addition to her food blog, she has also been featured in numerous websites, and writes recipes for her local community newsletter. She also is the editor of "The Domestic Mama", a blog about motherhood and family life. She currently resides in South Florida.