Leave it to Texas to take a product like "Rub Grub" and combine it with a "flap" steak for an amazing meld of Mexican soft taco deliciousness.
Text And Photo By Sarah Kenney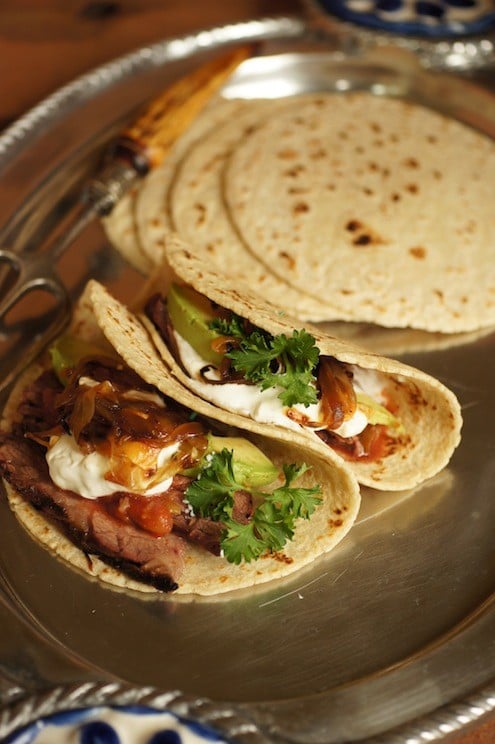 Well, look what came home with me from my latest foray to the Williams-Sonoma class the other weekend.  The Cook and the Butcher cookbook somehow hitched a ride  home and sardonically  flipped open to a delicious looking "flap steak" recipe .  I took on this outright challenge and voila…Sunday dinner!  A new steak favorite.
This cookbook is written by Brigit Binns for Williams-Sonoma. What I like about it is that each chapter is designed to educate home chefs like me from the perspective of butchers.   I haven't devoured it from cover to cover yet.  To be honest, it can all get a bit intimidating.  There are many names of parts beef cuts as well as  varieties of cooking methods.  I can tell, though, that this book is going to sort it all out.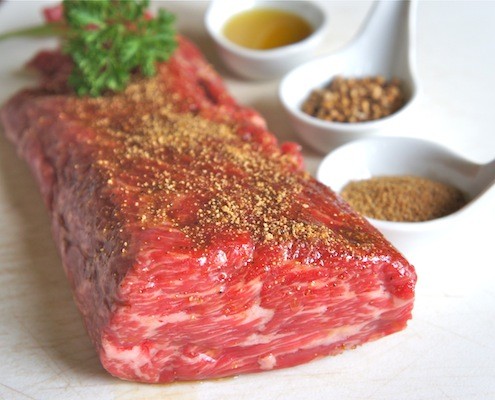 My husband and I were in Dallas a few weekends ago. We went to meet his brother's fiancé.  She is from Mexico and made us the most delicious, authentic breakfast soft tacos.  I thought I would just eat one  and ended up eating three (piggish…I know.  Thats why we are foodies).
Well, my next William-Sonoma class was covering meats and grilling.  How timely because I wanted to duplicate the delicious flavors of the beef we had in Dallas.  The smell of the skirt steak in the store drove everyone beserk it was so aromatic.  Our adorable chef, Jill, caramelized onions for us to sample alongside the meats she cooked.  I especially liked the ease and flavor of skirt  steak.  Whole Foods was out of skirt steak and the butcher said "flap" steak would work just as well.
I am now getting acquainted with my butcher at Whole Foods.  Isn't that great?  You know how you always hear "Just ask your butcher this question…or that question".  Ha!  I couldn't even imagine a grocery store butcher taking time with me.  However, I have started talking with the people at Whole Foods in the meat as well as seafood department and they are so wonderful!  Really!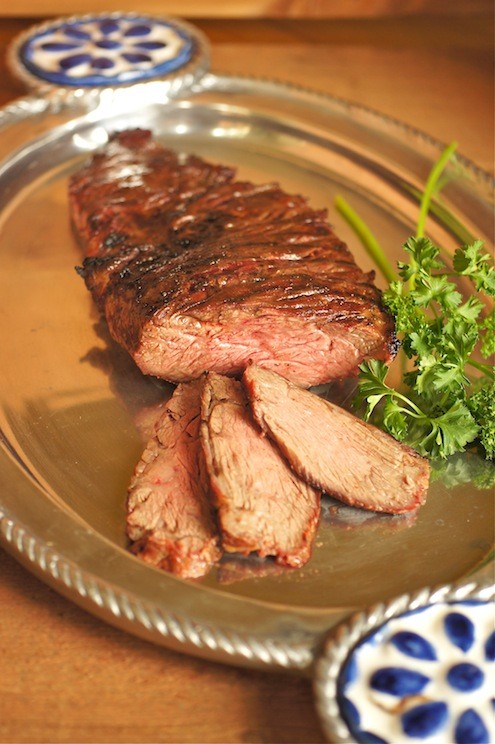 In addition to this hefty new grilling cookbook making its way home with me, I also bought what I consider to be my best cooking purchase to date!  I picked up the new All-Clad "instant read thermometer".   This is a great tool for grilling meats.  We used it on a leg of lamb the other day and it worked beautifully.  The fear of over-cooking or under cooking meat has often made me pass on trying out a recipe.
A dry rub we have tried out since moving to Texas has quickly become our favorite.  Its called "Rub Grub".  Yep.  The name indicates it's Texan alright. This rub is amazing on barbeque.  I seasoned the flap steak with this before it went on the grill.  Delicious.  It's going to be difficult to try out something different for a long while.
Print
Soft Tacos with Barbeque Flap Steak
---
Author:

Sarah Kenney And The Cook And The Butcher

Total Time:

6 hours 10 minutes

Yield:

6

-8

1

x
Description
Leave it to Texas to take a product like "Rub Grub" and combine it with a "flap" steak for an amazing meld of Mexican soft taco deliciousness.
---
1

skirt (flap, hanger or flank stead will also do)

2 tablespoons

olive oil
Kosher salt
freshly ground pepper
Rub Grub (Sarah's addition)
---
Instructions
Place the steak in a nonreactive baking dish.
Brush both sides with the oil and season generously with salt and pepper (and Rub Grub).
Cover with plastic wrap and refrigerate for at least 1 hour or up to 6 hours.
Remove the steak from the refrigerator and let stand at room temperature for about 45 minutes.
Prepare a charcoal or gas grill for direct-heat grilling over high heat, or preheat a cast-iron stove top grill pan over high heat.
Place the steak on the grill rack over the hottest part of the fire or in the grill pan, and cook without moving it for about 1 1/2 minutes.
Turn and cook until an instant-read thermometer inserted into the steak registers 130º-135ºF (54º-57ºC) for medium-rare, 1-3 minutes more, or to your desired doneness.
Transfer the steak to a platter and let rest, loosely covered, for about 5 minutes.
Cut the steak across the grain and on the diagonal into the slices and about 1/2 inch (12mm) thick.
Arrange toppings and heat soft tacos and serve!
Prep Time:

6 hours

Cook Time:

10 mins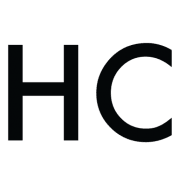 Sarah Kenney
Sarah is an adventurous food photographer and writer who has moved six times with her family from the U.S. to Wales, Japan and back. They are affectionately known as "The Rolling Stones". She is a passionate chef who thinks that their experiences living in Louisiana, Michigan, New York, Missouri, Kansas, and now Texas culminate in shared meals and tales around the table as her family experiences each regions offerings of cuisine and culture. Texas is her current stop and good food and good times are a passion of this southern state. She writes about her foodie adventures in her blog "Snippets of Thyme".