If you love s'mores, you will love these snickerdoodle bars loaded with chocolate and melty marshmallows in the center.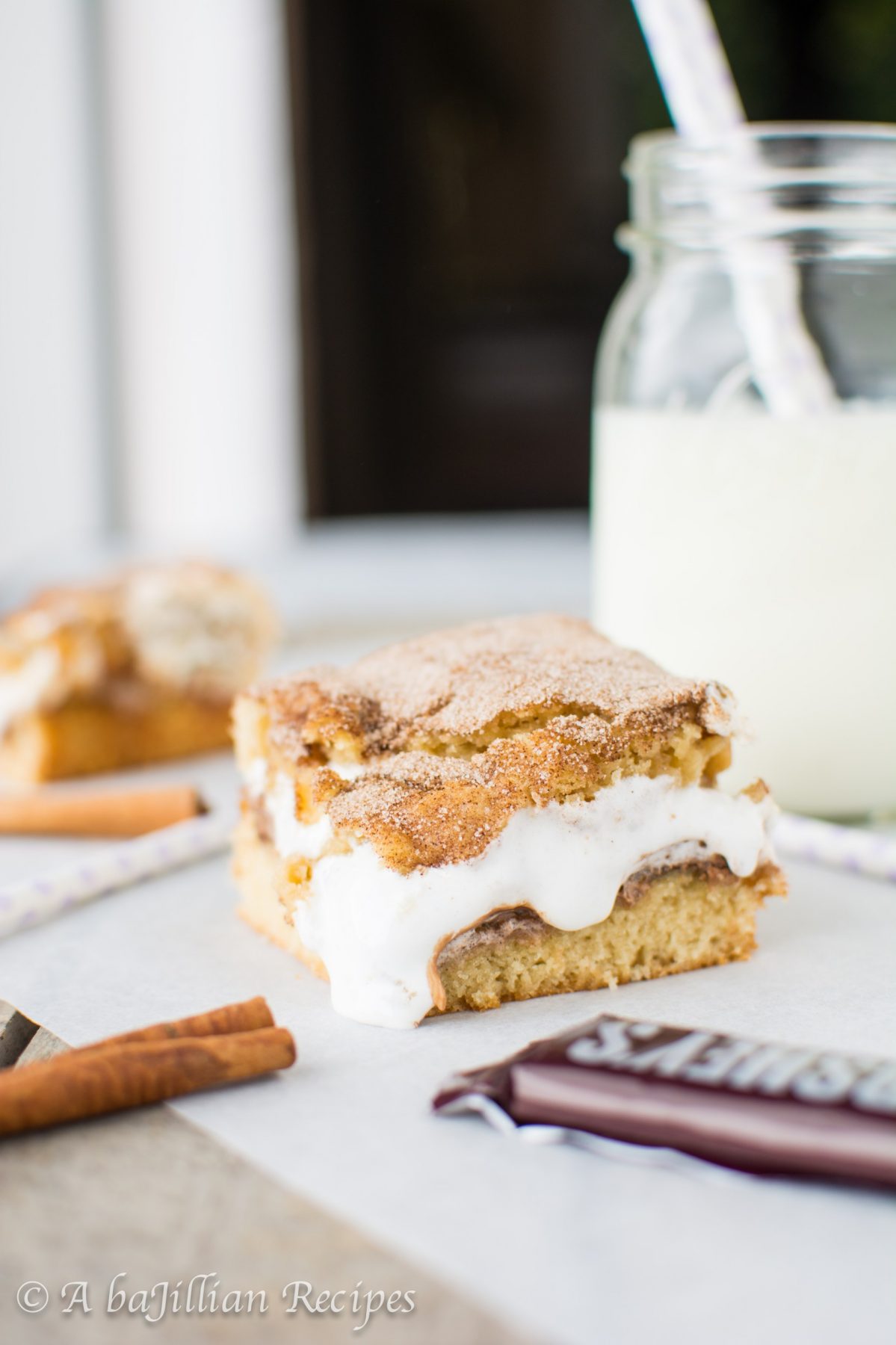 When it comes to camping, there are three crucial items you should NEVER forget to bring.
Graham crackers, marshmallows, and chocolate.
I don't know about you, but I NEED me some s'mores to survive out in the wilderness. Heck, I could sleep in a tree for all I care just as long as I have my s'mores. Well, maybe that last part isn't TOTALLY true…I do enjoy the luxury of sleeping in an RV.
So with camping season in full swing, I felt it was about time to create a treat centered on the best outdoor dessert that ever existed.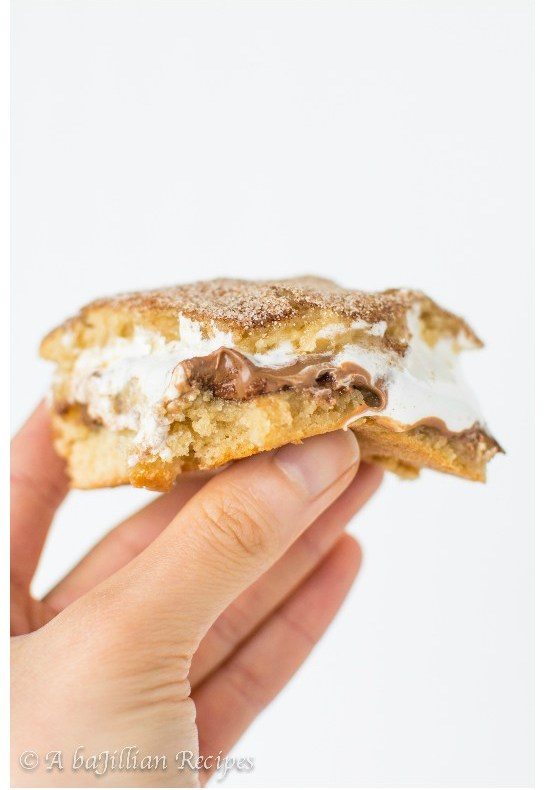 Everything about these bars is perfect from the super soft, cinnamony snickerdoodle layers, to the melty milk chocolate, and the warm, fluffy, ooey gooey marshmallow fluff.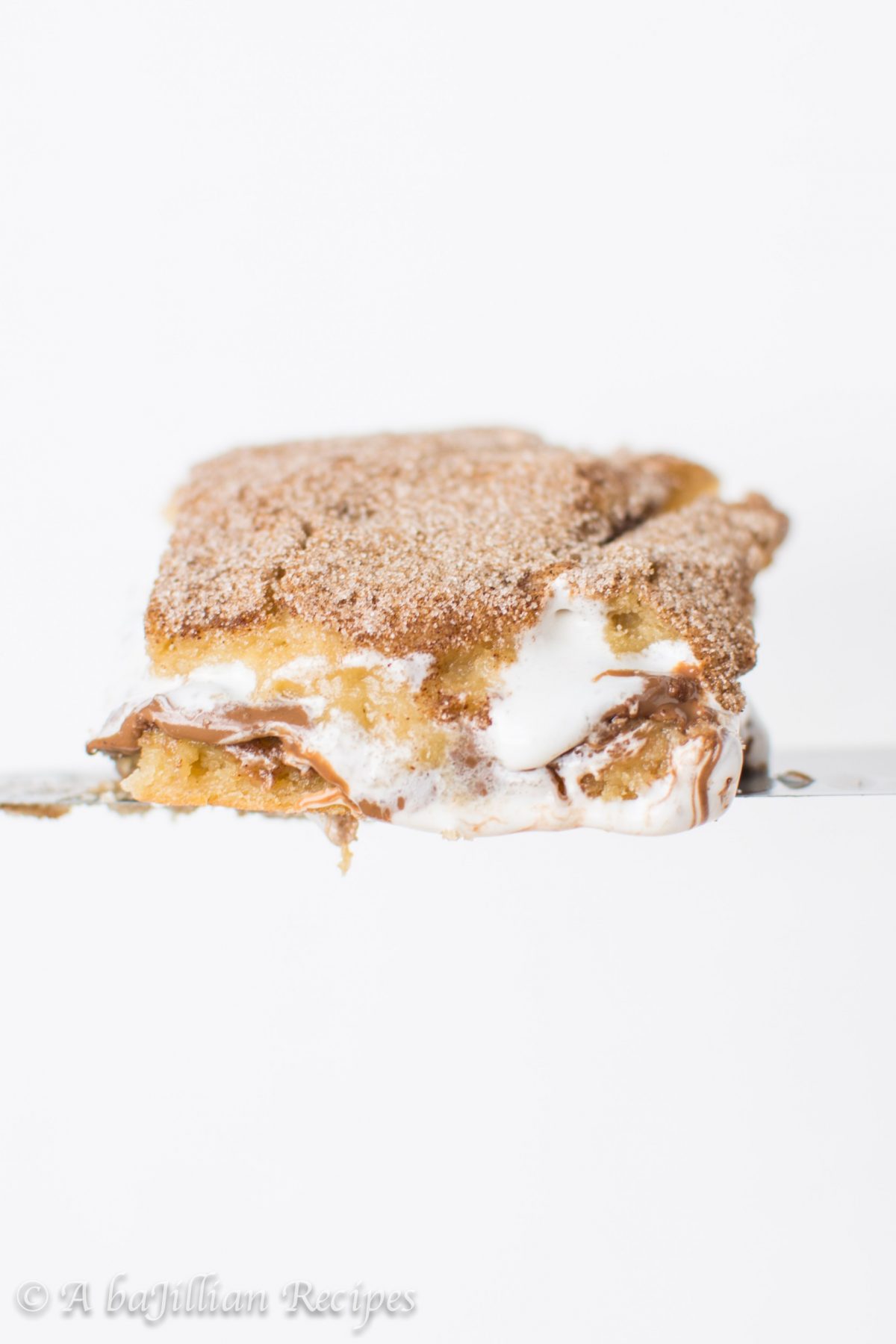 First off, let's talk about the snickerdoodle layers. Since my Eggnog Snickerdoodles were a massive hit, I decided to use the same recipe but replace the eggnog with regular milk. Once again, these snickerdoodles did not disappoint–ultra moist, soft yet chewy, and just the right amount of sweetness to balance out the GENEROUS layers of cinnamon sugar.
As for the wonderful, heavenly, melty mess that goes between the cookie layers…if you're going to do these S'more Snickerdoodles the RIGHT way, you have to use the classic Hershey milk chocolate bar. Two XL bars should fit perfectly side-by-side, which means that this treat was definitely meant to be.
See Also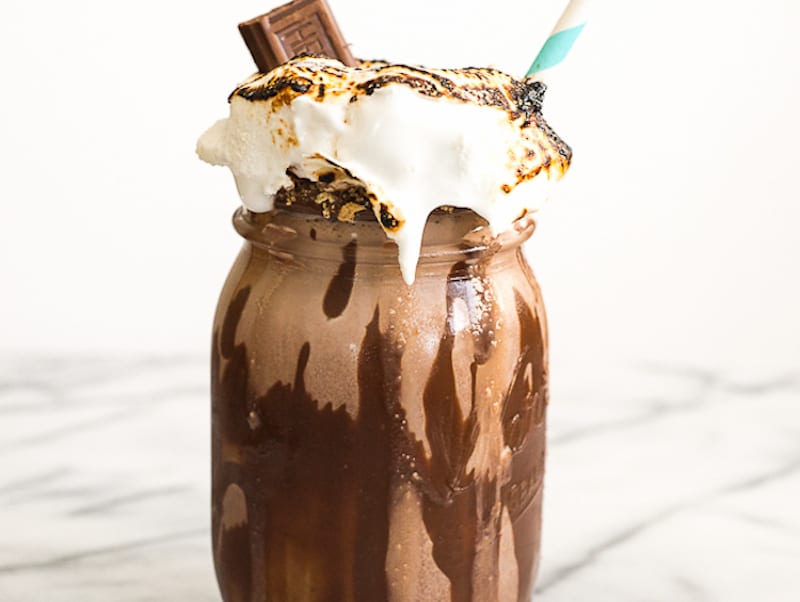 Instead of regular marshmallows, I piled on some of that classically sweet and sticky marshmallow fluff. It's super simple to spread on top of the Hershey bars and it stays soft and gooey as it cools.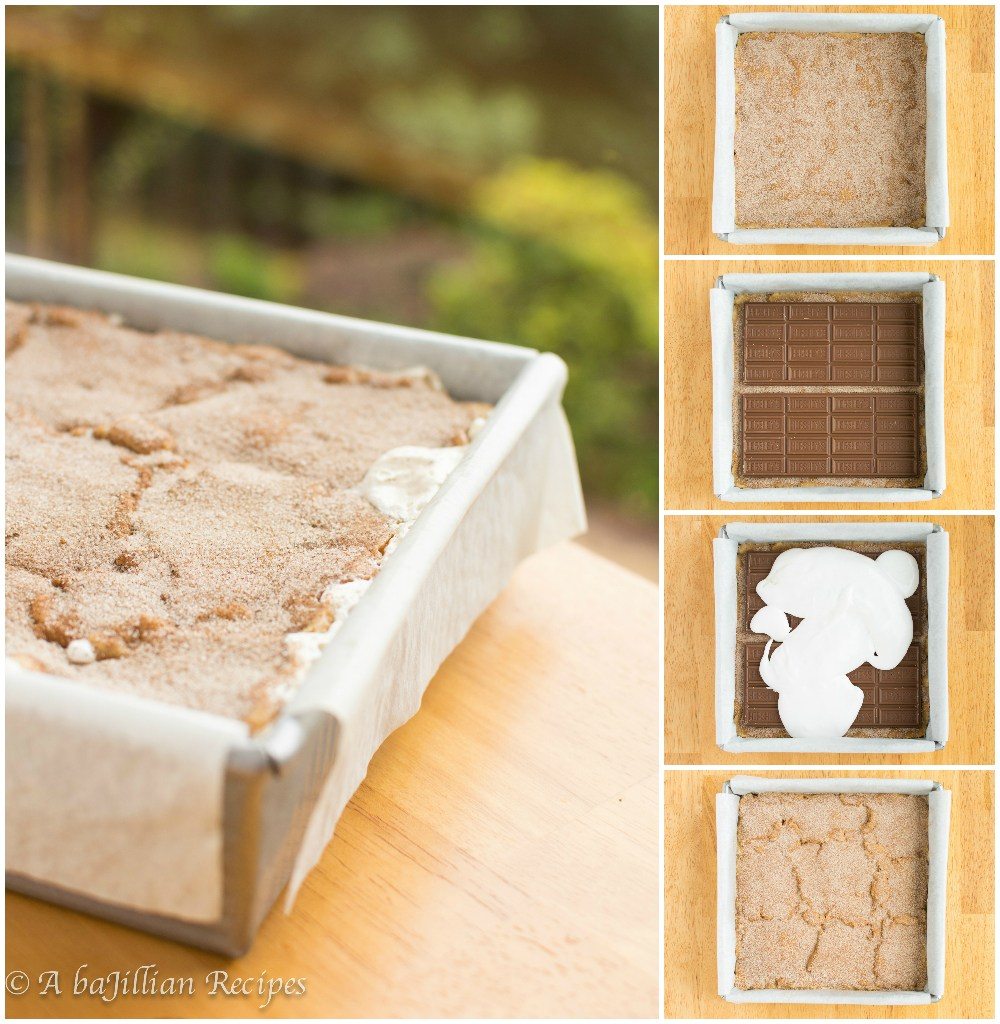 Love s'mores? Then you HAVE to try these: S'More Brownies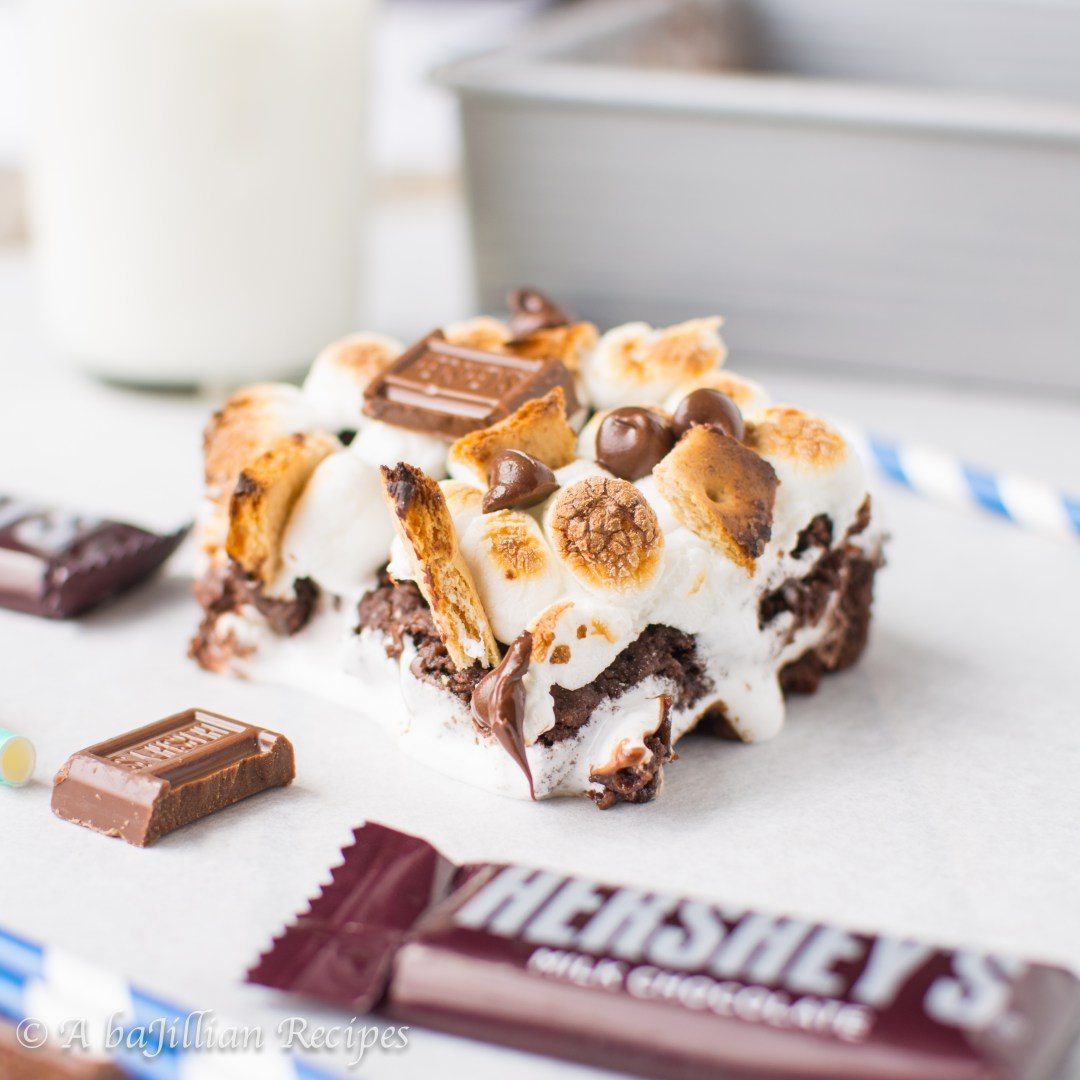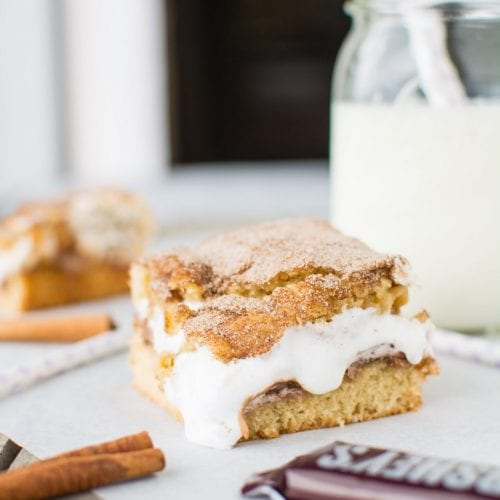 S'More Snickerdoodles
Jillian Hatsumi
If you love s'mores, you will love these snickerdoodle bars loaded with chocolate and melty marshmallows in the center.
Ingredients
2

cups

all-purpose flour

1

teaspoon

cream of tartar

1/2

teaspoon

baking soda

1/4

teaspoon

salt

1/2

cup

unsalted butter

softened

1/3

cup

brown sugar

1/2

cup

granulated sugar

1

egg

1/3

cup

milk

1/2

teaspoon

vanilla

1/4

cup

granulated sugar

2

teaspoons

cinnamon

2

4.25 oz milk chocolate Hershey bars

1

7 oz jar marshmallow creme
Instructions
Line an 8×8-inch square baking dish with parchment paper and grease with butter or nonstick cooking spray.

In a large mixing bowl, whisk together the flour, cream of tartar, baking soda, and salt; set aside.

In the bowl of a stand mixer fitted with a paddle attachment, beat the butter until smooth, about 1 to 2 minutes. Add the brown sugar and 1/2 cup granulated sugar and continue beating on medium speed until smooth and creamy.

Scrape down the sides of the bowl, add the egg, and beat just until combined. Add the milk and vanilla and beat on medium-high speed. Dump in the flour mixture and beat on low for about 1 minute.

Dollop half of the dough into the baking dish. Wrap the other half in plastic wrap. Place both in the freezer for 15-20 minutes so that dough is less sticky and easier to work with. In a small dish, combine the 1/4 cup of sugar and 2 teaspoons of cinnamon with a fork or spoon.

Preheat oven to 350F degrees. Once chilled, press the dollops of dough into an even layer in the bottom of the baking dish. Sprinkle with half of the cinnamon sugar. Unwrap the chocolate bars, then place side by side on top of the dough. Dollop marshmallow creme on top of chocolate bars and spread evenly.

Take the remaining dough, flatten into discs*, and layer them side by side on top of the marshmallow creme. Try to cover as much of the marshmallow creme as possible. Sprinkle with the last half of the cinnamon sugar.

Bake for 27-30 minutes, or until edges are lightly golden. Cool completely**. Using the parchment overhang, gently lift the bars out of the pan and cut into squares. For cleaner looking bars, I recommend cutting just before serving since the marshmallow creme tends to run a little. Store bars in an airtight container.
Notes
*I found it easiest and less sticky to smash pieces of the dough between two pieces of plastic wrap.
**Cooling process can be sped up by placing the baked bars in the refrigerator.
Jillian Hatsumi
I'm Jillian, the writer, baker, chef, recipe creator, and amateur (very amateur) photographer of A baJillian Recipes. Though I'm not a classically trained chef, I like to think I know my way around a kitchen pretty well. Aside from baking, cooking, and EATING, I also enjoy acting, couponing (I LOVE saving money!!), running, working out, photography, and playing with my little fluffernutter, Olivia. She's a dog, if you're wondering...