Made with homemade crab stock and roasted sweet potatoes, this comforting bisque soup is full of rich flavors and is a great way to use leftover crab shells.
By Sherron Watson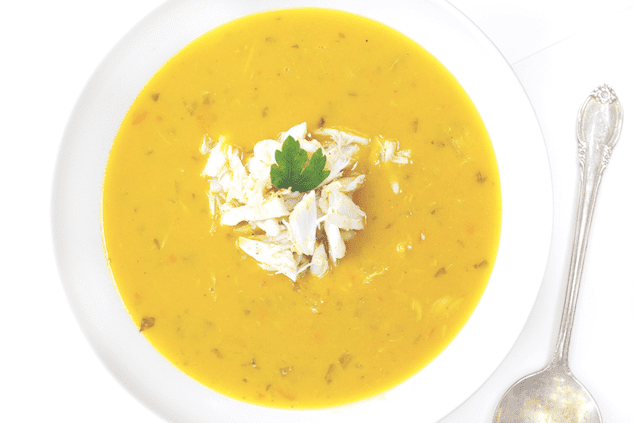 Every summer we go through several dozen Maryland Blue Crabs. It is quite the feat to bring the crabs home because they are very messy. I cover our dining room table with newspaper or heavy duty brown paper. I buy mallets, knives and tons of paper towels. We sit around visiting and pick crabs. We like to buy the large crabs because they are easier for the little kids and less experienced "pickers" to pick. Small and medium crabs take time, more time and a lot of patience.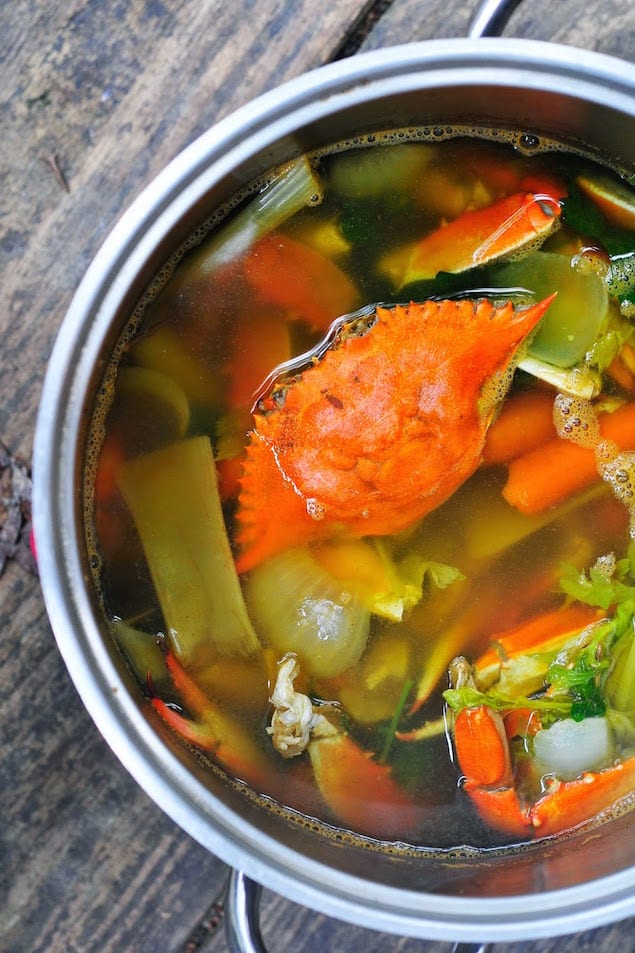 When it is all over I am left with a huge pile of crab debris. The shells from the bodies and legs make up most of the pile but included is the mustard, the lungs that we scrape out and the insides. I am always at a loss as to what I should do with this pile of refuse. Well, last summer I decided to make a broth out of my pile. I had really nothing to lose because the extra added ingredients were minimal. If it worked then I would be left with a flavorful and crabby broth that I could use in a soup.
To my delight it worked. I loved it. To the broth I added celery, carrots and onion. I kept the crab shells covered in Bay Seasoning. This, I believe, is what gives the broth the brown coloring (see picture below). I added water to cover the contents of my pot and let it simmer for one hour.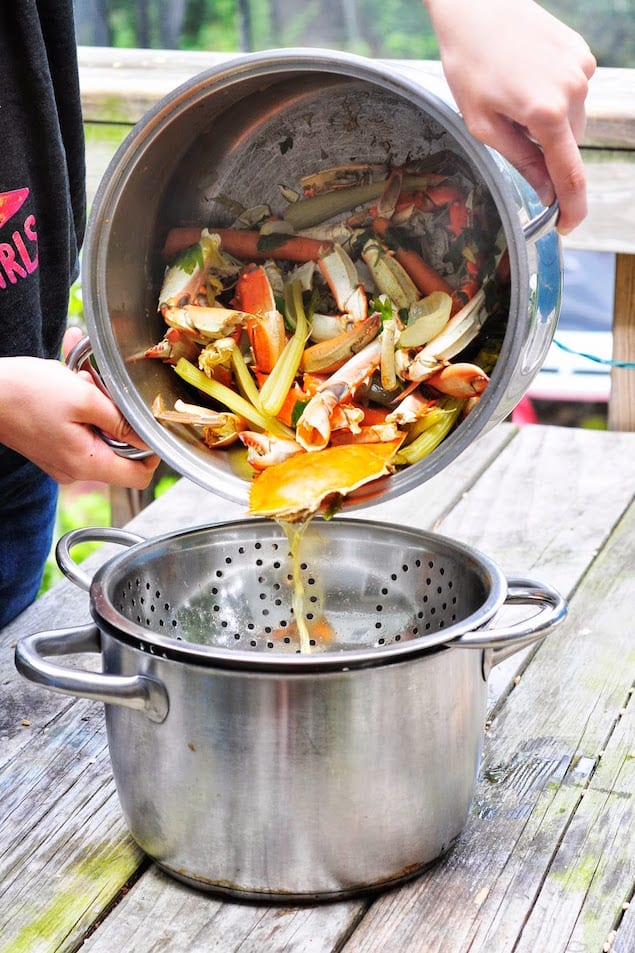 See Also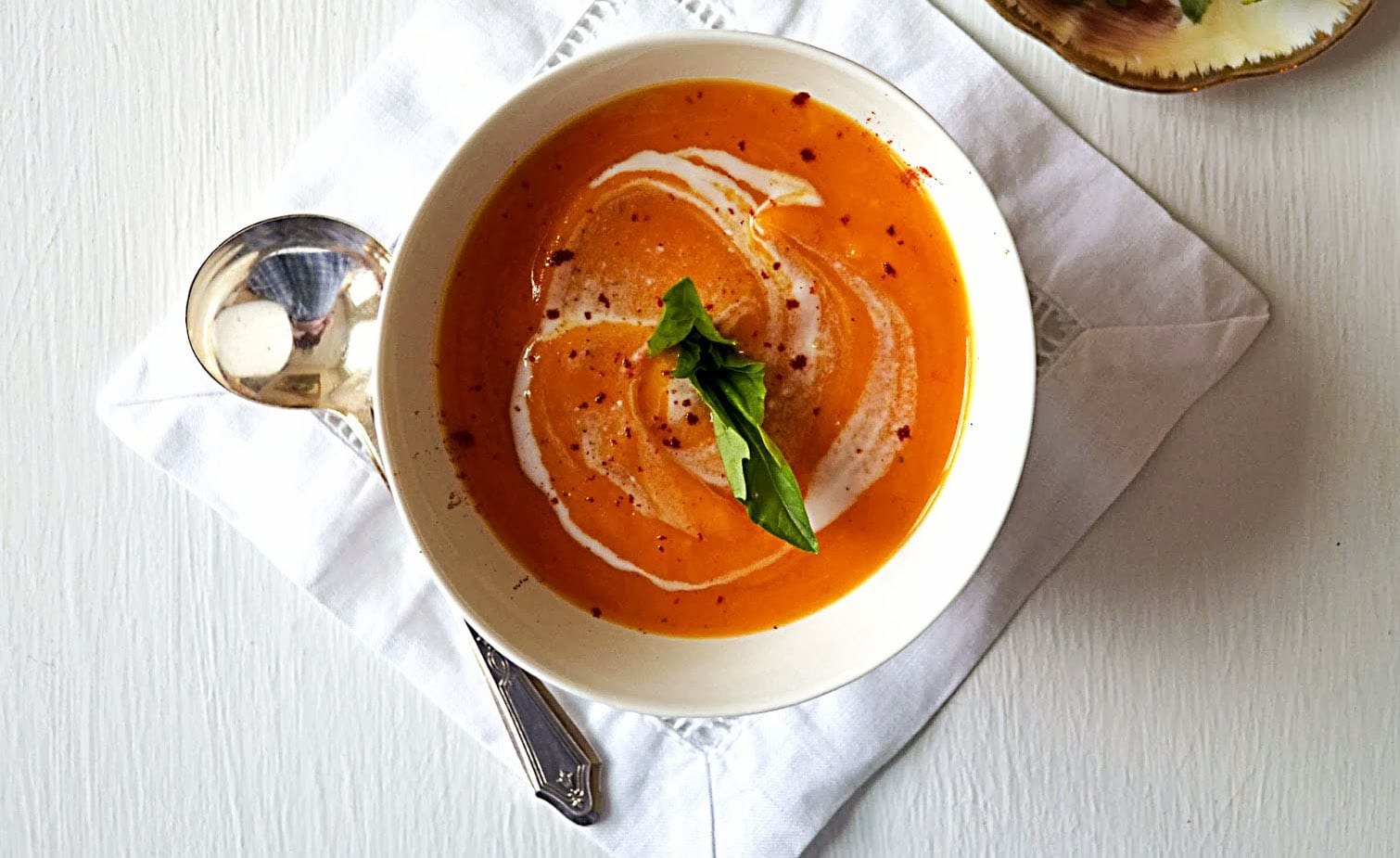 Once the broth was finished I drained it through some cheese cloth and stored it in the refrigerator. I thought all night on what I wanted to make. I wanted something different. I remembered a crab bisque that I had while I lived in Utah and another time in California.
I set out to find a recipe that I had the ingredients for. In my research I came across a definition that stated that a bisque is made using roasted vegetables and a shellfish stock.
I chose to roast sweet potatoes and use this as my base along with the crab broth. This recipe is a labor of love if you chose to make it from scratch. It takes some planning to make the broth and to roast the vegetables. If you have the time then I would encourage you to make it. It is possible to make using store bought fish stock; although I can't say the flavor will be as crabby as using this homemade version.

Smooth Crab Bisque
Made with homemade crab stock and roasted sweet potatoes, this comforting bisque soup is full of rich flavors and is a great way to use leftover crab shells.
Serves:
10 cups of stock, 4 servings of bisque
Ingredients
Crab Stock
12 cups of water or enough to cover the shells
Crab Shells from 1-2 dozen crabs
4 carrots, cut in half
4 ribs of celery, cut in half
handful of flat parsley
½ red onion, quartered
optional: add more Old Bay Seasoning, Salt or Garlic Powder as desired
Crab Bisque
1-2 sweet potatoes, depends on size (you need two cups for recipe)
olive oil
salt
1 tablespoon butter
¼ cup grated carrot
1½ tablespoon red onion
¼ cup sliced celery
2 cups of crab stock (see recipe above)
squeeze of lemon juice
sprinkle of nutmeg
1 tablespoon fresh flat parsley
1 can coconut milk (15.5 oz)
2 tablespoons of butter (omit if dairy free is necessary)
Lemon and Salt to taste
Instructions
Crab Stock
Add all of the ingredients and bring pot to a boil. Simmer for one hour. Strain contents through a colander and then strain it through cheese cloth. Store in the refrigerator until ready to use.
Crab Bisque
Cube sweet potatoes. Toss in a bowl with olive oil and salt. Roast until tender. This will depend on how small you dice your sweet potatoes. I shoot for about 35-40 minutes.
While sweet potatoes are roasting, heat a medium sauté pan. Add the butter along with with carrots, onion and celery. Cook until tender.
In a food processor or a Vitamix (this is what I use) add the tender vegetables from step 2 along with the lemon juice, crab stock, and nutmeg. Pulse and blend until smooth.
Add the coconut milk, parsley, and melted butter. Pulse two or three times. Transfer contents to a small pot and simmer until warm. Do not boil. The soup is best served warm.
Taste your soup and make any necessary adjustments. It should be smooth. If needed add: lemon juice, salt, garlic powder or a bit or red cayenne pepper.
Notes
You can freeze whatever stock you do not use.
I had a few extra crabs that I picked and used the meat served in the center of the bowl. My family was able to stir the crab meat into their bisque. NOTE: To make the crab meat sit up in the soup, I roasted some sweet potato rounds that the crab could sit on. This is not necessary. It just looked prettier to me.
Sherron Watson
Sherron Watson is a writer and photographer. Her passion for food started at a young age while working with her family in their restaurant business. A career in photography gave her the experience she needed to start capturing images of her favorite dishes. This led to the creation of her blog: simply-gourmet.com. She is currently a food writer for Capital Style Magazine in Annapolis, MD.