Roasted lamb bursting with pomegranate seeds and middle eastern flavor is an easy dish to create and throw in the oven. Rest the meat on top of a bed of mashed potatoes with feta cheese.
By Tania Cusack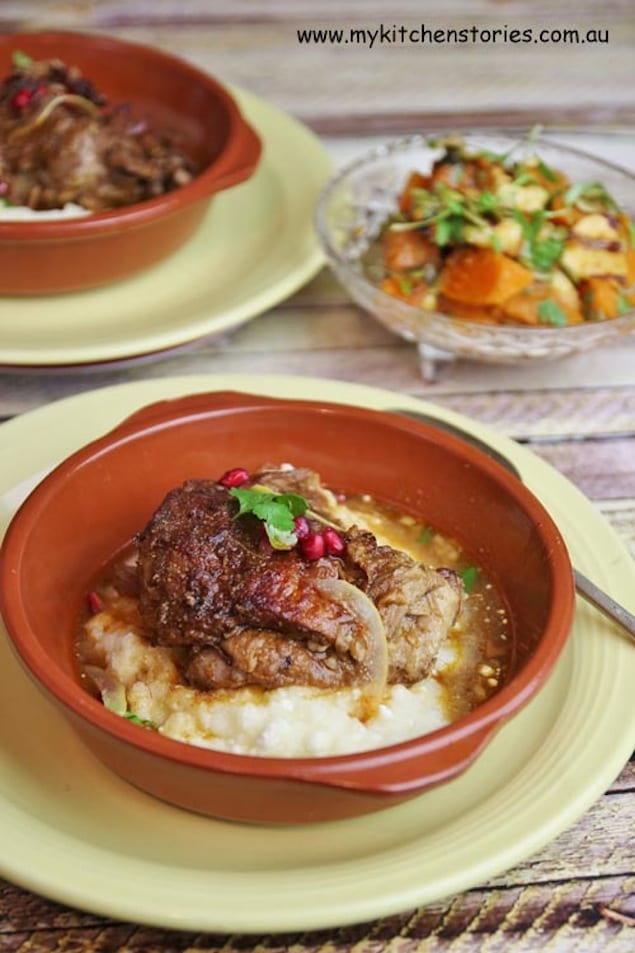 Do you think people like us cook because we want to be loved?
I was wondering about this as I packed up a whole dinner of Slow roast Lamb, Roast Cauliflower & Walnut with Pomegranate, a Pumpkin grilled Haloumi and Pepita salad and some feta mashed potato, all packed up with perfect bowls and condiments to take to my friends house at Easter. I asked what they were doing and if they'd like dinner before turning up with it all…..and yes I made dessert- a gluten free lemon cheesecake with Raspberries and freeze dried pomegranate seeds.
But when you love cooking the biggest draw card is to share. The opportunity to create a gathering to share food and company. Any one that loves to cook knows this. That's when it struck me, I cook just as much for me as for the pleasure it brings others, and the creative opportunities it brings to everyday routines. Phew, I'm not looking for attention. I'm just an addict. ( oh my, what's worse- attention seeking or addicted?)
So this is the type of dish that is both great to take with you somewhere and an easy, no fuss one to cook. Whether it's spring where you are or just becoming cold pop it in the oven and don't forget to look out for the posts with the warm salads to go with it.

Slow Roasted Lamb with Feta Mash
Roasted lamb bursting with pomegranate seeds and middle eastern flavor is easy to create. Rest the meat on top of a bed of mashed potatoes with feta cheese.
Ingredients
Lamb
2 tablespoons of ground cumin
1 teaspoon smoked paprika
2 cloves garlic
1 teaspoon sumac
3 tablespoons olive oil
1 piece ( ¼ ) preserved lemon (pith removed chopped very fine)+ extra for serving
2 tablespoons fresh oregano
1 teaspoon salt
½ teaspoon pepper
1.5kg shoulder of lamb (3lb)
500ml chicken (or beef) stock (16.9fl oz)
2 Tablespoons pomegranate molasses
Feta Mashed Potatoes
1 kg peeled chopped potatoes (good mashing ones)
200ml (3/4 cup) milk
150gm (5oz) creamy Danish Feta
½ teaspoon salt (to taste)
2 tablespoons butter
To serve
Pomegranate seeds
chopped mint and/ coriander
Extra preserved lemon
Instructions
Pre heat oven 150 C/ 300F. Have a heavy oven dish with a lid ready.
Put all of the ingredients except the lamb and stock into a bowl and mix. You should have a nice spice mix that is like a paste. Rub this onto the lamb concentrating on the top.
The flavours are best sealed into the lamb before cooking. Put a fry pan big enough to hold the lamb or the oven dish onto a burner and heat. Add the lamb and sear on all sides. If using a fry pan transfer the meat into the oven dish and add the stock to the pan and scrape off the spices and add to the oven dish with the stock. Put the lid on and braise for 3 hours.(This can be made up to this point and left in the fridge overnight if required, remove fat and continue):
I like to remove the lamb from the sauce and skim off as much fat as you can from the top. Puree the sauce in a blender or with a stick blender so you have a thick sauce. Add the pomegranate molasses and stir testing for salt.
Add the lamb back into the pot. Rewarm on the stove top or pop into the oven at 180 ( 350) for up to 30min without the lid.
Feta Mash
Steam the potatoes till tender.
Warm the milk with the feta till just warm-hot without boiling.
Rice the potatoes then add the butter and spoon in the feta followed by ½ the milk. Stir till combined. There will still be some lumps. Keep adding milk till you have a nice loose mash. Taste for salt and add more if necessary.
Serve the lamb with delicious Feta Mash
Tania Cusack
After completing Culinary School in Sydney, Tania travelled the world working as a Chef in restaurants, doing catering and cooking on road for a travel company in Europe and the US. Once back at home, the birth of her son meant a change, and during his small years, she enjoyed jobs in wholesale food, buying Artisan food products, testing and recipe writing as sales and educational tools. Tania is now back to what she loves, working as an in house Chef for a large retailer, conducting Cooking Classes and writing recipes for her blog.