Mascarpone Pasta with Chorizo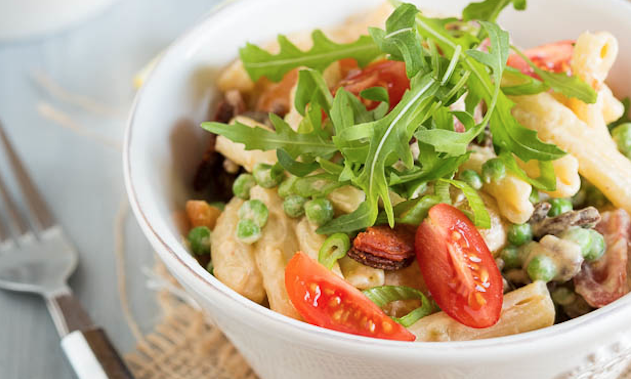 Cold pasta is a perfect barbecue side dish. Crispy chorizo pieces and fresh arugula add salt and spice to keep you coming back for seconds.
By Simone Van Den Berg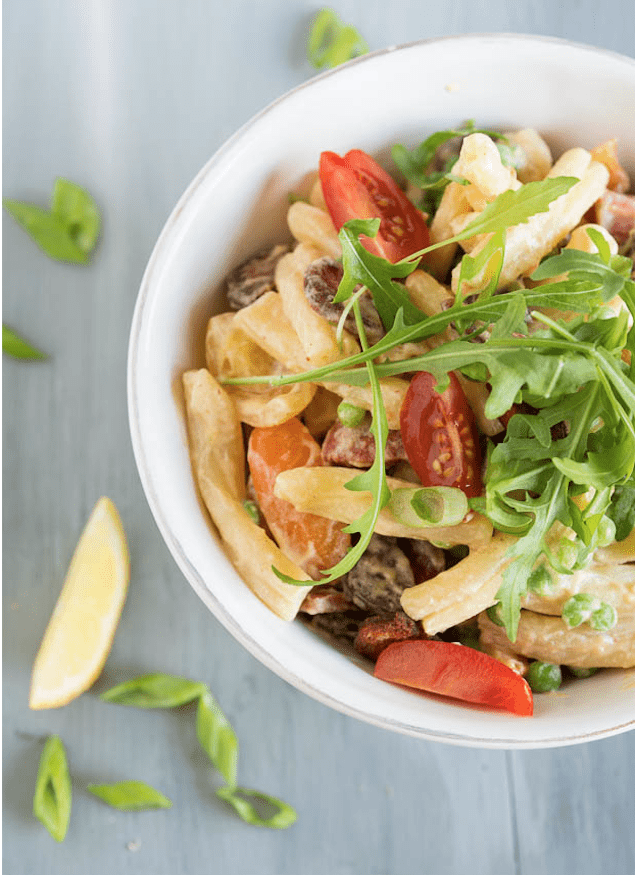 This is a lovely cold pasta, no need to heat, and the chorizo is essential as it gives it a salty kick and a bit of crunch too. Bake it until it is crispy and stir it through the salad at the last minute so it stays crispy.
Serve with some arugula or another leavy salad of your choice and eat away. Also good for a sidedish during a BBQ for instance!

Mascarpone Pasta with Chorizo
Cold pasta is a perfect barbecue side dish. Crispy chorizo pieces and fresh arugula add salt and spice to keep you coming back for seconds.
Author:
Simone Van Den Berg
Ingredients
150 gr pasta (I prefer a smaller type of pasta)
100 gr sweet green peas
150 gr chorizo
150 gr chery tomatoes
120 gr mascarpone
2 tbsp tabasco chipotle
1 tbsp of olive oil
½ or 1 lemon, juiced
1 heaped teaspoon of dijon mustard
handful of arugula
spring onions
parmesan cheese (optional)
Instructions
Heat a large pot of salted water and cook the pasta according to package instructions. Drain and rinse with cold water, leave to cool
Chop your chorizo into smaller bits and heat a frying pan on medium. Bake the chorizo until crispy and leave to drain on kitchen paper.
Cut your cherry tomatoes into quarters and put into a large bowl. Add the cooled pasta to the bowl as well.
Quickly cook your frozen peas until they are thawed, drain, rinse and add to the bowl as well.
Make a sauce by adding the mascarpone, tabasco chipotle, olive oil, lemon juice and dijon mustard together and stir well. Taste and add seasoning where needed. I ended up using about ¾ of the lemon so just check if it's to your taste. When you're ready to serve add the chorizo in and mix it through.
Plate it up by using a bit of arugula, put the salad on top, sprinkle with some spring onions and parmesan cheese if you want and eat away!
Simone Van Den Berg
Simone van den Berg is a Netherlands based freelance food photographer and food blogger. She has a passion for cooking, food and travel, which she shares on her blog Simone's Kitchen and of course right here on Honest Cooking.