Slow Cooker Tortilla Soup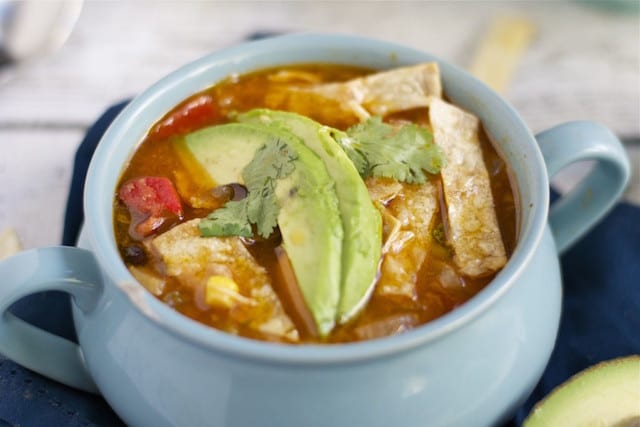 An easy tortilla soup is loaded with tender chicken and served with creamy avocado and crispy tortilla strips.
By Megan Hastings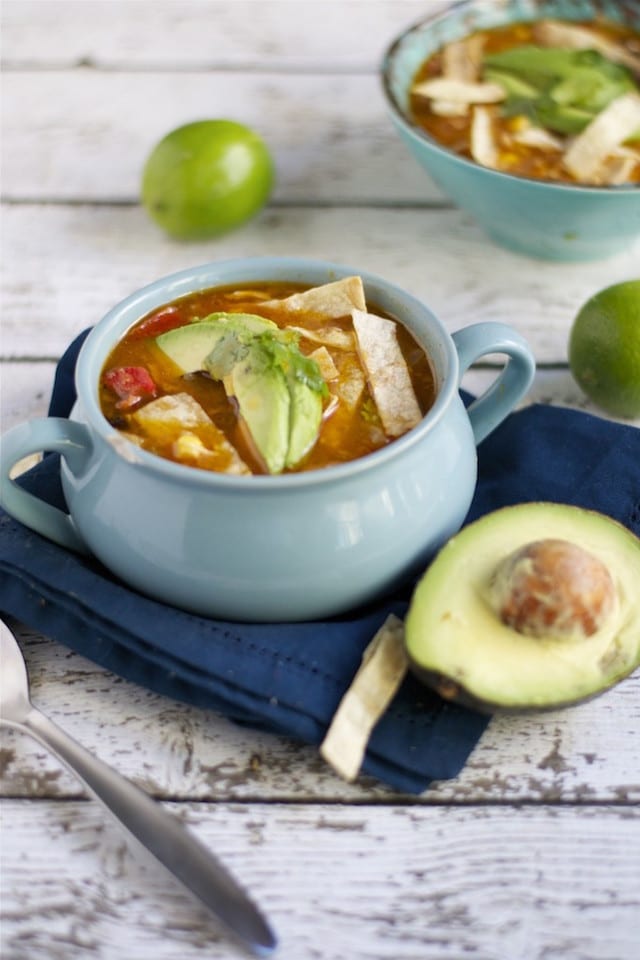 For this soup, all I had to do was throw everything in the crock pot and come back later to shred the chicken and the soup was done! Easy peasy lemon squeezy. More like easy peasy lime squeezy am I right?
My favorite part of this crock-pot chicken tortilla soup is the homemade tortilla strips. They were very easy to make in the oven and tasted great with the spicy soup. All you do is cut corn tortillas into strips, lightly spray with cooking oil and then bake in the oven for 5-10 minutes until crispy. Much healthier than the fried version and tastier too!
I topped my soup with some fresh sliced avocado and it was pure bliss in every bite. You could also top with some sour cream or shredded cheese if you can eat dairy, it would be great!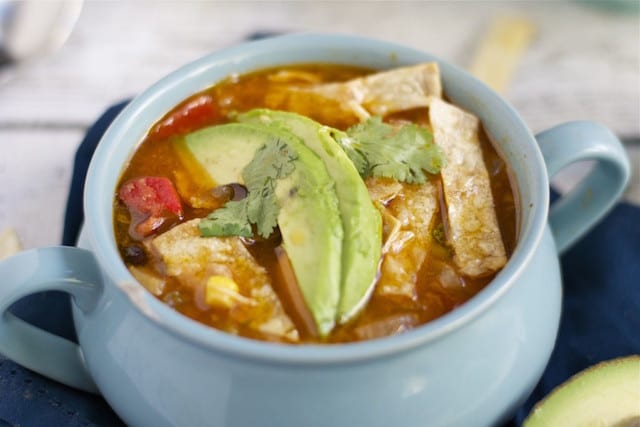 Slow Cooker Tortilla Soup
An easy tortilla soup is loaded with tender chicken and served with creamy avocado and crispy tortilla strips.
Ingredients
2.5 lbs chicken breasts or thighs, skinless and boneless
1 large onion, diced (about 2 cups)
1 green bell pepper, diced (about 1 cup)
1 red bell pepper, diced (about 1 cup)
1 (28 oz) can diced tomatoes
1 (15 oz) can black beans, rinsed and drained
1 (15 oz) can corn
1½ qts chicken stock (make sure it is gluten-free if need be)
¼ cup chopped fresh cilantro
1 tbsp cumin
1 tbsp chili powder
½ tsp cayenne pepper
1 tsp salt
1 tsp garlic powder
1 lime, juiced
5 corn tortillas
avocado (for serving)
Instructions
Turn crock-pot to low setting. Add half of the onions and bell peppers to the bottom of the crockpot.
Place chicken on top of onions and peppers. Then add remaining ingredients except for the corn tortillas. You may need to add more chicken stock to reach the desired consistency of your soup.
Cover with lid and cook for 6 hours on low.
Shred chicken with a fork and serve with fresh avocados and tortilla strips.
To make the tortilla strips, preheat oven to 375F. Cut tortillas into strips. Spray a baking sheet with cooking spray. Place strips in a single layer on the baking sheet and then spray the tops lightly with cooking spray. Place in the oven and bake for 5-10 minutes, until strips are crispy.
Megan Hastings
Chicago food blogger specializing in gluten-free and other allergy friendly recipes showing you that just because you have food allergies and intolerances does not mean you can't eat and live deliciously!