A simple and rather authentic-tasting slow cooker version of shrimp tikka masala.
By Rinku Bhattacharya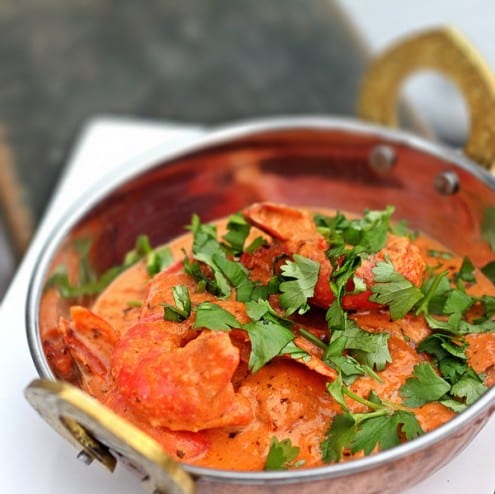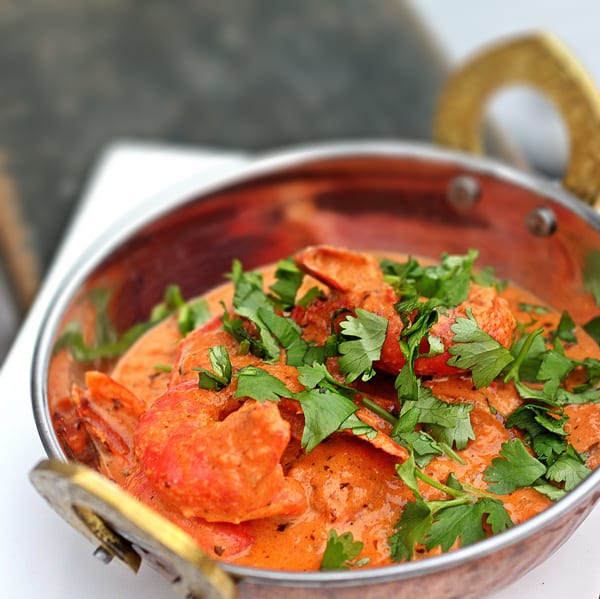 Slow Cooker - Shrimp Tikka Masala
A simple and rather authentic-tasting slow cooker version of shrimp tikka masala.
Author:
Rinku Bhattacharya
Ingredients
2 tablespoons oil
1 medium sized red onion, chopped
1 tablespoon fresh ginger paste
2 pods garlic
4 tomatoes, diced
1 tablespoon tandoori masala
1 cup beaten greek yogurt
¾ cup water
11/2 teaspoons salt
11/2 teaspoons sugar
2 green chilies, minced
1 teaspoon garam masala powder
½ cup heavy cream
2 pounds of large shrimp, shelled and de-viened
2 tablepsoons dried fenugreek leaves
Cilantro to garnish
Instructions
Place the oil in slow cooker and add in the onions, ginger and garlic and turn the slow cooker onto to a 4 hour cycle on low.
After about half and hour the slow cooker will be sweaty and fragrant (I know this does not sound very appetizing but it all works out.)
Add in the tomatoes, tandoori masala, greek yogurt, water, salt and sugar, green chilies and stir well.
Let the mixture simmer well for about 3 hours.
At this point, use an imersion blender and add puree the mixture with the cream.
Add in the shrimp and fenugreek and continue cooking for 30 more minutes.
Serve the mixture garnished with cilantro.