Throw a batch of these short ribs in your slow cooker and you will be enjoying these tender beef burrito bowl with bright vegetables in no time.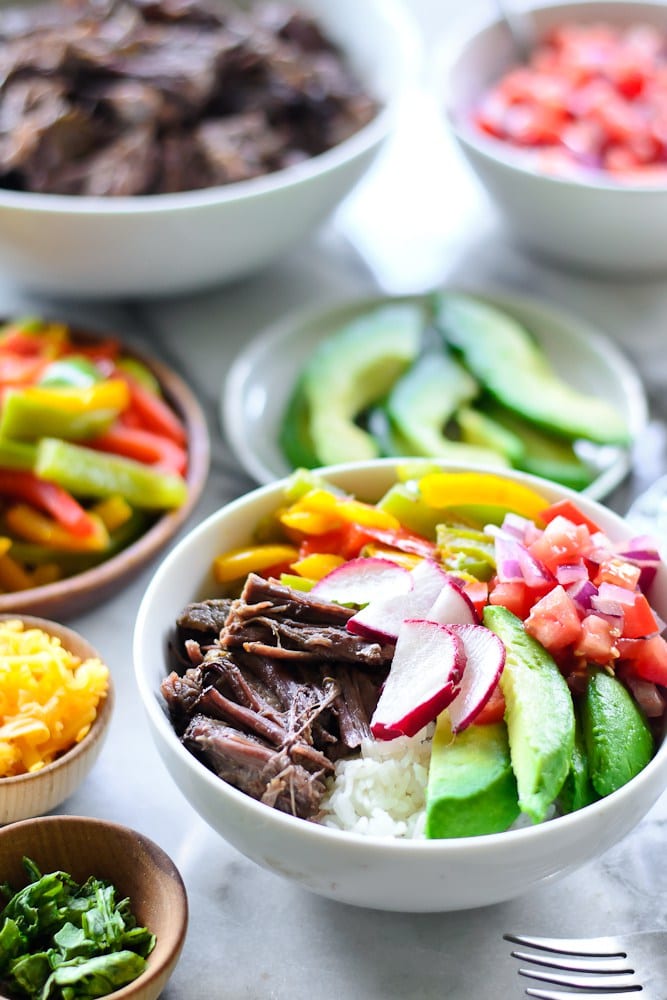 As part of our new efforts to spend responsibly, we're eating out/ordering in less and cooking at home more. Adult-ing can be hard, but it's also kind of delicious, because it's led to awesome homemade meals like these short rib burrito bowls. Big ol' bowls full of juicy, fork-tender beef cooked low and slow for 8 hours, fluffy steamed rice, and tons of fresh veggies veggies.
Minimal fuss/effort, maximum flavor/satisfaction. And, it doesn't heat up the kitchen.
And, aren't nutritionists always saying that healthy, balanced diets require people to eat as many colors of the rainbow as possible? These burrito bowls definitely help you do that. They've got raw sliced radish, fresh pico de gallo, sliced avocado, and sauteed bell peppers – that's red/orange, yellow, green, and purple. No blue, but there aren't a lot of naturally occurring blue foods out there, and I'm not putting blueberries in my burrito bowl just to eat a rainbow!
To keep my bowl healthy-ish, I left off the cheese and sour cream, but you can totally load it up with both.
See Also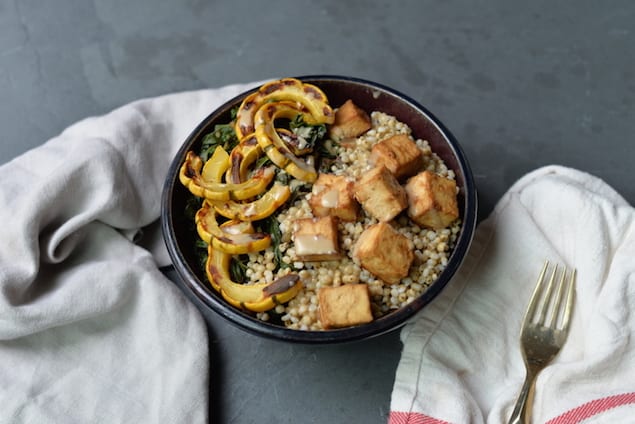 No matter how you like to eat your food, these burrito bowls are a must try! Not only are they delicious & nutritious, but they're an easy lunch/dinner option during the week – just cook up a big batch of meat over the weekend, steam some rice, slice up or saute an assortment of veggies, and eat the leftovers the rest of the week.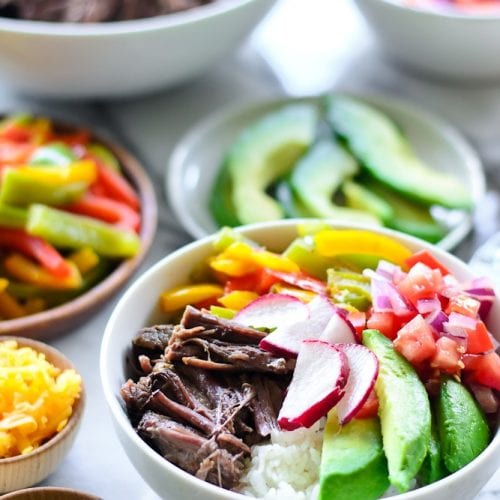 Tina Putzing
Ingredients
For the ribs:
4

lbs

beef shortrib

boneless

1

tbsp

salt

1

tsp

ground black pepper

1

tsp

garlic powder

1

tsp

onion powder

½

tsp

chili powder

¼

tsp

ground cumin

1

cup

beef broth
For the fixings
White rice

steamed (or whichever rice you like!)

Sauteed bell pepper slices

Pico de gallo

chopped tomato and raw onion tossed together with lime juice, garlic and salt to taste

Sliced avocado

Raw radishes

thinly sliced

Sour cream

Grated cheese
Instructions
To cook your short ribs:
Place your short ribs in a crock pot, and sprinkle with all the seasonings.

Pour beef broth over the top, making sure every piece of meat has been drizzled with the broth.

Cook on low for about 8 hours, or until meat is very tender.

Once done cooking, shred the meat directly in the crock pot and allow it to soak up some of the fatty juices.
To serve:
Scoop hot rice into a bowl.

Add a generous portion of shredded short rib, then top with alllllll the fixins'.
Tina Putzing
I am an attorney, a lover of reality television (esp if food is involved), a stress-eater, a voracious reader, and a shameless sci-fi/fantasy nerd. I love to eat, I love to cook, and I love to make other people eat what I cook.