Quick, easy, no fuss and only one dish. Skillet focaccia is a blank slate dish that can take on any components you can think of, with barely any hassle.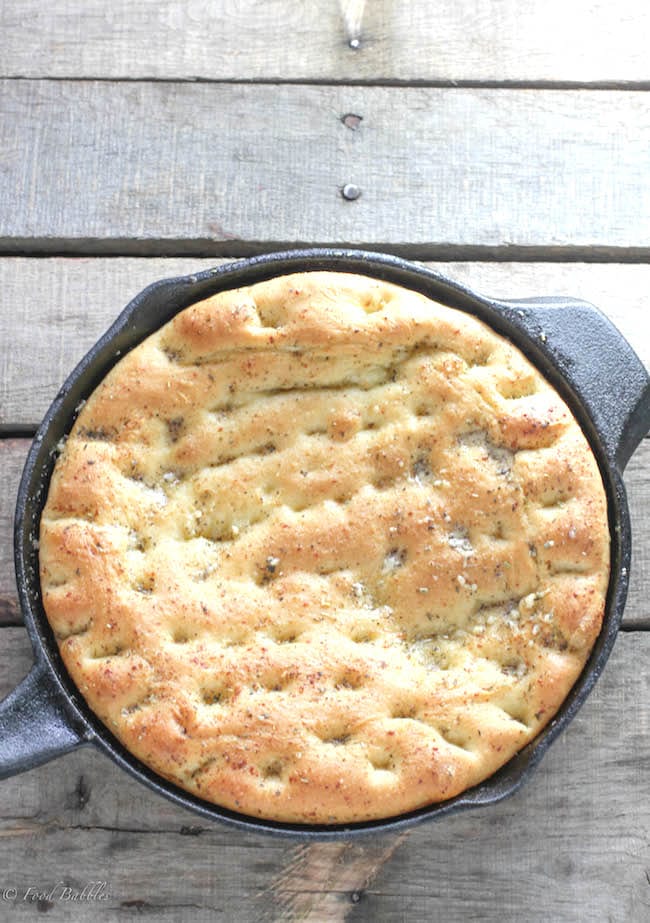 Show of hands, who likes quick easy recipes? Yep, me too! And this skillet foccaccia definitely falls into that category. Know what else? This is one of those recipes that so easy, it's practically foolproof. A handful of ingredients, most of the time is hands off and it's all made in one dish, a skillet! Who doesn't love a one dish recipe? So easy.
The other beautiful thing about this focaccia recipe is that it's one of those blank slate recipes. Right before you're ready to bake up this beauty, brush it will a little melted butter and sprinkle on whatever your heart desires. Flavors abound and your imagination is the only limit! Here I used parmesan, garlic and Italian seasoning. Fluffy, soft and tender inside. Buttery and crisp on the outside. A summer salad or a vibrant pasta dish will go wonderfully with this beautiful bread. You will wonder where this bread has been all your life.
See Also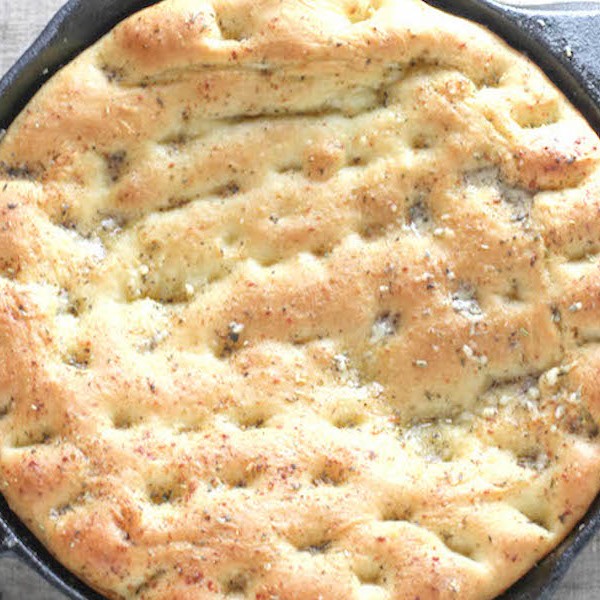 Kate Donahue
Ingredients
For the Dough:
2

cups

all-purpose flour

or bread flour

1 1/2

teaspoons

instant yeast

1/2

teaspoon

granulated sugar

1/2

teaspoon

salt

3/4

cup

water

about 100-110°f

2

tablespoons

olive oil
For Topping:
4

tablespoons

unsalted butter

melted

1

tablespoon

grated parmesan cheese

1

clove

garlic

finely minced

1/2

teaspoon

italian seasoning

1/8

teaspoon

paprika
Instructions
In the bowl of a stand mixer fitted with a dough hook, whisk together 1 1/2 cups flour, yeast, sugar and salt until well combined. Add the water and olive oil. With mixer on medium speed, mix until well combined then slowly add 1/4 cup flour and mix until dough begins to pull away from sides and begins to look smooth but will still be sticky.

Sprinkle surface with remaining 1/4 cup flour and knead dough until smooth and no longer sticky. Shape dough into a ball and cover with a light kitchen towel.

Preheat oven to 150°F then turn the oven off.. Butter or grease a 10"-12" cast iron skillet. Roll dough to size of skillet and fit into skillet. Cover dough again with light kitchen towel and place inside warm oven for 20 minutes.

After 20 minutes remove skillet and set in a warm, draft-free place. Preheat oven to 400°F. Using the handle of a wooden spoon or fingertips, poke indentations in dough.

In a small bowl, mix together all topping ingredients and brush dough with half the butter mixture. Bake in preheated oven for 20 minutes until golden and puffed. Remove from oven and brush with remaining butter mixture. Cool in pan on a wire rack then slide focaccia out of skillet, cut into squares and serve.
Kate Donahue
Kate is the baker, dessert-maker, photographer, writer and recipe developer behind FoodBabbles.com, a place to find classic treats, savory eats and unique sweets. You'll also find freshly baked breads, savory tarts and more!