In Winter Park, CO you can ski to your hearts content and eat amazing Italian food. Chef Andrew showcases local ingredients with a flair of Italy.
Shutterstock: Nina B
Amidst the beautiful ski area of Winter Park, Colorado, you will find Volario's restaurant. After a day on the slopes, nothing sounds better than a Northern Italian meal with a touch of spice influenced by Spanish mountain cuisine made with authentic Colorado ingredients. The dishes that come out of the kitchen run by Chef Andrew Aghajanian are hearty and flavorful, just what a hungry skier ordered.
Andrew Aghajanian has a true kitchen mind. He loves to explore unique ingredients, especially cured meats, and conquer dinner service with the feeling of a busy rush that comes with it, all while leaving behind the hiccups and paperwork that may have come up during prep time.
"The whole day is filled with headaches and struggles, but once the tickets start to come in and the food goes out; all that matters is the guest."

As cornerstones of modern cooking technique, Chef Andrew has been learning and using French and Italian cuisine basics throughout his culinary career. Now that he is creating amazing Italian flavor combinations at Volario's, Andrew relies more and more on the basics of the cuisine he has always been inspired by. On each of his trips to Italy, he is consistently motivated by the slow food movement and the preservation of flavors and techniques that comes with such practices and tries to bring the same mindset back to Colorado.
So how does one incorporate the interesting producers of Colorado with the traditional story of Italian food? Chef Andrew says he will always import Italian staples that could not be left out of the cuisine, but it is fun for the cooks and diners to create and eat traditional Italian recipes with local ingredients weaved in. Serving Italian food in Colorado, in a ski area, means the menu often ends up consisting of refined Italian street foods. Thinks of small sandwiches served on fresh bread with Italian cured meats and a miacce cornmeal cake filled with stacchino and seasonal vegetables.
Every chef has a favorite flavor or ingredient that seems to change by the week, or even the day, but Chef Andrew Aghajanian's "it" ingredient is a house made experiment that isn't going anywhere soon. Andrew is constantly learning and creating in the delicious world of Italian salumi and prosciutto. In fact, he just cut into his first prosciutto after spending time learning and sneaking through curing caves buried beneath castles in Italy. And that is what he loves about Italian food, the ability to create something with depth and rich flavor out of typical items you would find in any kitchen.
"I love that great Italian food can be create with simple, but quality ingredients."
It's these fun projects and ideas that keeps Andrew and the hard-working team at Volario's engaged and excited to come to the kitchen each day to create with Italian flavors for their active patrons. The restaurant also periodically brings in guest chefs for their crew to learn from and to introduce a fresh style of cooking for their guests to experience. This past month, Chef Salvatore Acampora from southern Italy brought his ideas and techniques to Colorado to mix with its current northern influence. Despite the language barriers, Chef Andrew noted that kitchen talk and cooking communication was universal and allowed them to create a beautiful menu together showcasing two very different Italian regions.
Even as the weather begins to warm and skiing goes to the back burner, guests will continue to be wowed with fine food. Early spring vegetables such as ramps, asparagus, and leeks and small game like rabbit or duck will make their seasonal debut on the menu with the help of Chef Andrew and the team at Volario's. And as we dive into spring, you might find Chef Andrew experimenting with a new cured meat or enjoying Thai panang curry when he is not eating and learning about Italian food on a day off. But no matter the season, the refined, honest cooking that Andrew Aghajanian and his team create at Volario's pays delicious tribute to Italian cuisine and the visitors and locals of Winter Park who love to eat it.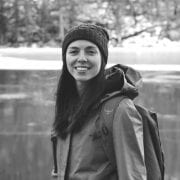 Annelise McAuliffe
Mandatory family outings to the Detroit farmers' market and nightly home-cooked meals cultivated Annelise's respect and curiosity for food. A graduate of The Culinary Institute of America, she spends her free time in New York City recipe testing, eating breakfast all day, and dreaming up international culinary adventures.