Sirke Wale Pyaaz – Pickled Onions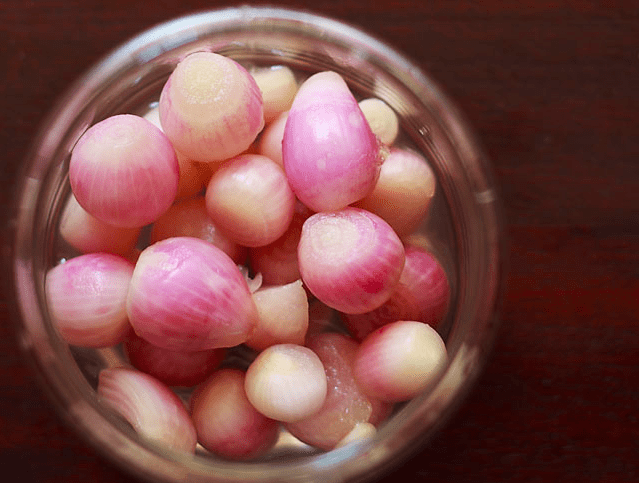 These onions go very well tandoori snacks or rich curry dishes like paneer butter masala, dal makhani, tandoori aloo or any rich curry dish of your choice.
By Dassana Amit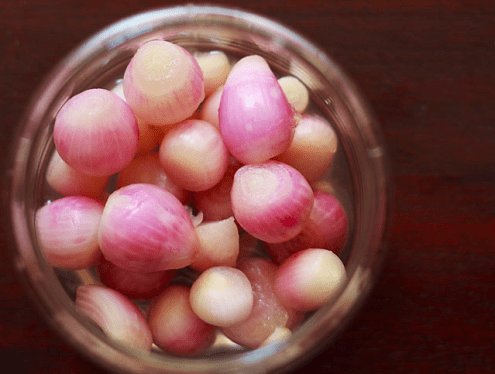 using a lot of vinegar makes the onions very sour. i have learnt how to make these pickled onions from my mil and she always advises not to use too much vinegar. also there is no need to cover the onions completely with the vinegar-water solution. just shake the jar for 2-3 times in a day till the pickle is ready.
Sirke Wale Pyaaz - Pickled Onions
These onions go very well tandoori snacks or rich curry dishes like paneer butter masala, dal makhani, tandoori aloo or any rich curry dish of your choice.
Ingredients
15-20 small red onions or shallots
1 tsp white vinegar or apple cider or balsamic vinegar
¼ cup water
¾ tsp salt or as required
Instructions
peel and rinse the onions.
place all the onions in a glass jar or ceramic jar or any non reactive jar.
add the vinegar, water and salt to the onions.
shake the bottle.
let the onion sit in the vinegar-salt solution for 2-3 days.
shake the bottle 2-3 times in a day.
serve the sirke wala pyaaz with any indian main course.
refrigerate after the onions are pickled.
Dassana Amit
Dassana never intended to start a food blog. She never ever thought about blogging in her wildest of dreams. Her only passion in her life was meditation. As she went deeper in meditation, she realized that her inborn gift of cooking delicious & healthy food needs some creative expression. So she started her blog " Veg Recipes of India " as an outcome of creative flowing energy. Now she has also combined her another gift i.e photography with cooking. When not blogging & food photographing - she works as a web developer and seo expert.