Sweet, salty, crunchy and perfectly satisfying due to the rich, savoriness of whole milk ricotta, these quick appetizers will keep the appetites satiated while you wait for dinner.
By Emily Stoffel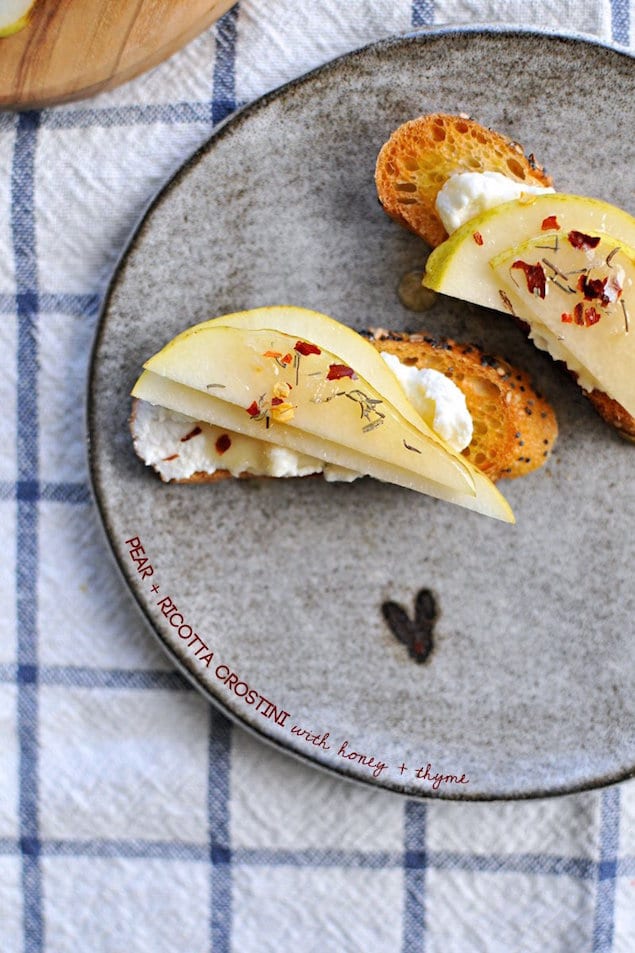 I stumbled onto this crostini after receiving a bounty of pears in our farm box a few weeks in a row. I had all these high hopes for making something pe(a)rfectly stunning and totally imp(ea)ressive, and then I remembered I'm a total slacker (oh yeah…that…..). So, total fail. Also: totally p(ea)redictable. I should just know these things.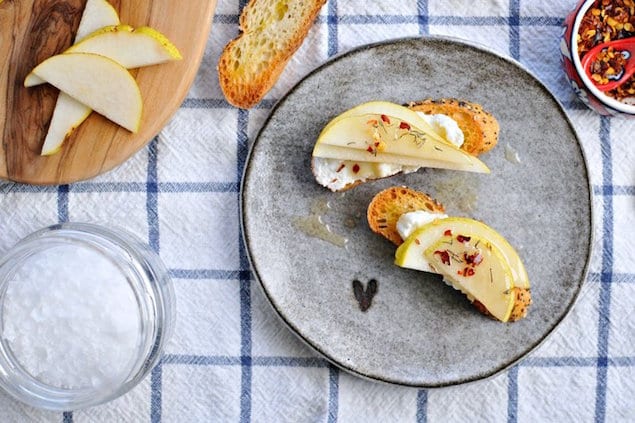 (Are we already over the clever pear p(ear)uns? Did that one even count? Ok, done.)
Happily, thanks to a tub of ricotta I had leftover from s'ghetti squash fritters and a lovely little jar of honey from the hippie beekeepers down the road, these came together in a super non-recipe kind of way, and I'm so glad they did.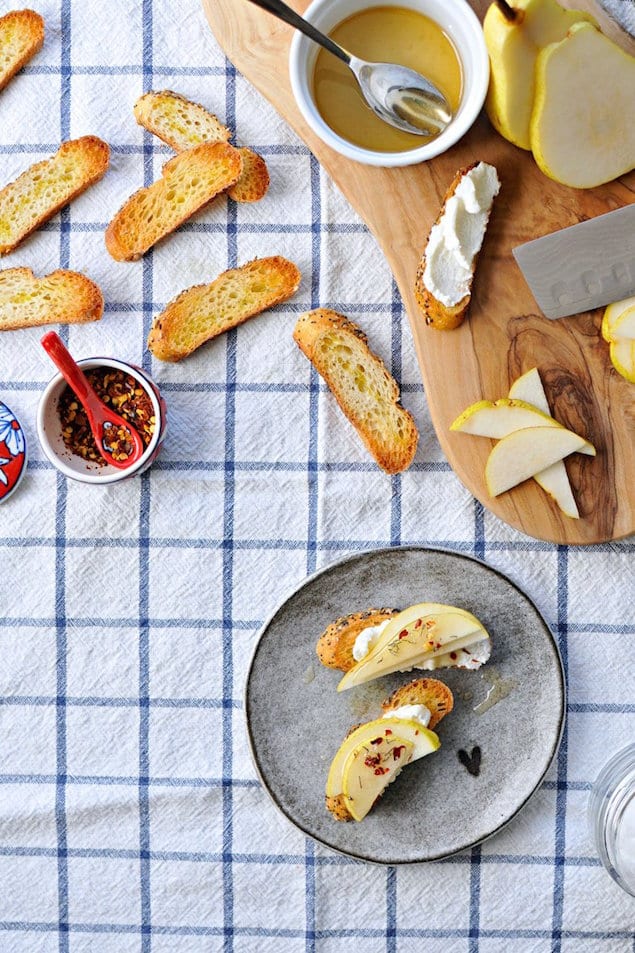 Sweet, salty, crunchy and perfectly satisfying due to the rich, creamy savoriness of whole milk ricotta (I'm going to insist you go that route — calories be damned!), these are the perfect little gourmet snack for chillin' in front of the tube, rosé in hand.
And, of course, they're the just-right (maybe even last-minute?) addition to your holiday table because they're in your face in under 10 minutes — maaaaybe even 5 if you're an efficient slicer of pears and your broiler kicks ass.
See Also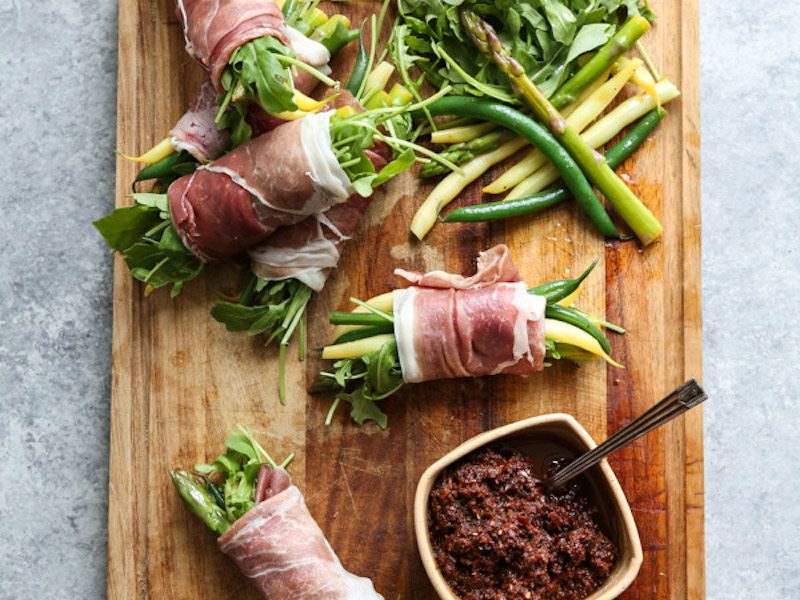 Get these going before you pop the sheet trays of dinner in to roast, and you've got something for your guests to munch on while you slave over a hot stove do a sinkload of dishes worry about everything coming together at the same time drink wine and look pretty.
Wait, are you a dude reading this?
Hunky. Drink wine and look hunky.
Print

Simple Appetizer: Chili and Pear Ricotta Crostini with Herbs
---
Author:

Emily Stoffel

Yield:

adjust to the amount you desire
Description
Sweet, salty, and perfectly satisfying from rich whole milk ricotta, these quick appetizers will keep the appetites satiated while you wait for dinner. See notes for measurement details.
---
soft French or narrow seeded baguette, sliced about ¼" thick
olive oil
whole milk ricotta cheese
thinly sliced pears
good honey (local + raw, if available!)
few pinches dried thyme
crushed red chile flakes (optional – crushed black pepper is also nice)
good, flaky sea salt
---
Instructions
Preheat broiler.
Arrange sliced baguette on a rimmed baking sheet and drizzle lightly with olive oil. Broil until golden and toasty, just a minute or two — keep an eye on it! (For crunchier crostini, you can actually bake them at 350F, but I prefer the texture of only one toasty surface. Less crumby, too!)
Just before serving, top toasts with a generous smear of the whole milk ricotta, a couple of pear slices and a drizzle of honey. Lightly crush dried thyme in the palm of your hand to release aroma and sprinkle over top. Finish with chile flakes (or black pepper) and a good sprinkle of sea salt. Enjoy!
Notes
This is less of a recipe and more of a method that results in a fantastically tasty (and shamefully simple — but elegant!) snack or starter. I really do believe that using whole milk ricotta is the key to making these little toasts feel more substantial than they appear. For a gluten/grain-free variation, skip the toasts and smear the ricotta directly on a thicker slice of pear, adding just a drizzle of olive oil over the top (along with the honey) to maintain that key savoriness. Yum!
Also, I've not provided specific quantities since you can make as many or as few as you'd like. For an extra-small portion (let's say, a personal-sized snack to enjoy while watching Vampire Diaries), the toasts broil up perfectly in a toaster oven. :)
Category:

Appetizer, Side
Emily Stoffel
Emily Stoffel (Em) is the voice behind The Pig & Quill, a food blog featuring original, (mostly) mindful & real food-based recipes -- plus salty scribblings about life, love and all the miscellany that falls into that goofy little crack between the fridge and the cabinetry. When she's not in the kitchen, you can find Em (pretending to enjoy) running, nerding out over marketing, chatting with Momma and planning elaborate vacations that sometimes work out. She lives in the San Francisco Bay Area with her husband, Chris, and their three bicycles.