Special takes of gastro-pub bites like dry-aged burgers, butter-nut squash, perogies and fish chips are introduced to Williamsburg by Silver Light Tavern. 
Hitting a temperature on what finally feels like a fall night in Williamsburg New York, beanies and acid wash boyfriend pants are seen on Metropolitan Ave. Either on a mission to find fun, love or in most scenarios' food and booze. Which in reality are two important factors of fun and love, right? Among the sea of the cool hip places where menu items are named after pets, Silver Light Tavern stands out.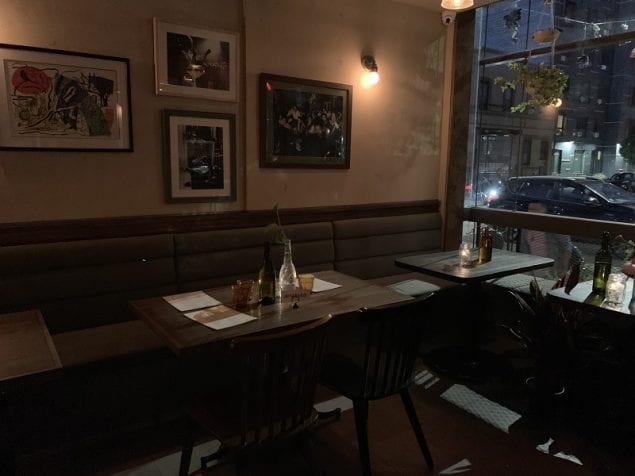 Opening in February 2019 by Proprietor Micheal Kraweic, the neighborhood tavern is described as "inviting and cozy". Refraining from the unpretentious feeling one often feels at spots in the hip neighborhood. Serving renditions of traditional dishes like the burger made with dry aged beef served on a brioche bun. To fried bites that include the Kentucky Fried Cauliflower. Opening Silver Light Tavern's menu to vegan and veterinarian eaters who constitute a significant portion of the local neighborhood. To seasonal takes of traditional pub dishes like the sandwich. Silver Light Tavern makes theirs with pumpkin falafel replacing classics such as the Ruben, for the fall season.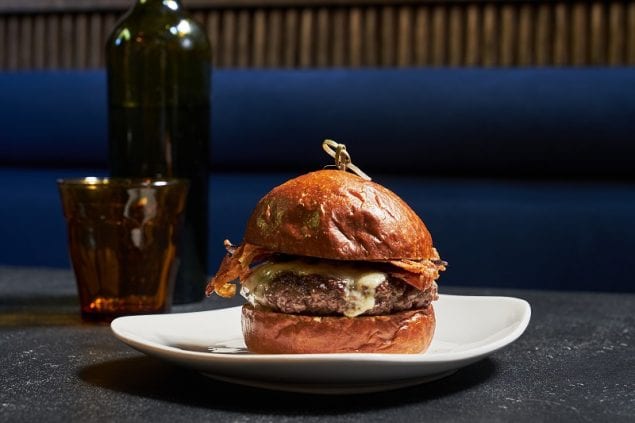 While portions are smaller and prices are higher than the standard tavern, the inventive menu (includes brunch and dinner) doesn't skimp on quality and taste. Especially the perogies featured as an appetizer. But that's just what diners will find at Silver Light Tavern, which opened its doors on the corner or Lorimer and Frost Street.
Upon entering the doors, diners will be greeted by server. If you're lucky enough his name is Graham, who will guide diners to their seat in a space featuring clean wooden chairs, tables and sea foam colored lounges.
Additionally, there is a dining room in the back featuring large skylights, deep blue banquettes, a tin ceiling and plants provided by Kraweic's mom. During the day this room functions as a café and local breakfast spot. It can also be booked for special events like birthday or wedding parties.
Pumpkin Falafel Sandwich.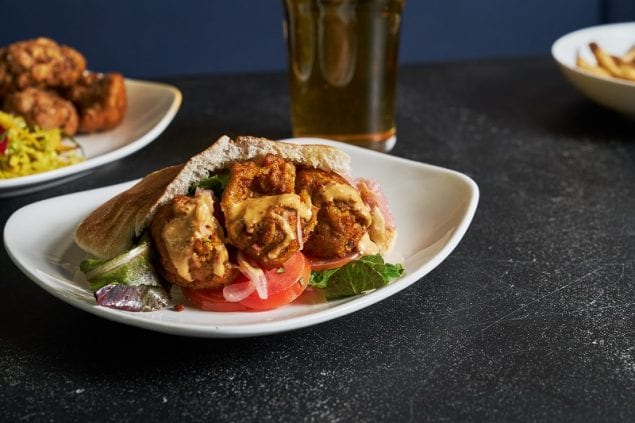 Another vegan option is the falafel made with pumpkin opposed to chickpeas served with pita and spicy veganaise. While it was tasty, I would recommend creating a bowl version of the dish. Adding an Israeli salad and hummus to bring the flavors to full circle.
Butter Nut Squash Pierogi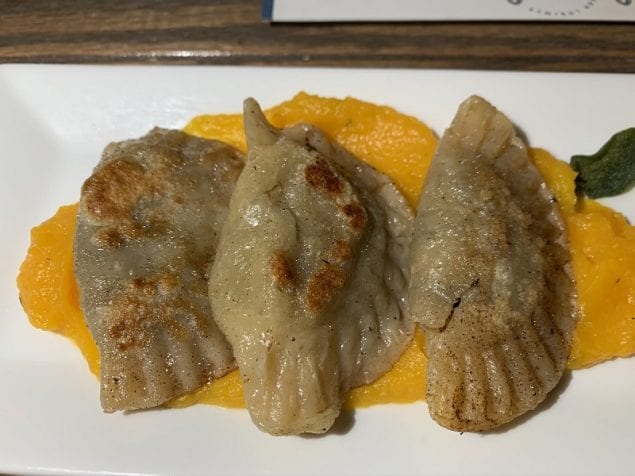 As the youth say "do not sleep on these' Chestnut sage filling fills three buttered dumplings sitting on a puree of butternut squash.  I could have eaten 100 of them.
See Also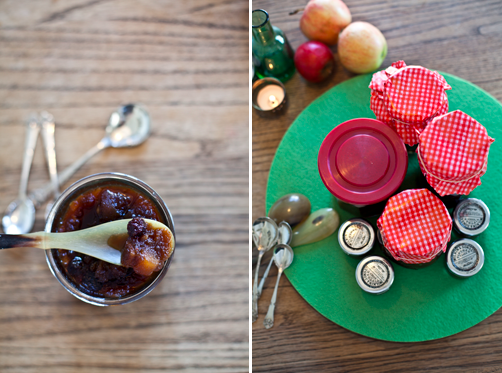 Fall Vegetable Gratin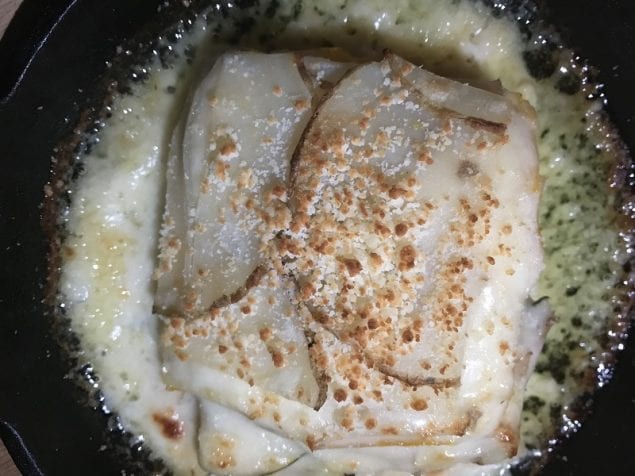 A seasonal rendition of the traditional side on the menu, julienne slices of butternut squash alternate with potatoes in a small skillet. Layered with melted fontina, pecorino and aged cheddar cheese. If you are a fan of cheese, I'd recommend this dish.
Fish and Chips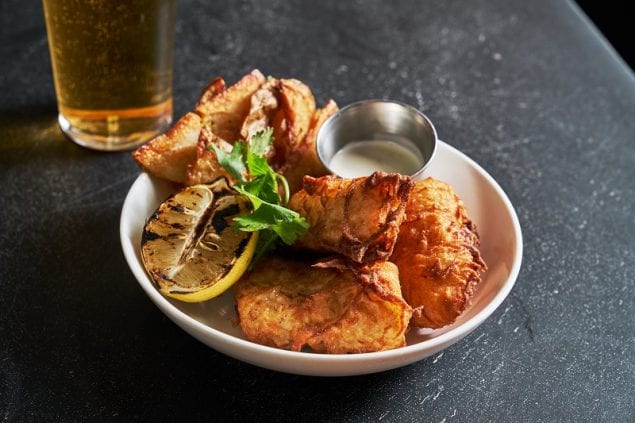 Wedge cut chips and three cuts of fried cod fish are plated in a basket. Simple and great to pair with beer. Not my absolute favorite but other tables seemed in favor of the dish for dinner with shared and paired with Silver Light Tavern's brussels sprouts or broccoli side.
Fondue.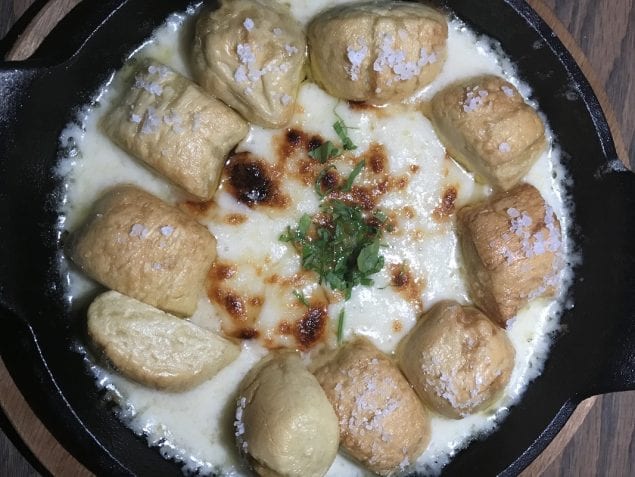 Don't expect the standard pretzel to be served in this dish. Rather sea salt sprinkled pretzel balls sit in a skillet of melted oozing cheese. Similar to the gratin the fondue's highlight is the cheese but I'd go for the gratin, or get both!
To note either of these dishes can be paired with specialty cocktails like the Hot Cider featured for fall or server Graham's favorite the Midnight Tango.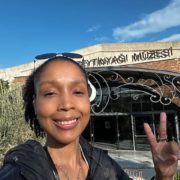 Alyssa Holder
Alyssa Holder is a writer specializing in food and travel topics since 2015.