A mere one hour drive from Copenhagen you'll find one of the most idyllic and pristine restaurants in Denmark, and it's 37-year old grand chef Jonas Mikkelsen, who caught the eye of the Michelin-guide.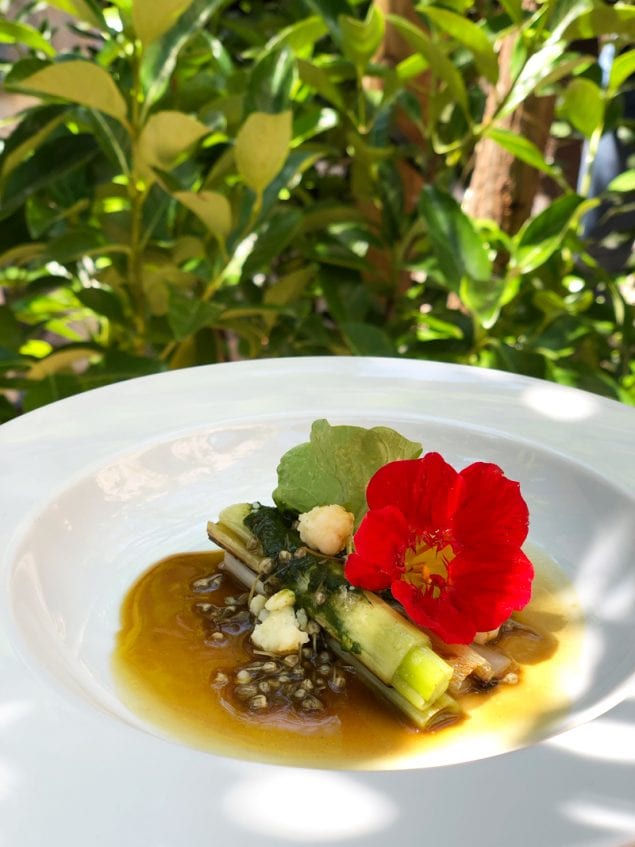 Since 2010 Jonas Mikkelsen has been steering the kitchen, making it one of the top restaurants in the country, and many believe that Frederiksminde was one of the key factors in the Michelin guide finally expanding their horizons.
And the place definitely is the polar opposite of the standard Copenhagen fare. Præstø is a small coast town in the south of Zealand with only 4000 habitants. The restaurant is part of the Frederiksminde Hotel; a historical building surrounded by green parks, an amazing view of the sea and beautiful, classic yet modernised town houses. You couldn't ask for a more idyllic setting. According to Jonas Mikkelsen the setting is what makes Frederiksminde unique.
"The location is 100 meters from the seaside and the city itself is calm and romantic. This also gives us another advantage. We have a huge garden, where we grow much of the produce that we use, like different cabbages, carrots, potatoes, radishes, edible flowers and herbs. Many people say that when dining here, you also get a taste of the surroundings, which is literally true".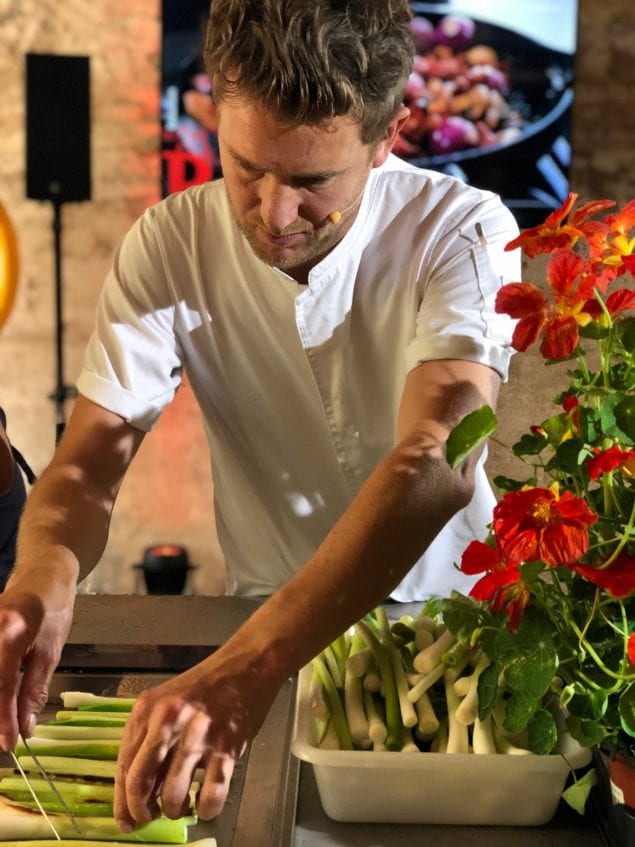 "We are very much vegetable-based and have been for the past 9 years, because it's hard not to be inspired by our surroundings. We can pull our produce out of the ground and serve it on a plate the same day. We are not a 'meat and potatoes' establishment. We do serve meats, but in more humble servings", he explains and continues to elaborate on his cooking style: "The use of vegetables really characterises me, but all the dishes are very savoury."
Below a great example: Jonas Mikkelsen's recipe on Grilled Leeks with parsley puree. View more of Frederiksminde's culinary universe through www.frederiksminde.com
Print
Grilled leeks with parsley puree
Author:

Jonas Mikkelsen

Category:

Appetiser

Cuisine:

Nordic
Grilled Leeks
Parsley puree (Parsley and Butter)
Pickled leek flowers
Grilled leek oil
Gammel Knas (Danish Havarti)
Nasturtium (leaf and flower to decorate)
Instructions
GRILLED LEEKS
Peel off the tough outer layers
Chop the leek down the center
Heat a grill to medium-hot heat
Cut them lengthwise into thin sticks if they are thick
Drizzle with olive oil
Set the leeks cook until grill marks form, turn them over and cook until they are tender
PARSLEY PUREE
Blend boiled parsley, parsley water and butter
LEEK OIL
Blend roasted leeks (almost dried) with oil
PLATING
Place the leeks (4 small "sticks")
Add parsley puree, pickled leek flowers, leek oil and Gammel Knas cheese
Decorate with Nasturtium
Happy cooking!
Natalia Bohórquez Rodríguez
Colombian based in Barcelona • Master in Marketing / Gastronomy • PR & Culinary Liaison • Food writer • @nataliabhqz