The next time you are in the mood for Italian food start here. A simple pasta dish full of shrimp, herbs, and a delicate tomato white wine sauce.
We happen to eat very little pasta in this household. Rice dishes? We've got tons. And when pasta dishes do make their way to our dining room table, it's usually the desperate "clean out the fridge" type. I tend to skip the photographing or posting since, let's be honest, even if it was worthy, I'd never remember what I threw in it, let alone be able to give you accurate measurements.
But sometimes, just sometimes, the mood strikes to give pasta its proper treatment: an Italian salad to start and a simple but tasty pasta dish full of shrimp, herbs, and a delicate tomato white wine sauce. Perhaps end your meal with a semifreddo to really go all out?
The sauce is straightforward: cook down shallots with a little white wine, stir in some cream, tomatoes, and herbs, and then add your shrimp. Once the shrimp turn pink, you're ready to stir in your pasta.
Top with parmesan and parsley or basil, and you'll be impressed with how easy it was to make something so delicious.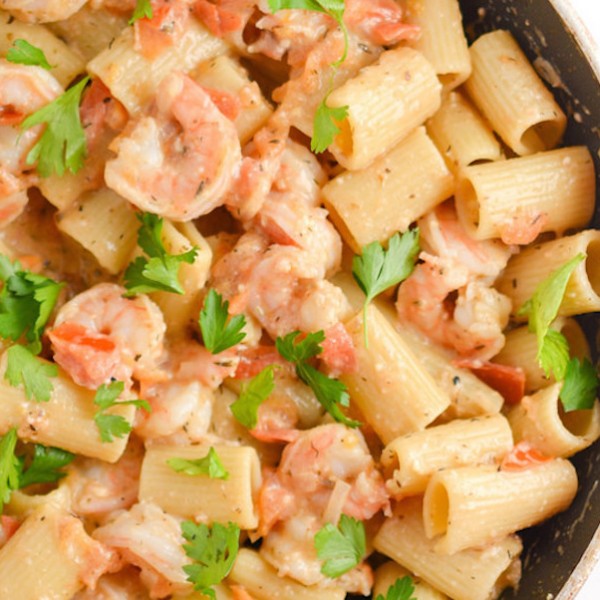 Vicky Cassidy
Ingredients
8

oz

rigatoni pasta

dry

1

tablespoon

olive oil

1

large shallot

minced

½

cup

dry white wine

¼

cup

heavy cream

2 to

matoes

chopped

½

teaspoon

dried thyme

½

teaspoon

dried oregano

½

teaspoon

dried marjoram

3/4

lb

uncooked shrimp

peeled and deveined

¼

cup

Parmesan cheese

Kosher salt

Freshly ground black pepper

Parsley or basil

chopped, as garnish
Instructions
n a medium sized saucepan, cook pasta until al dente. Drain and set aside.

Heat olive oil in a medium sized skillet over medium-high heat. Add shallots and cook for 3-4 minutes, until soft. Pour in white wine and cook until liquid is reduced by half. Reduce heat, stir in cream, tomatoes, thyme, oregano, and marjoram. Cook until tomatoes have softened and sauce starts to thicken, about 10 minutes.

Raise heat to medium and add shrimp. Cook until they are barely pink.

Remove from heat, add rigatoni, and stir to coat. Add Parmesan cheese, salt and pepper to taste. Top with herbs before serving.
Vicky Cassidy
Vicky Cassidy can usually be found in her Madison, WI kitchen with cumin or paprika in her hair and olive oil smudges on her camera. She is a self-taught cook and the occasional baker, and she loves oversharing stories about her kitchen and life on Things I Made Today.