Enjoy this awesome sesame noodles recipe from Deena Wachtel.
By Deena Wachtel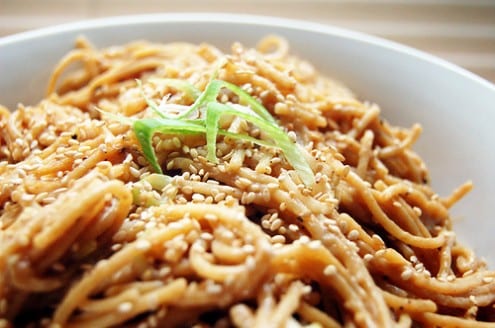 Sesame Noodles
Enjoy this awesome sesame noodles recipe from Deena Wachtel.
Author:
Deena Wachtel, adapted from the Pioneer Woman
Ingredients
1 package of Chinese Noodles cooked and drained (you can also use spaghetti)
¼ cup low-sodium Soy Sauce
2 Tbsp sugar
4 cloves Garlic, Minced
2 Tbsp Rice Vinegar
3 Tbsp Pure Sesame Oil
½ tsp Hot Chili Oil
4 Tbsp Canola Oil
2 scallions, sliced thin
2 Tbsp sesame seeds
Instructions
Create a vinaigrette by mixing the oils, soy sauce, vinegar, garlic and sugar together in a bowl.
Pour vinaigrette & sesame seeds over warm noodles and toss to coat.
Sprinkle with green onions as garnish.
Enjoy!
Deena Wachtel
Deena is a stay at home foodie, obsessed with food and intent on changing her finicky family into a foodie family. She lives by a set of FOODosophies and has pledged to get her kids into the kitchen to teach them how to cook and love good tasting food. It's not always pretty and there are nights when the kids go hungry. But, for her, it's all for the greater good. She blogs daily at stayathomeFOODIE.com.