This seafood recipe is easy to accomplish on a weeknight. The Asian-style ginger and soy sauce becomes thick as it cooks and is perfect with the crispy sesame crusted top while the fish stays moist inside.
By Carmen Sturdy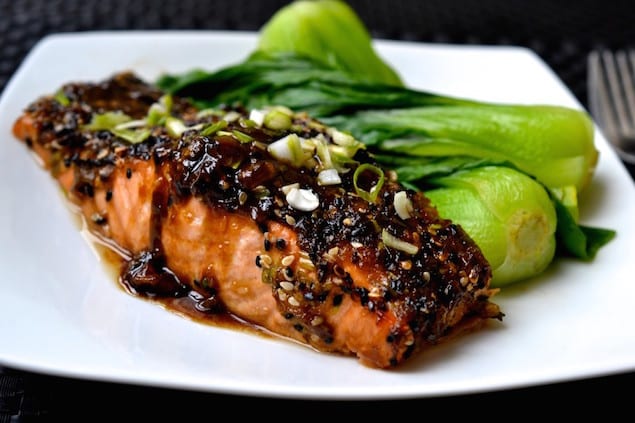 I was born and raised on the west coast of Canada where salmon is practically its own food group.
Salmon is not only delicious but its also one of the most nutritious fish you can eat. One of the most well known nutritional benefits of eating salmon is its high concentration of omega 3 fatty acids, which promote healthy joints and skin and reduce the risk of heart disease.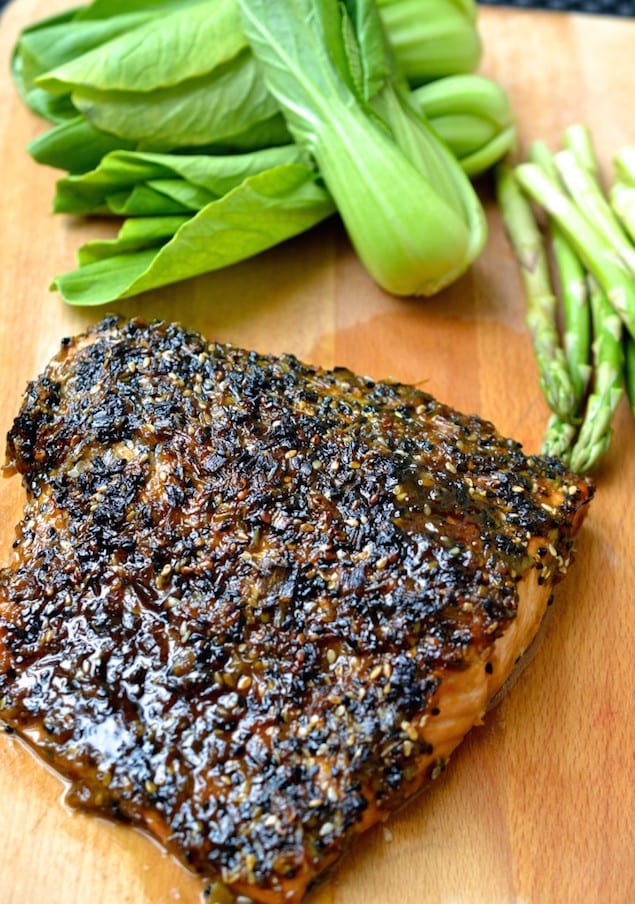 This is my absolute favorite way to prepare salmon. The recipe requires less then 10 minutes of hands on preparation and takes just 10 minutes to cook making it the perfect week night dinner. The Asian-style sauce of sesame, ginger, garlic, soy sauce and lime is full of flavor and becomes thick and sticky once cooked. To prepare the dish, the fish is marinated in the sauce for approximately 30 minutes to enhance the flavours and allow them to meld together. The salmon is then quickly broiled in the oven until the sauce becomes caramelized and the sesame topping forms a crisp crust on the outside while the center of the fish is flaky and moist. I like serving this sesame salmon with steamed vegetables and cauliflower rice and always make extra as the fish is delicious served cold with a salad the following day.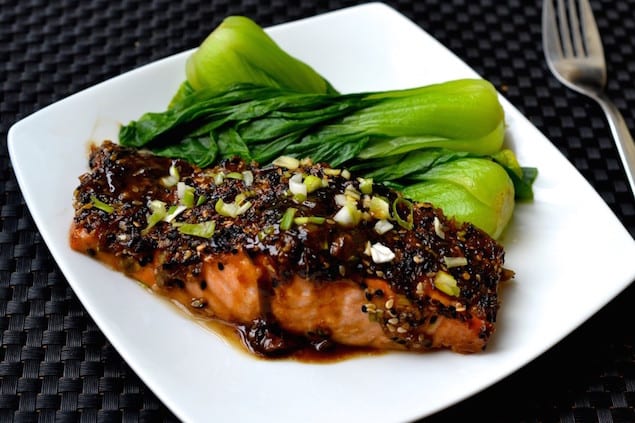 Sesame-Crusted Salmon with Caramelized Sauce
Easy to accomplish on a weekday, Asian-style ginger and soy sauce thickens as it cooks and is perfect with a crispy sesame crust and the moist fish inside.
Recipe Type:
Main, Seafood
Ingredients
500 grams boneless Salmon (about one pound or 17 ounces)
2 cloves garlic, crushed
1 tbsp tamari
2 tbsp grated ginger
2 tbsp lime juice
2 tbsp honey
3 tbsp sesame oil
3 tbsp olive oil
2 tbsp black sesame seeds
1 tbsp white sesame seeds
⅓ cup chopped green onions
Instructions
In a bowl combine the garlic, tamari, ginger, lime juice, honey, oils and sesame seeds and whisk together.
Place the salmon in a baking dish and pour the sauce overtop. Place the dish in the fridge for 30-45 minutes to marinate.
Preheat the oven to broil and ensure the oven rack is at the top. Place the dish in the oven and cook for 10 minutes, watching carefully to ensure it does not burn (if the salmon is darkening too quickly, lower the rack). After 10-12 minutes the top of the salmon should be golden brown and the flesh of the thicket part of the salmon should be opaque. Remove from the oven.
Drizzle any of the excess caramelized sauce from the pan over the salmon and sprinkle with chopped green onions. Enjoy!