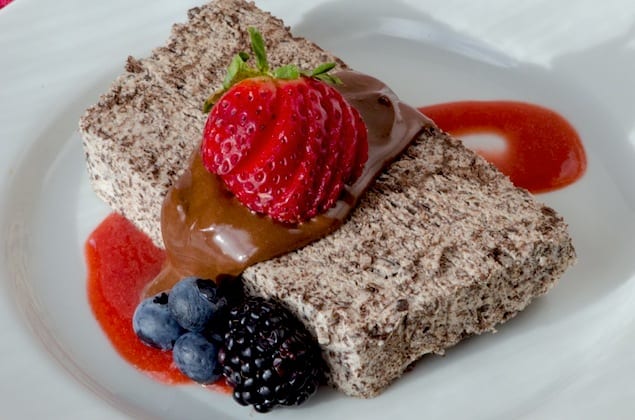 Semifreddo translates to 'half cold', and refers to an entire class of semi-frozen desserts, with flavors ranging from chocolate to coffee to hazelnut to an endless array of fruit based versions.
By Kathy Bechtel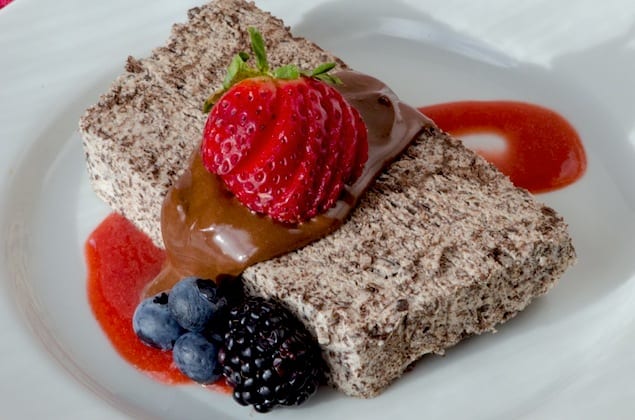 Today, the majority of recipes I see for semifreddo are made by combining equal parts ice cream (or gelato, if they are Italian) with whipped cream. However, a traditionalist would cringe at these modern versions. A good semifreddo has a very specific texture, a perfect balance between hard and creamy, lighter and softer than ice cream. Traditional recipes use one part whipped cream combined with one part custard, combined with the flavor component. For semifreddo all'italiana, this custard is an Italian meringue, egg whites whipped with a warm sugar syrup, producing a smooth and shiny meringue. To quote the Gruppo Virtuale Cuochi Italiani – a network of Italian chefs and other culinary professionals, a true semifreddo is a challenge even for the professional chef and/or pastry chef, let alone the home cook. Master pastry chefs, manuals and books recommend a scientific approach to the making of semifreddo. To achieve a correct balance of the ingredients the proportions should be as follow: Sugar 20-27%; fat 15-24%; solids 5-10% (the total of solids should be 42-55%); proteins 5-7%.
My cooking is all about maximizing the flavors with a minimum of fuss. I don't end up with the perfectly textured semifreddo, but I do end up with a delicious dessert without spending all day in the kitchen. Here, I use the classic ingredients – whipped cream, meringue, and a flavor component, chocolate. But I just used a basic, simple meringue – no simple syrup, thermometer and determining 'soft ball stage', just egg whites mixed with granulated sugar. In the recipe below, I also simply mixed the three main ingredients together – the meringue into the whipped cream, then the melted chocolate. The chocolate begins to harden a bit, and you end up with some smaller hard bits of chocolate in your semifreddo. I actually prefer this texture, but I've also include instructions below to make a smooth chocolate version.

Semifreddo di Cioccolato
Semifreddo translates to 'half cold', and refers to an entire class of semi-frozen desserts, with flavors ranging from chocolate to coffee to hazelnut to an endless array of fruit based versions.
Ingredients
10 ounces bittersweet chocolate, melted and cool
1 cup heavy cream
7 large egg whites
½ cup sugar
½ teaspoon sea salt
Sauce
2 cups frozen strawberries
3 tablespoons sugar
1 tablespoon good balsamic vinegar
Instructions
Line a loaf pan with plastic wrap.
In a large bowl, whip cream to medium peaks, set aside. In the bowl of an electric mixer fitted with the whisk attachment, beat together the egg whites, sugar and sea salt to stiff peaks. Using a rubber spatula, gently fold the egg mixture into the whipped cream.
For the more elegant, smooth texture version, take about 1 cup of the egg/whipped cream mixture and mix it into the melted chocolate. Then fold the chocolate mixture into the remaining egg/cream mixture. For a more rustic texture with small bits of chocolate, fold all of the chocolate mixture into the egg/cream all at once.
Place mixture in lined loaf pan; chill in freezer for at least 5 hours, or up to 1 day.
To unmold, place your serving plate over the top and flip. Pull down on plastic wrap to unmold. Serve with strawberry sauce, mixed berries, and/or chocolate sauce. A few sprinkles of sea salt are nice too!
For strawberry sauce: In a medium saucepan, combine the strawberries and sugar. Bring to a boil over medium-high heat. Add the balsamic. Transfer to a blender.
Purée until smooth, strain, and set aside. Store in a sealed container in the refrigerator for up to 1 week.
Kathy Bechtel
Kathy Bechtel's obsession with food and cooking began as a teenager. After years following a traditional career path as a telecommunications engineer, she left to attend culinary school and wine training, and is now combining her passions for food and wine, the outdoors, and travel as owner and Culinary Tour Director of Italiaoutdoors. In this role, Kathy leads small bicycle, skiing and walking tours that explore the authentic regional cuisines, local products and undiscovered wines of Northeastern Italy.