Lamia's Fish Market settles in the East Village causing a wave of culinary interest in lower Manhattan.
From restaurateur Lamia Funti formerly owner of Le Souk, Lamia's Fish Market transports guests into the depths of the Mediterranean Sea with a fresh, seafood-centric menu plating dishes like grilled octopus, piri piri scallops and a Greek classic whole baked salt fish.
Drawing inspiration from a Greek ancient port city  and  Greek mythology figure who was the shape shifting daughter of Poseidon cursed to restlessly roam the seas after a love affair with Zeus. "Lamia" washes on a new shore creating a stunning ocean dining experience for guests.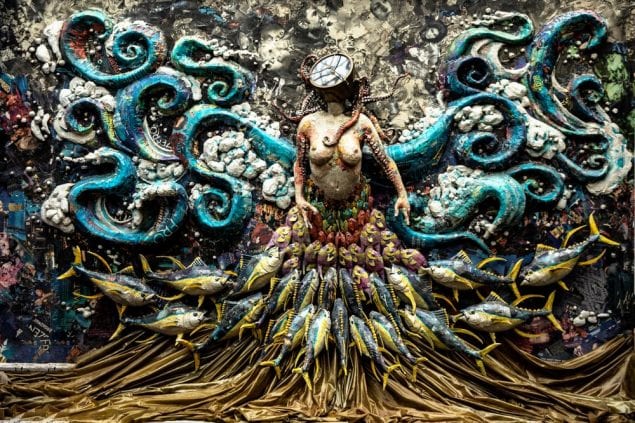 Inside Lamia's Fish Market, cruise ship ropes and buoys are eliminated from the decor often used in Mediterranean restaurants in the city. Instead an opulent modern day take on Mt. Olympus flows through the eatery. Dazzling lighting glitters the golden green and blue hues of the iridescent rooms. Enchanted inside Lamia's  lair, guests are seated by a swimming  mermaid,  barnacles' mirrors and octopus' murals amidst an energetic rendering of a Kraken writhing in an azure blue sea from street artist Michela Martello. The ocean themed dining rooms spreads on three levels seating approximately 175 guests.  Including  the Octopus Room, the bar,   the Grotto, a raw bar, the Boat Room and a private dining room. Like nearly every Mediterranean restaurant, the decor is intended to evoke a voyage to ocean life but Lamia's Fish Market takes it a up a notch, by a lot.
Ocean Bites at Lamia's Fish Market
Lamia's Fish Market serves Mediterranean dishes pulling inspiration from multiple regions in bordering the Mediterranean sea. "I wanted to give New York City a bit of my lifestyle and culture, while offering affordable seafood for every day that's just as fun and sexy as the environment itself." says Lamia Funti.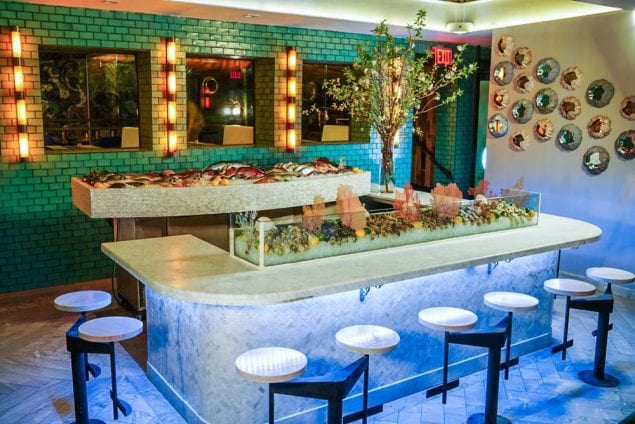 Takes from Italy features a squid ink linguine made with urchin, creme, bottarga, garlic, shallots found on the pasta selection of the menu. As well as a burrata and tomatoes salad made with heirloom tomatoes, strawberries, basil, balsamic, burrata cheese in salads.
Distinguished by their sumptuous offerings of fish on ice and grilled fish, Greek dishes command a significant portion of Lamia's Fish Market menu. Guests can order the whole baked salt fish – have a choice of market fish, baked in salt, drizzled with olive oil and lemon There's also the stellar tentacle dishes; a grilled octopus made with romesco sauce, black garlic puree, roasted potatoes, cherry tomatoes, basil oil and an octopus carpaccio.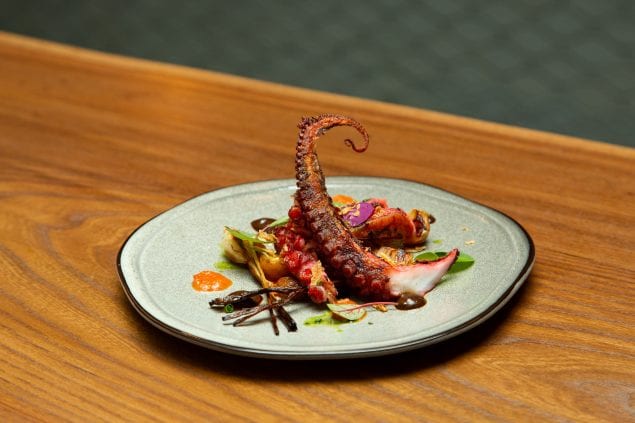 On land a roasted chicken made with rosemary, thyme, lemon, garlic, oil, chicken jus and Tomhawk Steak can be ordered alongside a Basque favorite Bonito Patatas. Addictive fried fingerling potatoes are blanketed with chipotle aioli and bonito flakes.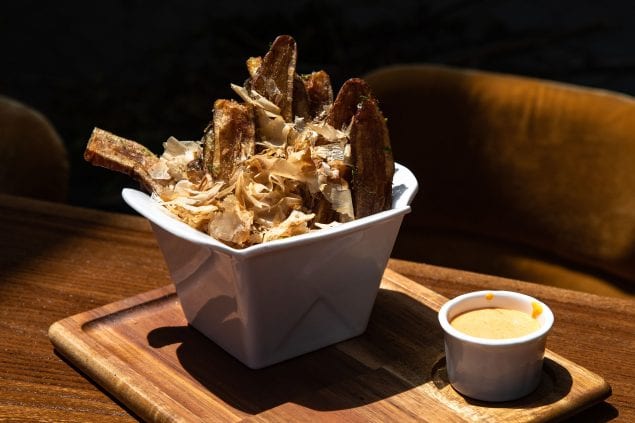 Raw seafood fans can rejoice by Lamia's Fish Market large selection, oysters and ceviche rotate daily, while signature raw dishes includes scallop tartare in a Piri Piri sauce and fluke crudo with blood orange, pomegranate seeds and serrano pepper.
Created by Cody Goldstein Lamia's Fish Market cocktail menu features signature drinks titled BeachFront Views, with sake, pineapple, orange, cinnamon, and lime; and Mermaid Sangria made with fresh berries. The menu also features a wide variety of champagne, low-ABV cocktails and more.
 "When you come to Lamia's Fish Market, you should feel like you've been enveloped by the depths beneath," says Funti. "I want you to feel like you've joined these mythical, timeless sea monsters at their favorite hideout."
Ready to set sail?  Lamia's Fish Market open Monday-Friday, 4pm-Midnight; Saturday-Sunday 11am-Midnight.
All images used in this post are courtesy of Lamia's Fish Market.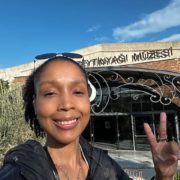 Alyssa Holder
Alyssa Holder is a writer specializing in food and travel topics since 2015.