Discover Ischia with Albergo della Regina Isabella.
A couple waves away from the popular islands of Capri and the Amalfi Coast, resides a beautiful incognito island named Ischia. An island loved by the native Italians for its therapeutic, wondrous experiences particularly its natural thermal springs and its ability to stay hidden from flocking tourists. Further north west on the island's smallest region of Lacco Ameno is Albergo della Regina Isabella. The vintage Italian five-star hotel known to preserve and share Ischia's beauty with all who ventures there.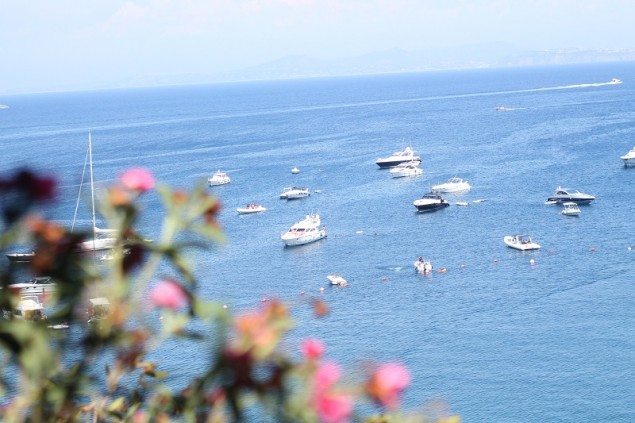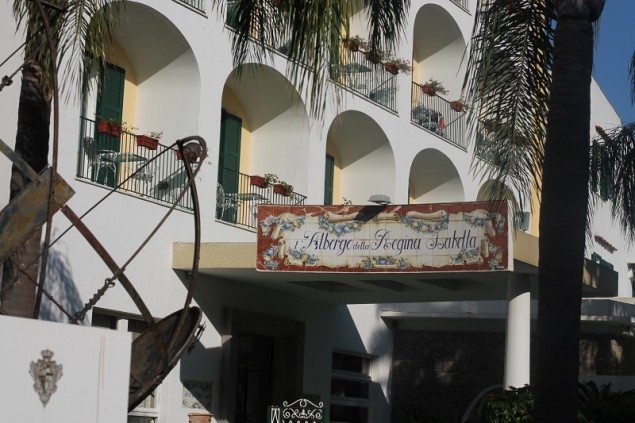 How to Get There | Train/Taxi – Ferry 
The journey to Ischia is no small feat, especially if it requires multiple modes of commuting. My journey started with a direct train from Roma Termini to Napoli Centrale, which led to either a bus or taxi transfer to the Naples Molo Beverello port. For future reference, I recommend transferring via taxi, the Naples bus experience is one I assure you can live without. Unless you are interested in experiencing an overcrowded bus, logging a carry-on bag while trying to avoid Naples pick pocketers.
I bravely rode the bus for 30 minutes to Municipio, (a taxi will be 10-15 minutes) which led to a two-minute walk to the Naples Molo Beverello port, to take me directly to Ischia. Several ferries are available to take travelers to several scenic islands. For Ischia, I took the fifty-minute Snav Ischia- Caramacciolo ferry, costing 13 euro.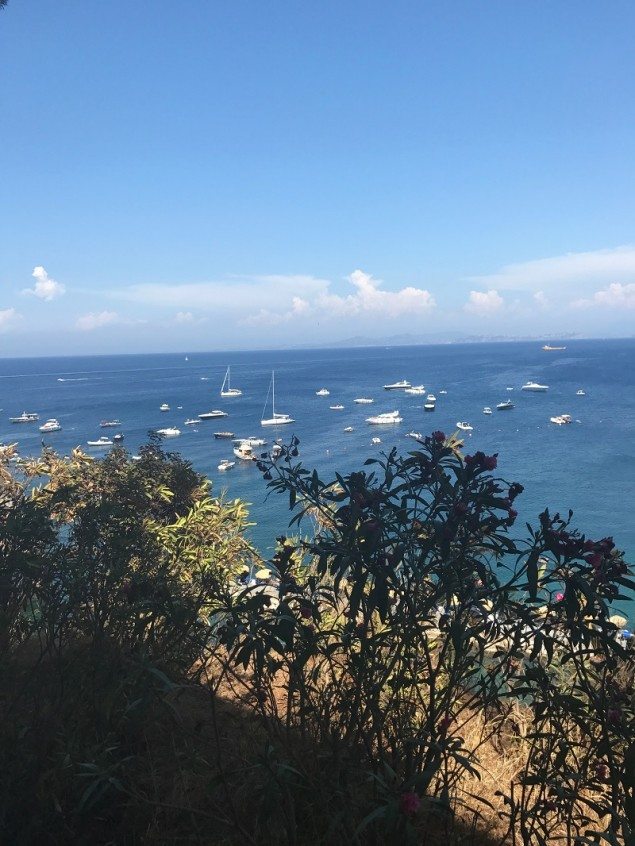 After the 50-minute ferry ride, my Ischian journey elevated as a Albergo della Regina Isabella. shuttle awaited my hefty bags and exhausted body to transport me to paradise.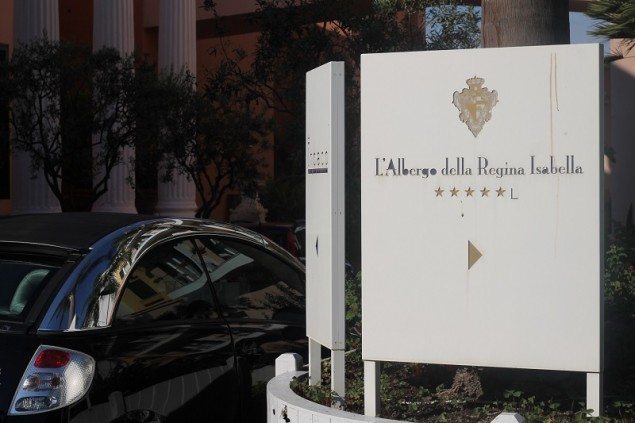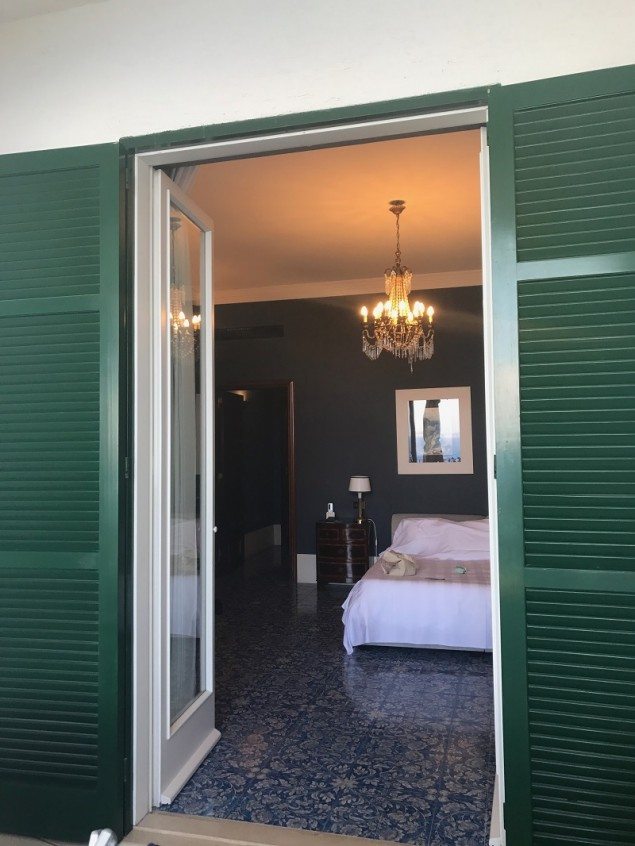 Despite being Ischia's smallest town, Lacco Ameno is home to the luxurious hotel; Albergo della Regina Isabella. Created by Italian film producer Angelo Rizzoli in the 1950's,  Albergo della Regina Isabella  exhibits vintage Italian opulence. High ceilings, glistening chandeliers, ceramic floors, tasseled ropes are only a few elements used to create the scenic Italian paradise for natives and tourists like myself.
I resided in the Royal commune, holding everlasting memories of fresh waters, orange skies, bronzed hues, blue umbrellas, smiling tan faces, bambini giggles, birds chirping, leaves rustling, boats passing, church bells ringing, and forever yearning to feel the Ischian sun.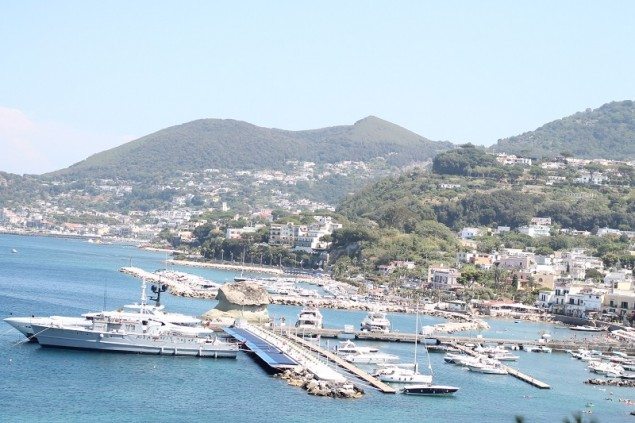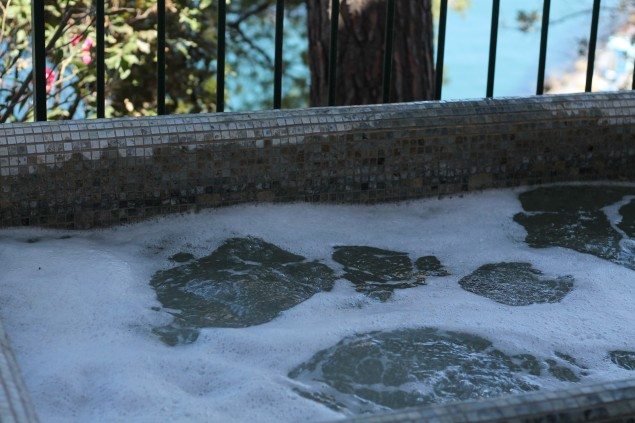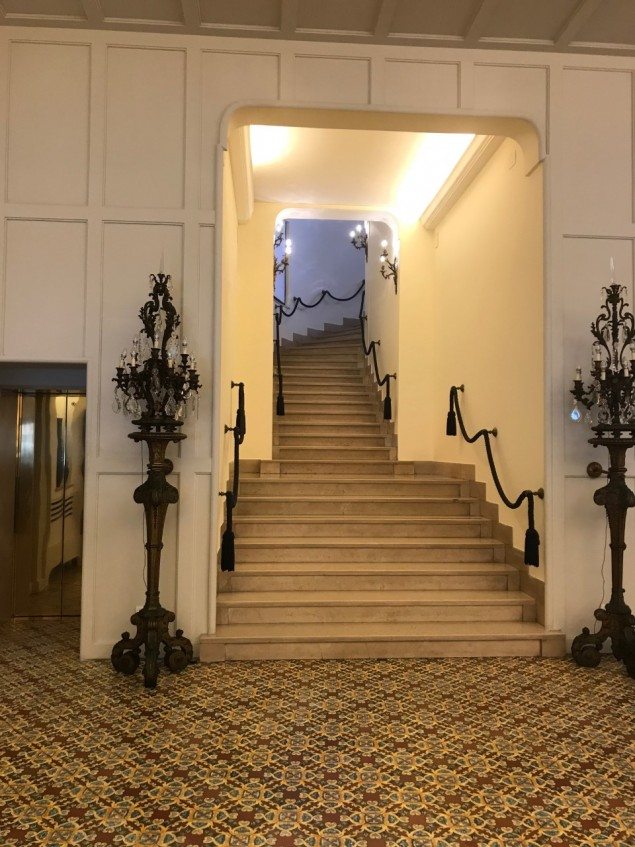 Stepping onto the blue flowered ceramic floors, which led to a personal brick thermal bath overlooking the Ischian waters seemed unreal. Living in a cosmopolitan city, these raw scenes of nature is hard to find. Tears and gratitude filled me as I absorbed Ischia's beauty; enchanted by its' pure traditions and culture via Albergo della Regina Isabella.
L'Albergo della Regina Isabella has three restaurants offering guests superb sea village views and numerous delicious traditional Mediterranean dishes and wines. I had the opportunity to dine at Dolce Vita, see below for some menu features and other excellent dining options at the hotel.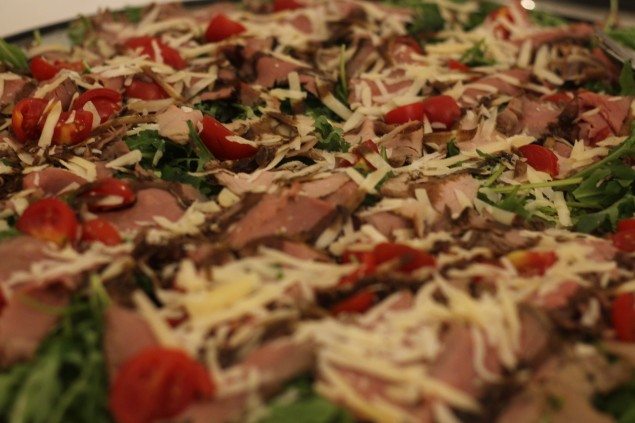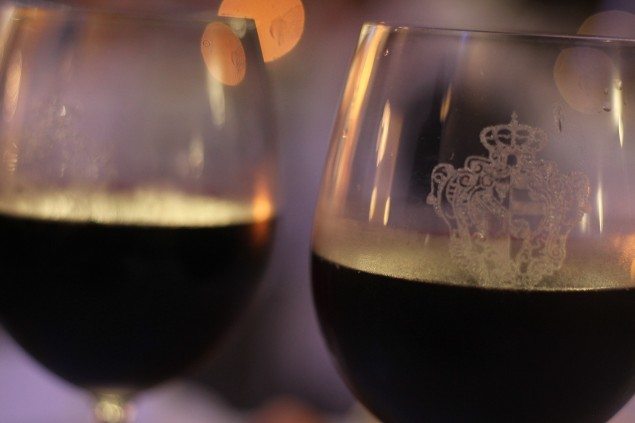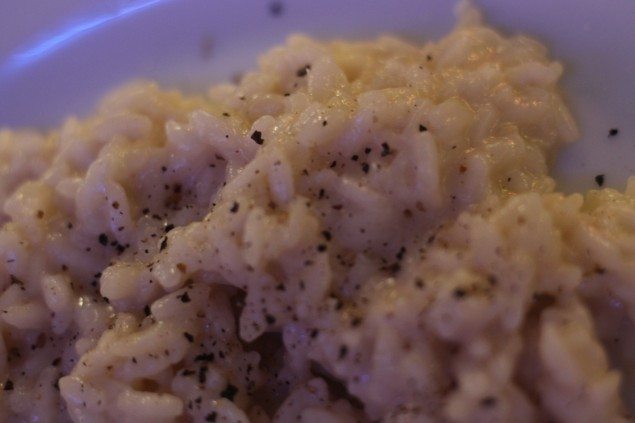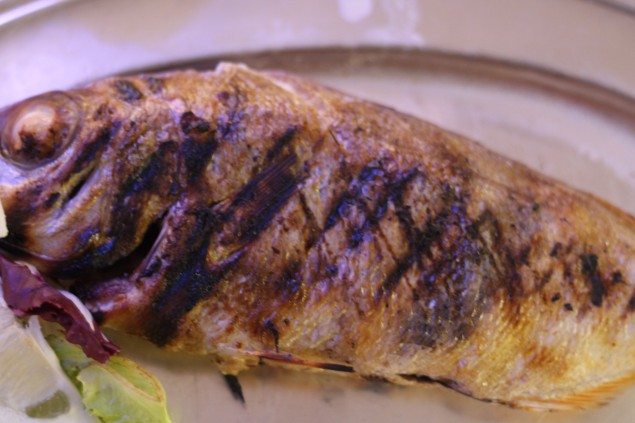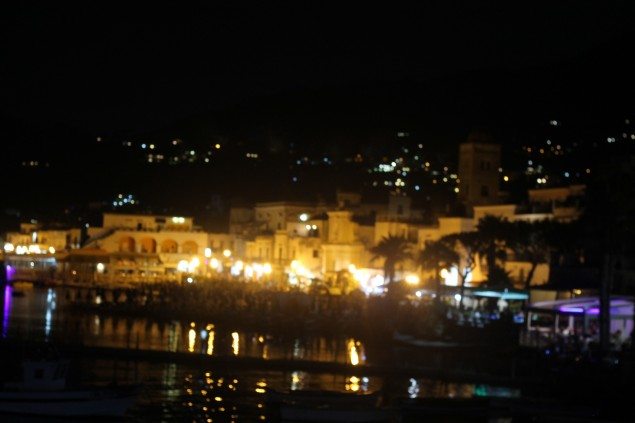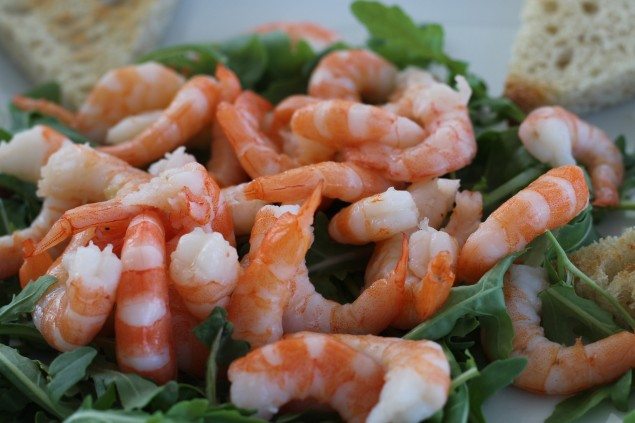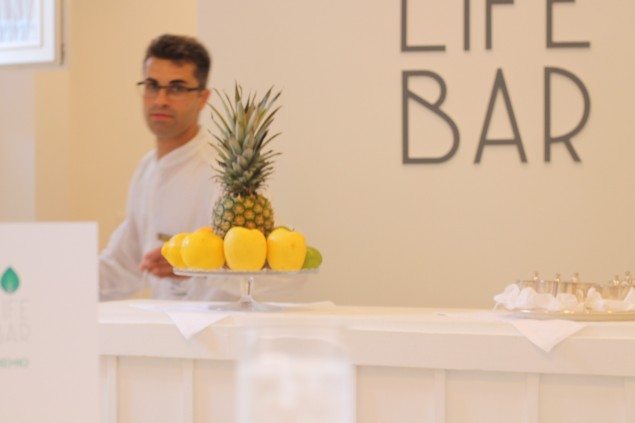 Important to note; at Albergo della Regina Isabella, breakfast is complimentary and grand.
Similar to dinner it offers an exceptional bountiful buffet. Choose from different types of eggs, yogurt, meat platter, honey spreads, oatmeal, muesli, juice bar, pancakes, artisan breads. The funny part is, Italians do not need many options. The traditional Italian breakfast consist of a plain croissant, fresh fruit with ham (melons), dry bread with butter dunked in black coffee. Unlike the Americans, Breakfast is not a large event for Italians, but considering it is a five-star glamorous hotel, Regina Isabella fulfills all guests needs.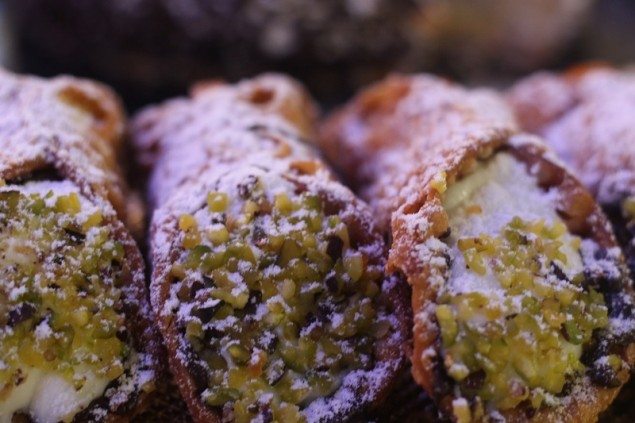 Eating in Ischia | Village Restaurants
Il Delfino – Recommended by Albergo della Regina Isabella staff, Il Delfino is a beach-side restaurant located along the seafront in Lacco Ameno, offering fresh fish and pasta dishes.
La Yogurteria di Ischia–  a couple steps away from Albergo della Regina Isabella fresh and creamy yogurt is available for you to combat the heat.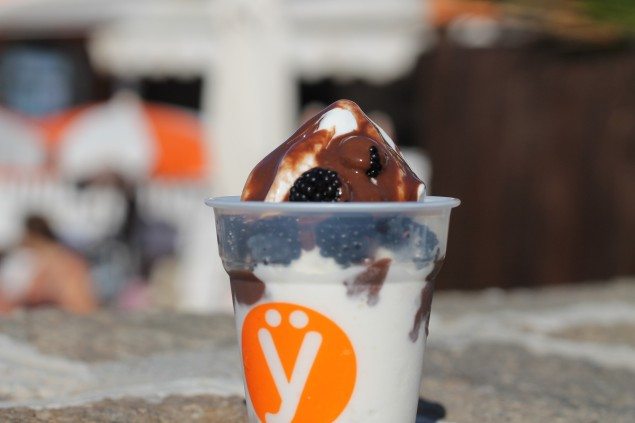 Albergo della Regina Isabella Activities. 
Choose from its' private beach, two thermal therapeutic baths, two outdoor pools and a fitness center.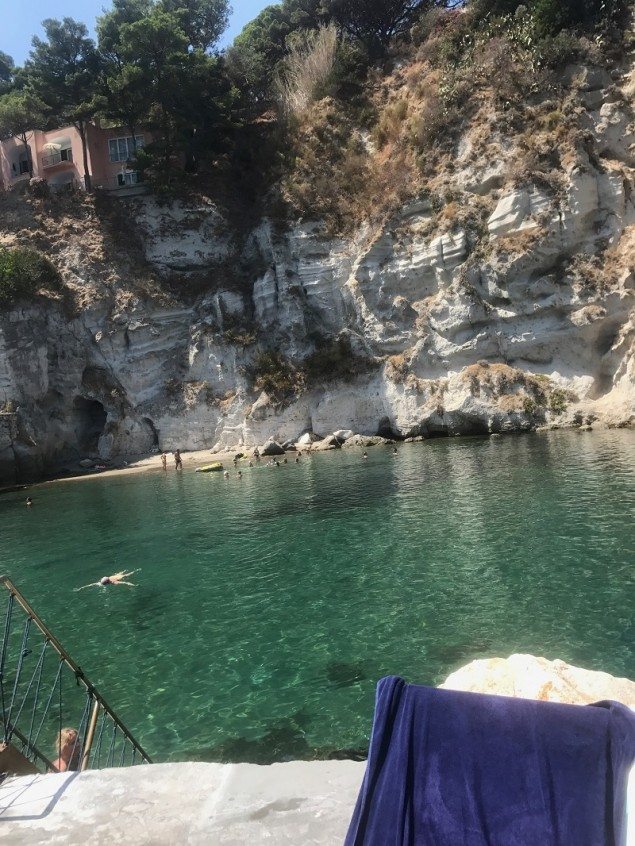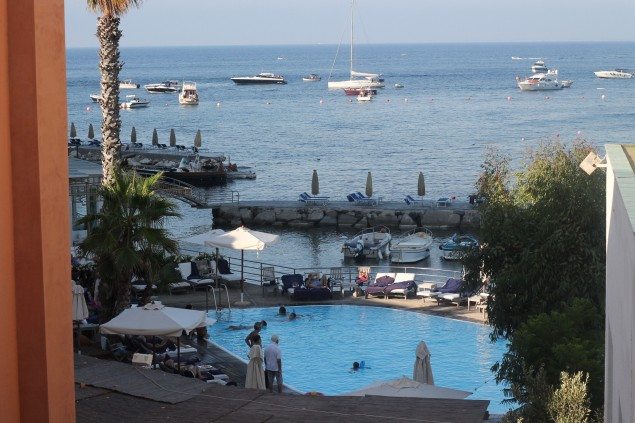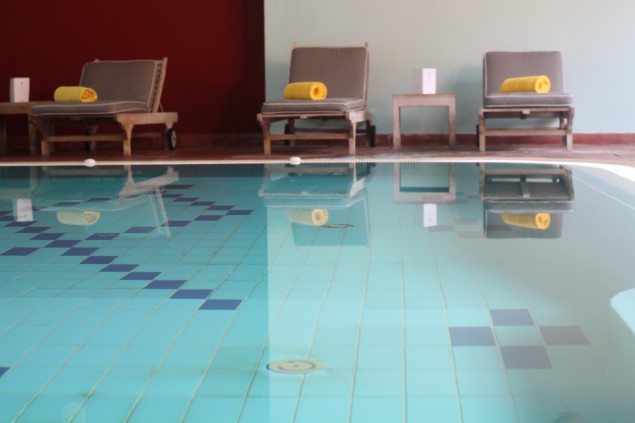 This 128-room, 5-star hotel also has deluxe spa treatments, personal training, dietary counseling and a full blown multi-day wellness program to pamper guests.
Outside the hotel's activities in Lacco Ameno there is more beauty to see. Nearby trips include the  Museo Archeologico di Pithecusae and Negombo Thermal Park, just a short walk from the hotel.
Click here or contact info@reginaisabella.it to book your reservation to paradise.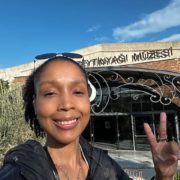 Alyssa Holder
Alyssa Holder is a writer specializing in food and travel topics since 2015.