A delicious sliced layered vegetable dish typical for the Mediterranean island of Mallorca.
By Miriam Garcia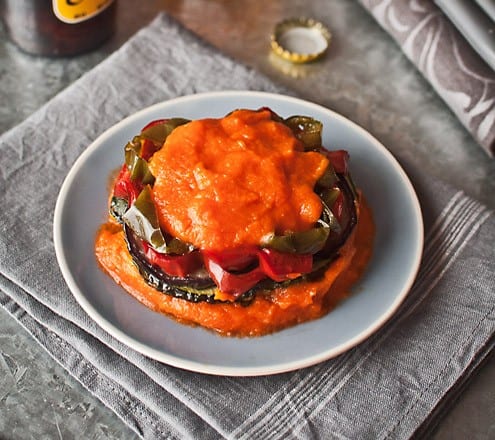 It's spring, folks. The perfect time to get advantage of the seasonal produce available in the markets. Tumbet is a dish of roasted vegetables typical from the Mediterranean island of Mallorca, one of the most visited spots in Spain. The Balearic Islands, the archipelago to which Mallorca belongs, are known since the Roman era for its wonderful vegetables. That is why the native cuisine features quite an array of delicious vegetable dishes. This is one of them, a simple dish of sliced fried vegetables, stacked, topped with tomato sauce, then heated in the oven. Such an easy recipe needs of course to rely on the quality of its ingredients. And I tell you: Majorcan vegetables are some of the best in the world.
In this dish the vegetables are first deep-fried individually, as they ask for different frying times, and then are thoroughly drained from the oil. The final dish must not feel oily at all. I am sure you will be wondering if you can roast the vegetables instead of frying them. Of course you can, but then you will have a different dish, not tumbet. The frying in olive oil gives the vegetables a distinct flavor and texture worth trying. And it goes without saying that the better the vegetables chosen, the better the result. Furthermore, it is essential to use a top quality tomato sauce. I usually have some homemade sauce of my own at hand. I use a lot of onion in making it to avoid adding sugar, that is why it looks so orange and pale in the photo. But I believe it is healthier. And I can tell you it is delicious, if I may say so myself…
One last piece of advice: the aubergines are fried last because they need a higher temperature than the other vegetables in the recipe. The higher the temperature, the less oil they will soak. Yeah, they like it hot.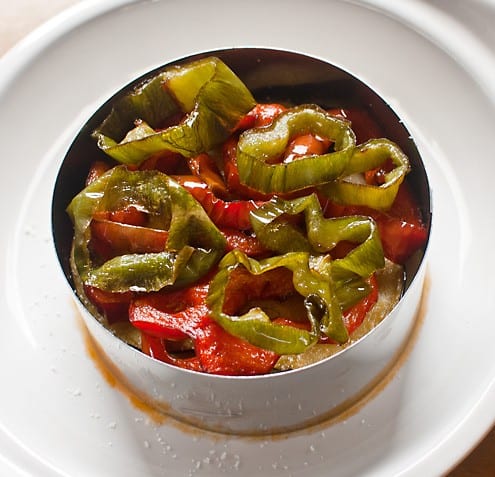 Print
School of Tapas: Mallorcan tumbet, a vegetable tapa
Sliced layered vegetable dish typical from the Mediterranean island of Mallorca.
Author:

Miriam García

Prep Time:

20 mins

Cook Time:

1 hour

Total Time:

1 hour 20 minutes

Yield:

6

1

x
2

medium potatoes

1

medium aubergine

1

large zucchini

1

red bell pepper

1

green bell pepper
Tomato sauce to taste
Virgin olive oil for frying
Salt
Instructions
First of all, slice the aubergine in 1/2 inch slices (without peeling it), lay on a colander, thoroughly sprinkle with salt and leave it for an hour to release its bitter juice.
Meanwhile, peel the potatoes and cut in 1/2 inch slices. Heat the olive oil and fry on medium heat, till slightly browned.
While the potatoes are frying, slice the zucchini (without peeling it) and the peppers in 1/2 inch slices too. Set aside.
Drain the potatoes and put them on a dish lined with kitchen paper to soak the oil. Fry the zucchini till browned. Drain them and put them on kitchen paper too.
Fry the peppers and proceed as before.
Pat dry the aubergine slices and fry them. Proceed as before.
When all the vegetables are fried, thoroughly tender and drained from the oil, you can begin to arrange them in small stacks if you want to serve tapas, or in an oven dish. Begin by laying some tomato sauce at the base, then make the vegetable layers: potato, aubergine, zucchini and peppers. Add salt after finishing each layer. End up with some more tomato sauce for topping. You can sprinkle some herbs too if you fancy. For small stacks I use pastry rings to keep them neat.
When done, heat the oven to 350-360F and bake for 15 minutes. Serve immediately, although tumbet can also be served at ambient temperature, especially when the weather is warm.
Miriam Garcia
Born in Madrid, Spain, Miriam lives in a small town North-West of Madrid with her family. Passionate foodie and amateur photographer, her liking for cooking originates mostly from her mother and her paternal grandmother. Miriam is the creator of the awarded Spanish food blog The Winter Guest.