Alec Torelli stops by Pica Pica in Napa, and is deeply impressed with their Venezuelan cooking.
By Alec Torelli

"Be corny" is their slogan. But in this case, the adjective doesn't have a double meaning. Prominently located in the center of Oxbow Market, Pica Pica is anything but banal.
This authentic Venezuelan cuisine gives Cuban and Hawaiian a run for their money. With a wide variety of unique dishes to choose from, I turn things over to the owner. "First time?" he asks rhetorically. I nod. "I'll take care of you." Always a good sign.
"What am I eating?" I ask when my food arrives. "This here is our special Cachapa, a pancake made out of yellow corn". Its sweetness is well balanced with the savory Pabellón filling. This Venezuela's national dish consists of stew-style shredded skirt steak, black beans and my favorite plantain bananas. I take a bite. Speechless. The sweet zesty sandwich satisfies both, my salty and dessert cravings.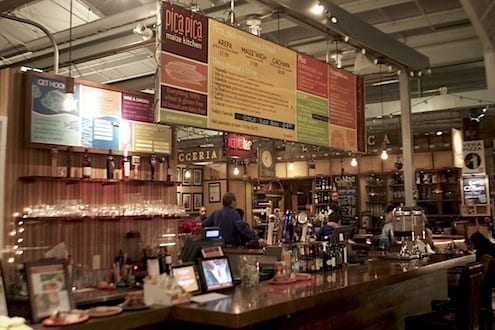 Happy to venture into unexplored flavors, I smile when he shows up with her Maizèwich, a corn sandwich, that combines the shape of the Arepa and the dulcitude of the Cachapa. The vegetarian filling, made of grilled tofu, avocado, sweet plantain, black beans and spicy cream, is luscious, delicate.

"And this here," he continues,"are the Yucca Fries seasoned in our garlic dressing. Long, thick, salty and sweet. Mmmmmm. "Beware of the sauce," he says, handing me a side. "It can bite." I dip the fry. My mouth burns, but it's too good to care.
Note: Everything on the menu is local, wheat and gluten free.
Pica Pica Maize Kitchen
Oxbow Public Market
610 First Street, 5
Napa, CA www.picapicakitchen.com