Similar to quiche, this dish is a great alternative when serving a group of people. This can be made ahead and reheated for a quick weekday morning meal. Serve with a dollop of sour cream or salsa for an extra decadent treat.
By Erin Mahoney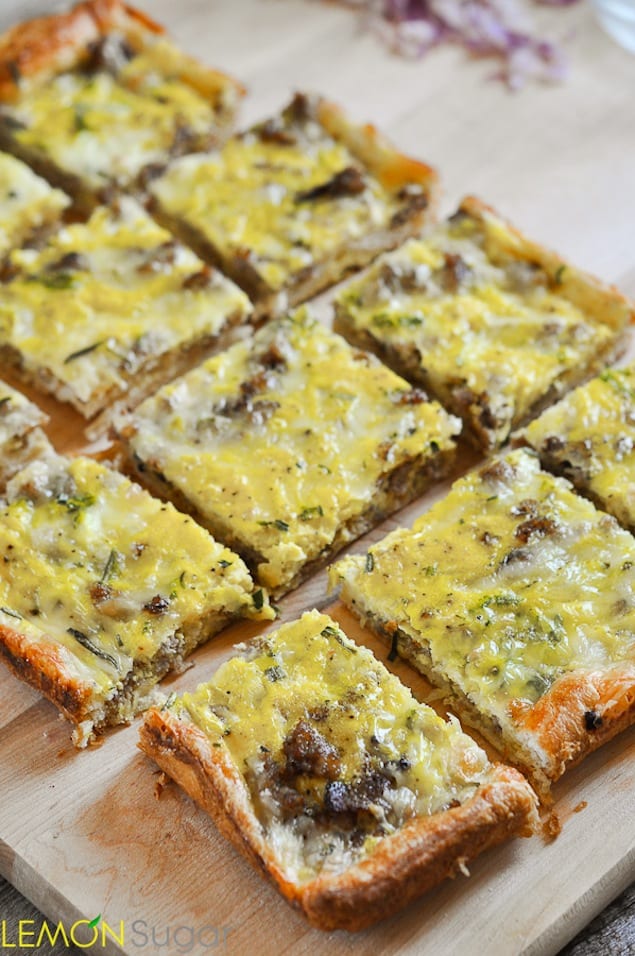 This recipe is somewhat flat, almost frittata-like. The casserole sits on a base of crescent rolls, almost like a breakfast pizza, and the sausage and cheese hold it all together. Today I used pepperjack cheese, but I usually use cheddar or monterrey jack. I've used bacon instead of sausage before, too – just do what you like, you can't really mess this up. We always save the extras and keep them in the refrigerator for a few days – this makes a great on-the-go breakfast.

Sausage & Egg Squares
A beautifully simple breakfast, this can be made ahead and reheated for a quick weekday morning meal, too! Serve with a dollop of sour cream for an extra decadent treat! Adapted from Bran Appetit
Ingredients
½ po.und breakfast sausage
1 package crescent rolls
1 cup cheddar cheese, shredded
5 eggs
¼ cup milk
1 teaspoon oregano or fresh rosemary
½ teaspoon salt
¼ teaspoon pepper
Instructions
Preheat oven to 400 degrees.
Lightly spray a 9x13 pan with cooking spray. Set aside.
In a heavy skillet, brown the sausage over medium heat, and use a wooden spoon to break into small crumbles. Drain grease, and set aside.
Unroll the crescent rolls and place in the bottom of a 9×13 pan, pressing the seams together to make one large sheet of dough. Use your fingers to press the dough just slightly up the sides of the pan as well.
Liberally the sausage over the dough.
Grate your cheese, and sprinkle on top of the sausage.
In a medium bowl, whisk together the eggs,milk, oregano or rosemary, salt, and pepper.
Pour the egg mixture over the top of the casserole.
Bake at 400 degrees for 15-20 minutes until the crust is golden and the eggs are set.
Garnish with additional rosemary and pepper, if desired.
Erin Mahoney
Erin Mahoney is a food blogger from the Kansas City area. With a day job in the TV business and two little girls at home, this busy Mom spends her very limited free-time experimenting in the kitchen. While her culinary efforts tend to fall on sweet treats and comfort foods, her focus is on real, from-scratch food for her family and friends. Her blog, Lemon Sugar, is full of whimsical recipes and anecdotal stories that will warm your heart and make you hungry.