There is no way to simply describe Santa Fe's cuisine, one must venture to the Southwest to experience the authentic cultural food. Check out these favorite local eateries and markets.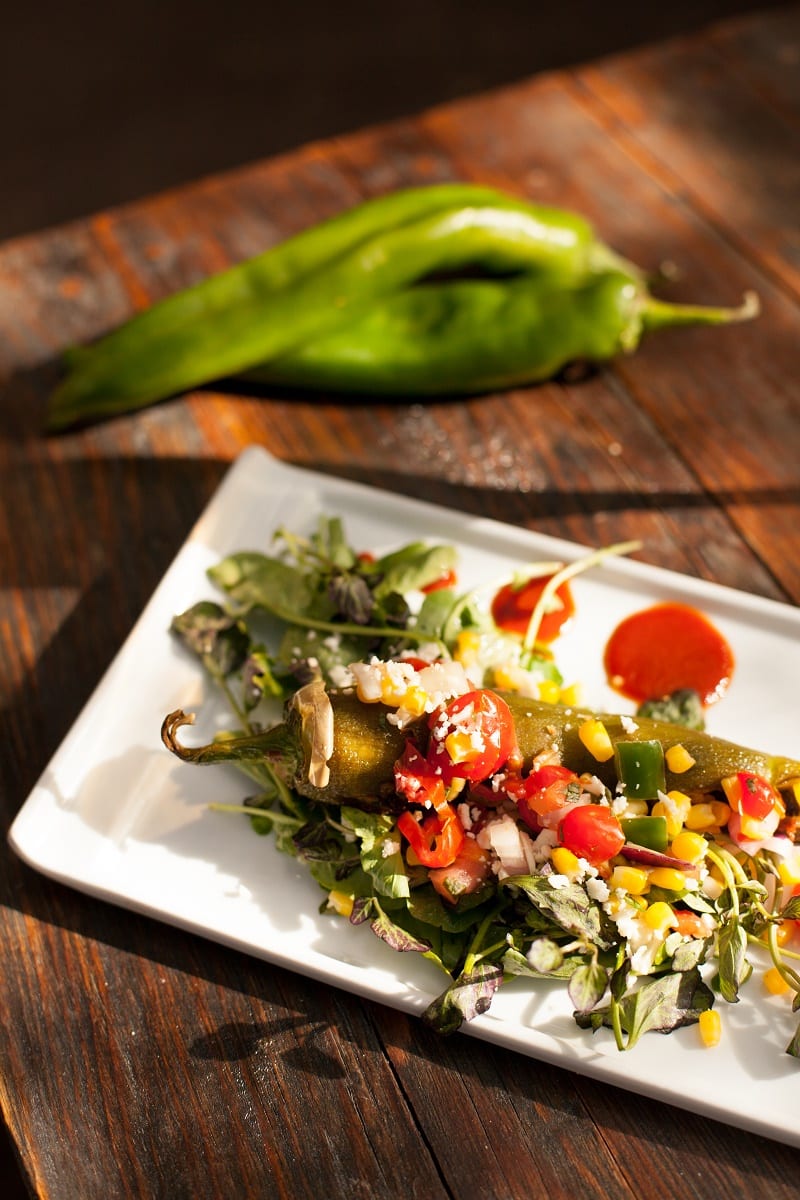 With a population of 82,000 people, Sante Fe is a small town where food is an icon. Connecting locals and tourists with a southwestern zest to local, unique and international dishes featuring the beloved chile pepper. In this diverse food lover's town, get ready to take your palette around the world and back, with chile and more.
Chile is the freshest ingredient and way of life in Santa Fe.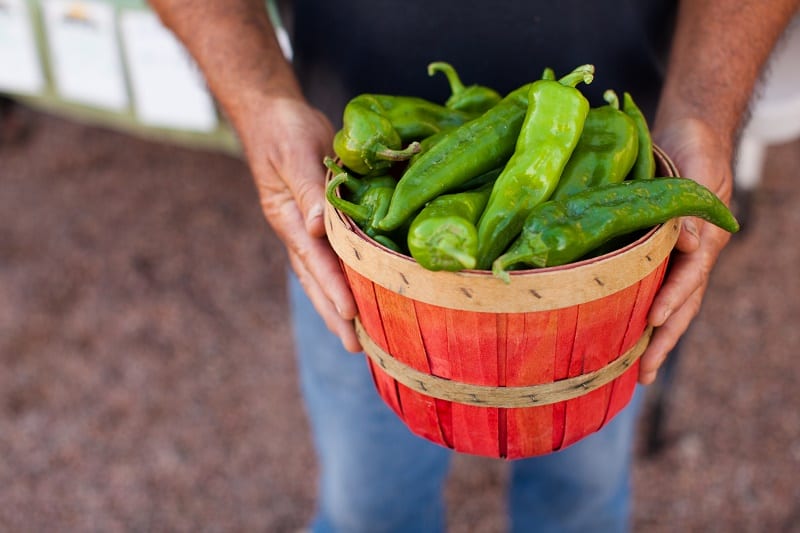 Chile is everywhere, but in Santa Fe is a way of life. Grown in the dry heat of Santa Fe, the chile pepper thrives in the 325 days of yearly sunshine Santa Fe that boasts about. Because of the fresh aromatic results when grown in Santa Fe, chile became the town's staple, and a part of their lifestyle.  The ingredient offers a special touch to the 400 + restaurant and home cooked meals. These green and red or Christmas peppers turn tacos, burgers and even margaritas into a an enriching, addicting experience.
Print
Author:

The Santa Fe School of Cooking

Yield:

1

0

1

x
Category:

New Mexican
Enchiladas
3

c. red or green chile sauce

16

fresh com tortillas (about

4

inches in diameter)

4

c. cooked shredded chicken

1

–

1/2

lbs. Monterey Jack or Cheddar cheese (grated)

1

–

1/2

c. diced onion (or sliced scallions with green tops)

2

c. shredded iceberg or romaine lettuce

1

–

1/2

c. diced tomato

1

–

1/4

c. sour cream
Green Chile Sauce
1/4

c. vegetable oil

1

c. chopped onion

2

to

3

t. minced garlic (to taste)

1

to

2

T. flour

2/3

c. mild roasted (peeled, chopped New Mexico)
green chile

2/3

c. hot roasted (peeled, chopped New Mexico green chile)
freshly ground coriander seed to taste (optional)

1

–

1/2

c. chicken stock
salt to taste
Instructions
Enchiladas
Preheat the oven to 350°. Oil a 9 x 12 baking dish or pan.
Spread about 1 c. of the sauce over the bottom of the dish and layer half of the tortillas evenly over the sauce. Top the tortillas with half the chicken and 1/3 of the cheese and sprinkle with half the onion (for milder onion flavor, use scallions). Repeat for second layer and top with the last cup of sauce and the remaining cheese. Bake 20 to 30 minutes, until bubbly and lightly browned.
Serve
Spoon portions onto dinner plates, garnish with shredded lettuce, diced tomato, and top with 2 T. sour cream. Serve with pinto beans and posole.
Green Chile Sauce
Heat the oil in a medium saucepan and sauté the onion until softened, about 3 to 4 minutes. Add the garlic and sauté 2 minutes more. Stir in the flour. Add the green chile, coriander seed (optional) and slowly stir in the chicken stock. Bring the mixture to a boil, reduce the heat and simmer for about 15 minutes. Season with salt to taste.
Makes about 2-1/2 cups
Optional seasonings: diced tomato, fresh cilantro.
Where to find Chile and more; Santa Fe's Farmer's Market (1607 Paseo De Peralta, Santa Fe)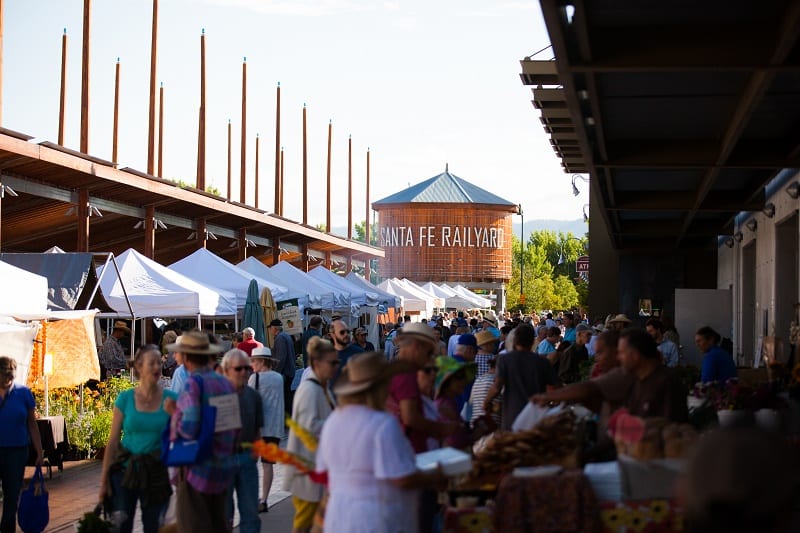 To cure the chile addiction, head to Santa Fe's Farmer's Market to get your hands on the best grown chile, and other fresh produce. The market represents over 150 active vendors and features hundreds of different agricultural products, all locally grown.
The farmer's market is claimed to be mind blowing because it is completely about the fresh ingredients and produce grown in the city. There are no distracting objects, or items you would typically wonder why are they at a farmer's market. In Sante Fe the seasonal simple produce are the Zozobras (the old man gloom spectacle which goes up in flames to kick off the Labor Day weekend.) The farmer's market ingredients are spectacles where visitors joyfully experience what it is like to touch smell and taste natural ingredients. The senses are enlivened by smelling the colorful produce which includes cheese, milk, eggs, Christmas chiles, fruits and vegetables.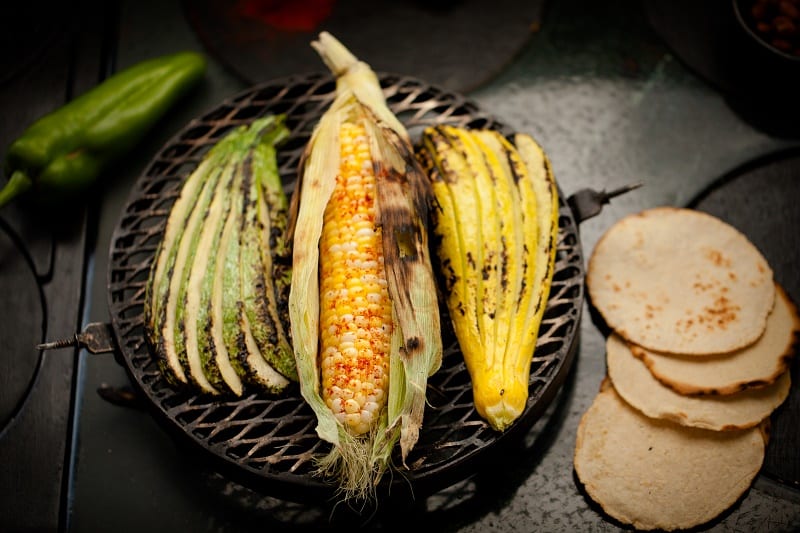 Also chefs take pleasure in exploring in the market, it gives them the opportunity to really connect with the food at every stage before presenting them on plates to serve at the 250 consciously led restaurants in Sante Fe.
All of these restaurants make it their goal to ensure New Mexican's bellies are happy. Because seven months out of the year tourists flock to Santa Fe, whereas five months are considered the low season. This means restaurants have to bring in and keep locals as customers in order to survive the dry heat of Santa Fe. If the locals keep returning, the tourists will follow.
Where to locals flock to and visitors follow: Santa Fe Restaurants
El Meson located on 213 Washington Avenue. Features: bar with live jazz live. Food: classic Spanish cuisine, tapas, paella and wine. Example: gambas al ajillo: shrimp sautéed with sliced garlic and Pequin Chile flakes served in a sizzling hot cazuela.
Tomasitas: 500 S Guadalupe St, Santa Fe. Features: an all female mariachi band plays every Tuesday evening at Tomasita's at 7:30pm. Food: classic Northern New Mexican cuisine. Santa Fe best vote for the best red and green Chile. Menu examples: Huevos rancheros, super tortilla burger, the Frogg margarita.
Currently trending in Santa Fe food culture are contemporary and innovative dining. This includes pop up, farm to table, international fare merges and mixing high and low cultures. Santa Fe is making new foot marks in their culinary approach.
 Paper Dosa; 551 W Cordova Rd. Features: a tasting menu for $35 , includes appetizer, dosa ( A thin South Indian crepe made from a fermented rice and lentil batter. ), a traditional south Indian dish with a wine pairing. Food contemporary restaurant serving  fresh South Indian fare. Menu example: Classic Dosa- filled with masala (potatoes blended with turmeric, caramelized onions, whole red chiles, mustard seeds and cashews.)
Sometimes it is hard to make a decision and commit to one restaurant. or just want to try it all, follow the yellow brick road to Santa Fe food trails and festivals.
Margarita Trail:  Launched on May 5, 2016 as an ongoing culinary cocktail experience for visitors and Santa Fe locals alike. Described as "The Motherlode of American Margaritas," The Trail highlights restaurants and bars that offer a special, unique margaritas. Margaritas will cost between $7 and $12. A Santa Fe Margarita Trail Passport will describe participating establishments and include the recipe for each margarita. Passports can only receive two stamps per day to help ensure people drink responsibly and keep the trail fun.
Green Chile Cheese Burger Smack Down: On September 9th 2016, find out  whose burger will win the throne. The Santa Fe Green Chile Cheeseburger is a magical combination of New Mexican flair and American awesome. 18 restaurants go green chile burger to green chile burger in this exciting mouth sensational smack down 
Santa Fe Wine + Chile Fiesta– September 21 – 25. Celebrated international and local chefs and vinters come together for cooking demos, tastings, food and wine pairings.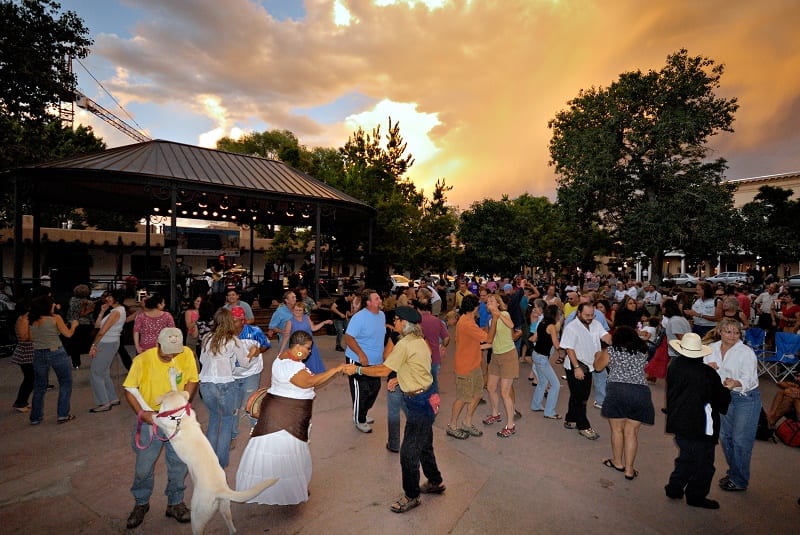 Gracefully aging at 406 years, Santa Fe is a majestic  world of adventure for food enthusiasts and cultural explorers. For information, access your Official Santa Fe Guide and visit www.santafe.org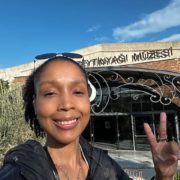 Alyssa Holder
Alyssa Holder is a writer specializing in food and travel topics since 2015.