With a briny aroma, translucent egg white, and bright orange-red yolk, salted eggs are a common ingredients in Chinese and Malaysian cuisine.
By Shannon Lim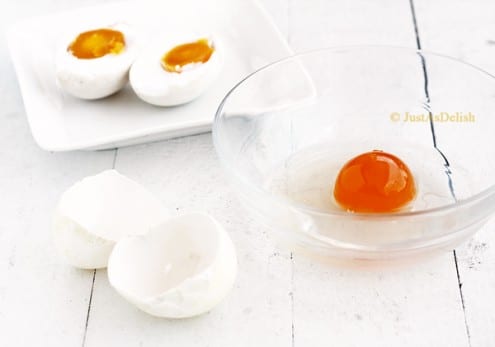 Salted Duck Eggs
With a briny aroma, translucent egg white, and bright orange-red yolk, salted eggs are a common ingredients in Chinese and Malaysian cuisine.
Cuisine:
Chinese/Malaysian
Ingredients
3 Duck Eggs (or Chicken Eggs)
¼ cup Sea Salt (or Rock Salt)
1 cup (250ml) Water
1 teaspoon Shaoxing wine
½ Star Anise
½ teaspoon Sichuan Peppercorns
*Clean glass container / jar that fits the eggs snugly.
Instructions
Add water, salt in a saucepan. Add star anise and Sichuan peppercorns. Bring it to a boil. Once the salt completely dissolves, turn off the heat. Let cool completely, then add in Shaoxing wine and stir well.
Meanwhile, rinse the eggs and wipe them dry with teatowel.
Carefully arrange the eggs in a clean glass container. (Note: check every egg to make sure there are no cracks on it.) Pour salted water into the container and cover the eggs. If your container is large, some eggs above would float to the surface, place a little sauce plate or something on top of the eggs to get all eggs submerse completely in the brine. Tightly cover the container and place at room temperature.
The brining process takes 30 to 40 days. Label the start and finish dates on the container, or set a reminder on your phone or calendar. After 30 days, take one egg out to cook. If the egg is not salty enough, let the rest to brine for a few days more. If you're satisfied, drain all eggs out and wipe dry. Keep them in the fridge, they can be kept for a few weeks. Mine was kept for a month.
Notes
Before placing the eggs in the container, do make sure all the eggs are not broken or have any cracks. If you don't have star anise and Sichuan peppercorns, you can replace with any tea leaves you like when cooking the salted water. The egg shells would look darker, infused by the fragrance of the tea you used. The egg yolks would turn orange-red beautifully because of the effect of adding Shaoxing wine. The recipe can easily be doubled or tripled
Shannon Lim-de Rooy
Shannon's kitchen is her playground and creative outlet, where she loves to experiment with recipes. As a Malaysian, her food influences are mainly Malay, Chinese and Indian cuisine but her curiousity in other culture lead to cross cultural cooking. On her blog JustAsDelish.com, she pursue her mission in creating healthy and delish food.