Looking for your next dinner party dish?  These salmon tacos may be the answer.
By Jessica Smith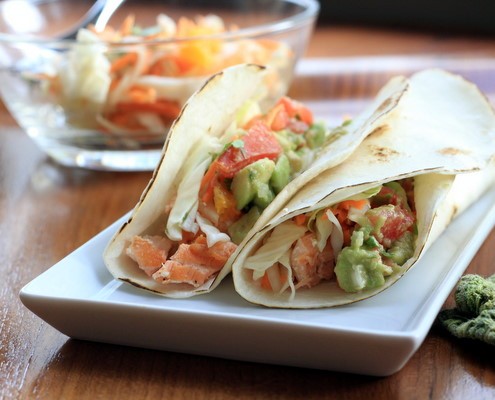 I owe my discovery of fish tacos to my parents who first served them with great success at a casual summer dinner party.  The tacos, brought to the table in separate components – a plate of warmed tortillas, a platter of grilled fish, many bowls of intensely colorful salsas and slaws – were received with exclamations of delight from guests.  They have since been the star of many dinners at my own home.
Over the years, as fish tacos have become increasingly popular on my dinner party menus, the condiments that accompany them have become increasingly creative.
Fish tacos are light and satisfying and turn out to be a deliciously blank canvas for a creative home cook.  The possibilities for toppings are endless, as the only goal is to find balance and contrast.  Some might be creamy and smooth, while others could offer crunch.  I look for a bit of spice in at least one topping option, while others feature vinegar and sweetness.
See Also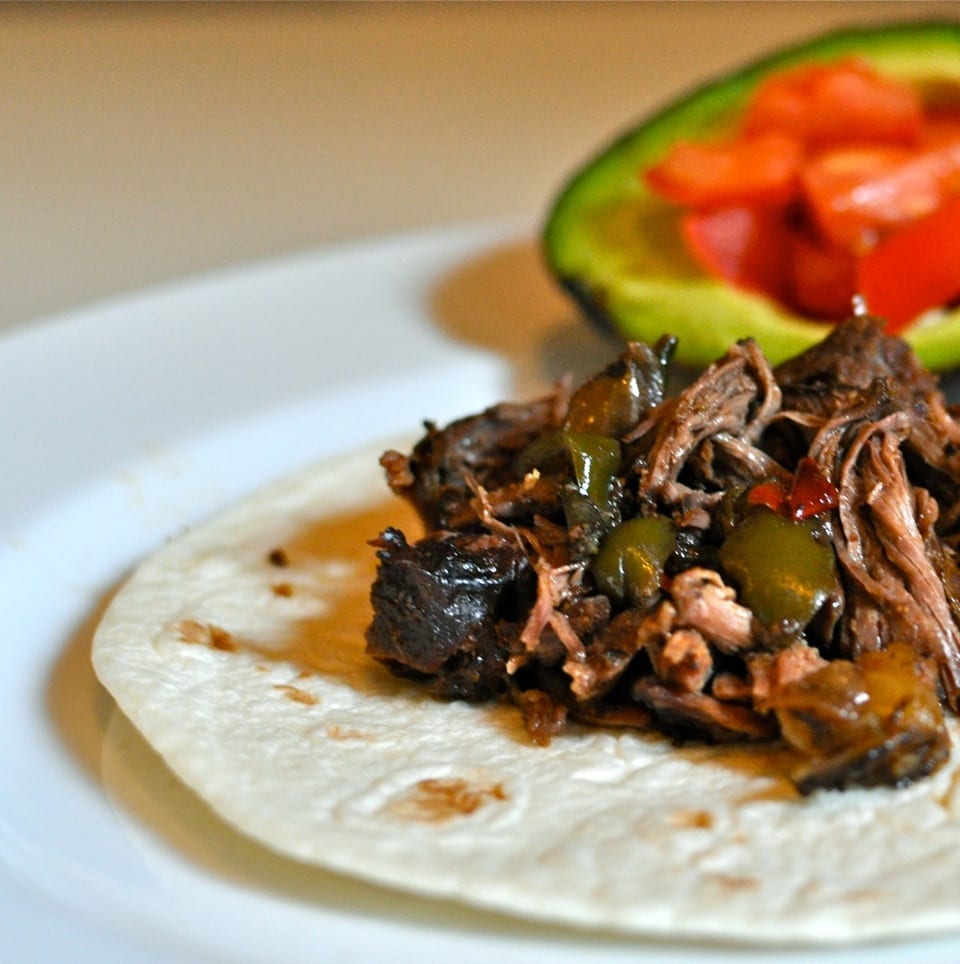 Tacos served in this manner are also one of those rare items that can transition seamlessly through the stages of a leisurely dinner.  When I make fish tacos for friends, I assemble a few different types of salsas and slaws at the beginning of the evening.  As each comes out of the kitchen, I set them out beside chips, and we nibble as the fish cooks.
This combination of an avocado salsa with a crisp slaw of cilantro and oranges hits all of the right notes, although there is no reason to stop at just these.
Print
Salmon Tacos With Avocado Salsa and Orange-Cilantro Slaw
Light salmon tacos get a boost from the addition of a simple avocado salsa and a bright crisp slaw of oranges and cilantro.
Author:

Jessica Smith

Yield:

4

1

x
4

ripe avocados, cut into small pieces

2

tomatoes, roughly chopped

1

small shallot or

2

cloves garlic, minced

1

jalepeno, seeds and veins removed, finely chopped (optional)
juice squeezed from 1 lime, to taste
salt and pepper, to taste

1

small onion, very thinly sliced

2 Tablespoons

vinegar (apple cider vinegar or rice vinegar preferred)

1

small head of cabbage

1

medium carrot

1

handfull of cilantro leaves, roughly chopped

2

oranges, peeled and cut into small wedges

2 Tablespoons

olive oil

2

large salmon fillets, about 32 oz. (

900 g

) total

12

small flour tortillas, for serving
Instructions
To make the salsa, in a small bowl, gently toss together the avocados, tomato, shallot, and jalepeno. (Be careful not to mash the avocado too much or you will end up with guacamole.) Add lime juice, salt and pepper a bit at a time, to taste. Set aside.
To make the slaw, combine onions and vinegar in a medium serving bowl, tossing to combine. Let the onions rest in the vinegar for 10 minutes while preparing the other ingredients. Thinly slice the cabbage and shred the carrot using a box grater. Add the cabbage, carrot, cilantro and orange to the onions, tossing gently to coat the ingredients in the vinegar. Set aside. Just before serving – toss the slaw once more and taste, adding an additional splash of vinegar if needed.
To cook the salmon, heat oil in a medium saute pan over medium heat. Season the salmon with salt and pepper and place skin-side up in the hot oil. Cook the salmon until just cooked through, flipping it halfway through cooking. (Depending on the thickness of the fillets, this should take 2-4 minutes on each side.) Remove from the pan and transfer to a serving platter. Using a fork, gently flake the salmon into bite-size pieces.
Serve immediately with warmed tortillas.
Note: To warm the tortillas, cover them with a cloth napkin and heat in the microwave for 10 seconds.
Jessica Smith
Jessica Smith is a native of the American Midwest, currently living in Thailand where she writes about food and travel throughout Southeast Asia. Jessica believes that the best way to understand a place is through its local cuisine.