Pan seared salmon, drizzled with a creamy pesto sauce and served with a side of crisped broccoli for a dreamy dinner in no time.
By Kristen Stevens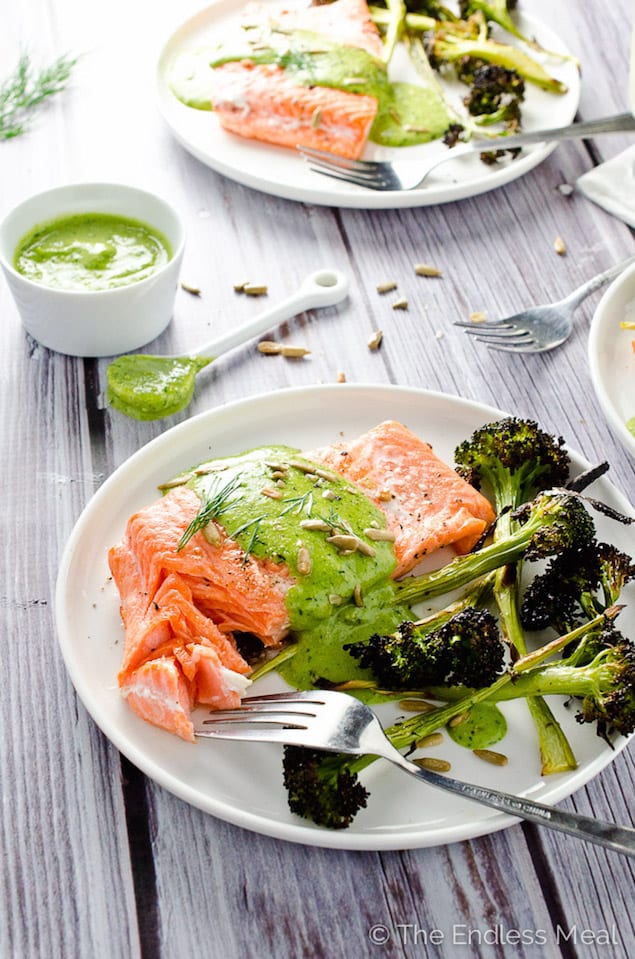 In this dish, there's the (dairy-free!) sunflower dill pesto that gets all of its creamy deliciousness from toasted sunflower seeds, and a little touch of mayo. It's big on flavour and full of good for you stuff like seeds and herbs and lemon. There's no need not to go all sauce crazy with this one.
Then there's the salmon. It's pan seared to crisp the skin then finished for a few minutes in the oven at a low temp so it stays very tender. As always, the only trick here is to not over cook it.
Aaaannd the broccoli. OMGoodness the broccoli. It's very similar to the Roasted Broccolini recipe I created a while back, only it's much simpler. And it's broccoli, not broccolini. What happens when you broil it for a few minutes on high heat is the florets get all crispy and get this deliciously nutty thing going on. Once you make it this way you might never be able to eat broccoli any other way again.
Did I also mention that you can be sitting down to eat this feast in just 30 minutes? What are you waiting for?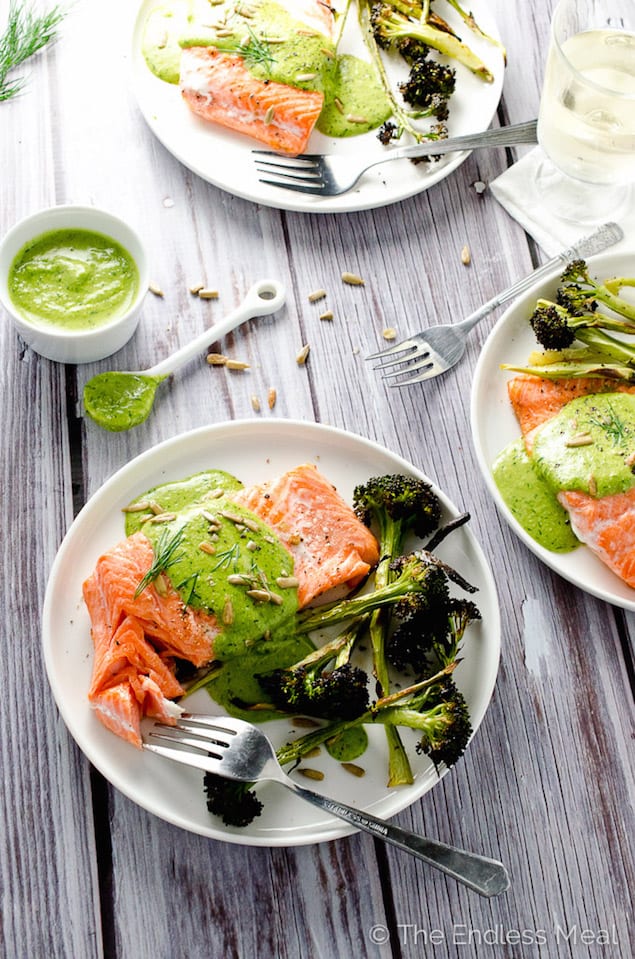 So if the big trick with cooking pan seared salmon, or any king of fish, is not to over cook it, then how do you know when it's done?
The 100% most reliable way is to get yourself a handy little gadget called an instant read thermometer. Fish is cooked through when it reaches an internal temperature of 140 degrees Fahrenheit (60 degrees Celsius). Once it gets over this temperature it will start to dry out and become something that no one wants to eat.
While you're waiting for your instant read thermometer to arrive in the mail there are a few tricks you can use to make sure you don't overcook your salmon. When the salmon is cooked through you'll see that it changes to a lighter colour. Depending on the type of salmon you bought that could mean anything from dark pink to creamy pink.
If you see any white foamy looking stuff on your salmon it's time to stop cooking it. The white stuff is protein that has been pushed out of the salmon and is coagulating on the surface. A small amount will sometimes be seen on even perfectly cooked salmon, but overcooked salmon will have a lot of it.
The last thing you can do to test if your salmon is done is to take a fork and see if the flesh flakes away easily. If it is undercooked the flesh will hold together firm and if it is overcooked the flesh will be tough and pull apart in chunks. Perfectly cooked pan seared salmon will flake easily and look like it does in the pictures.
If you make this pan seared salmon make sure to snap a pic and tag @theendlessmeal on Instagram so I can like and comment on your pictures!
Print
Salmon with Sunflower-Dill Pesto Sauce
Pan seared salmon, drizzled with a creamy pesto sauce and served with a side of crisped broccoli for a dreamy dinner in no time.
Author:

Kristen Stevens

Yield:

4

servings

1

x
Category:

Main, Fish
For the creamy sunflower pesto:
¼ cup

toasted sunflower seeds

¼ cup

basil leaves

¼ tablespoons

fresh dill

¼ tablespoons

olive oil

2 tablespoons

fresh squeezed lemon juice, from ½ lemon

1 tablespoon

chopped green onion (about

1

stem)

1

garlic clove, minced

1 tablespoon

mayonnaise
For the broccoli:
1

head of broccoli, sliced into small florettes – keep as much as the stem intact as possible

1 teaspoon

olive oil

¼ teaspoon

sea salt
For the salmon:
1 teaspoon

olive oil

4

salmon fillets
Sea salt and fresh cracked pepper
Sunflower seeds and dill, for garnish
Instructions
Preheat the oven to broil with a rack at the very top. If you know your oven broils very hot, as some do, lower the rack one notch. Line a baking tray with parchment paper.
Place the sunflower seeds, basil leaves, dill, olive oil, lemon juice, green onion and garlic in a small blender. ( A Magic Bullet works great.) Blend until everything is smooth and creamy. Pour the pesto into a small bowl and stir in the mayo. Season to taste with sea salt. If you'd like you can thinken the pesto with a little water to make it more drizzle-able.
Lay the broccoli on the prepared baking sheet. Drizzle with the oil and sprinkle over the sea salt and put it in your oven on the top rack. Let it roast for 10 minutes, or until it is dark and crispy. It will smell like it is burning a little, this is ok!
Heat the oil in a non-stick frying pan over medium high heat. Season the skin of the salmon fillets with a little pinch of salt and pepper and put them in the pan, skin side down. Let them sear for 3 minutes, or until the skin has begun to get crispy.
Lower the heat in the oven to 320. Open the door and let the oven cool down for about 1 minute. Put the fish in the oven and let it finish by slowly baking, for about 5 more minutes. You want the salmon to reach an internal temperature of 140 degrees. It will flake easily and still look very moist when it is done.
Serve the salmon with the pesto over top and the broccoli on the side. Sprinkle a few sunflower seeds and dill sprigs over top, if you'd like.
Kristen Stevens
Kristen is a Vancouver based chef, recipe developer and founder of The Endless Meal. She's passionate about creating and sharing healthy, whole-food recipes made from local and in-season ingredients. She's also the owner of a small underground restaurant where she gets to cook and share her food with local foodies every weekend. Her favourite things are her camera, bourbon sours, sailing the waters of BC's beautiful coast and anything super spicy.