PARTNER POST: Discover how delicious dairy-free sweet and savory cooking can be with DREAM Ultimate Almond.
Make a special salad topped with spiced salmon and a creamy herb dressing made with a deliciously nutty almond beverage instead of dairy.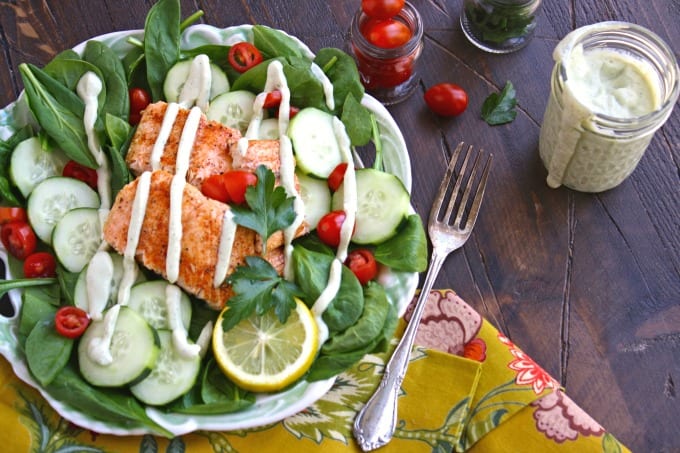 Salmon always makes mealtime special. It's so versatile and easy to make, whether you grill it, cook it on the stovetop, or even bake it. I love salmon in salads, which is why I tossed together Spinach & Salmon Salad with Creamy Dairy-Free Herbed Dressing. You'll find great flavor in each bite of this dish, from the top down to the bottom.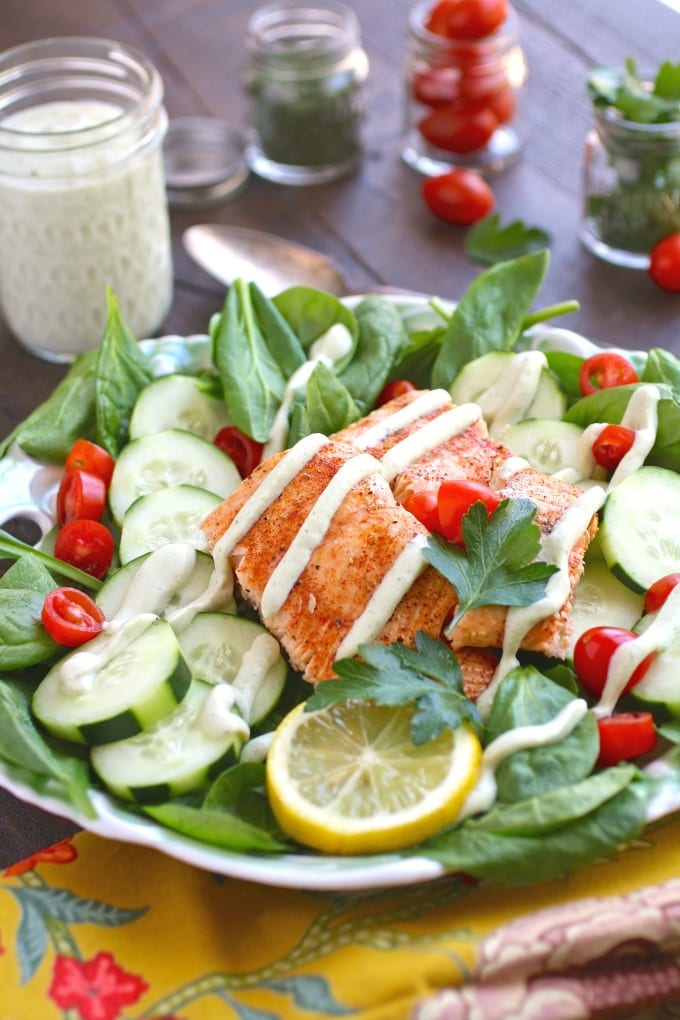 I absolutely adore homemade salad dressing, and for good reason: I know all the ingredients that go into making the dressing; homemade dressings are fresh, flavorful, and easy to make; and there are no half-empty bottles lingering around in your fridge. Do you have that problem, too? Ugh! Those bottles take up precious shelf space!
My Spinach & Salmon Salad with Creamy Dairy-Free Herbed Dressing was a winner for dinner, and I can tell you the dressing is a new favorite with its herbs and creaminess! I used DREAM Ultimate Almond to make this rich, dairy-free dressing, blending it up with tofu, fresh and dried herbs, and of course garlic!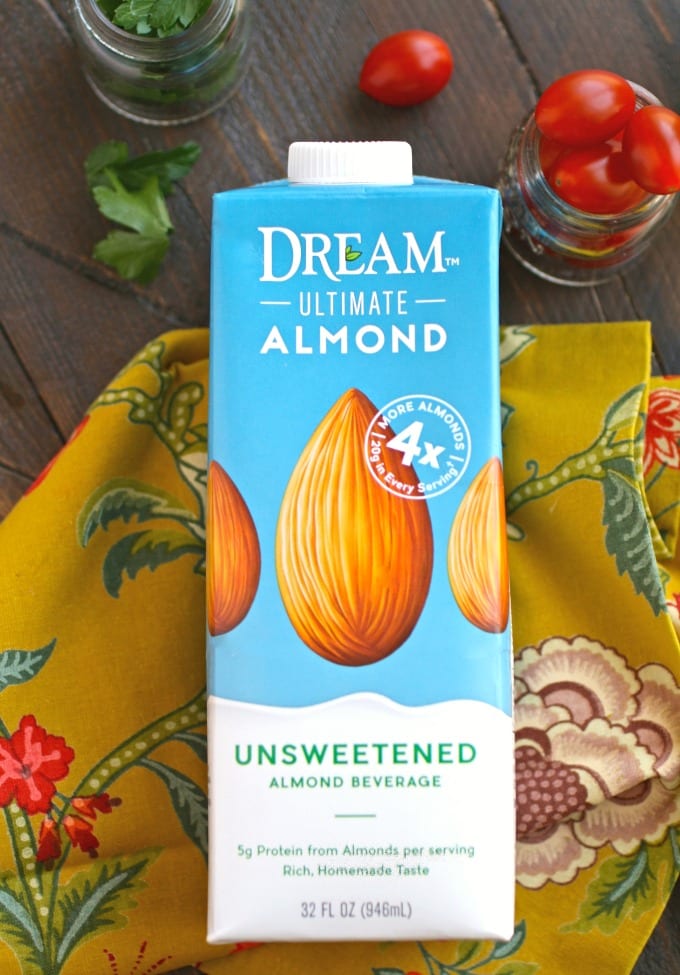 DREAM Ultimate Almond includes 20 grams of real California almonds per serving, and 5 grams of plant-based protein from almonds in each serving. On top of all those good-for-you benefits, it's really creamy, and that makes it perfect to use in Creamy Dairy-Free Herbed Dressing.
The new DREAM Ultimate Almond beverage can be found now at Whole Foods and soon at your local Sprouts. Click here for a coupon.
See Also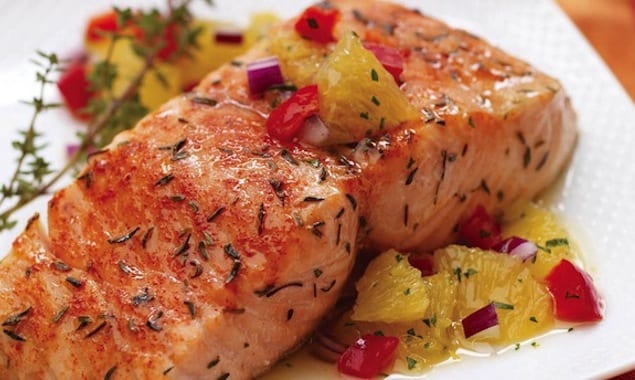 For more inspiration, check out this turmeric smoothie bowl:



d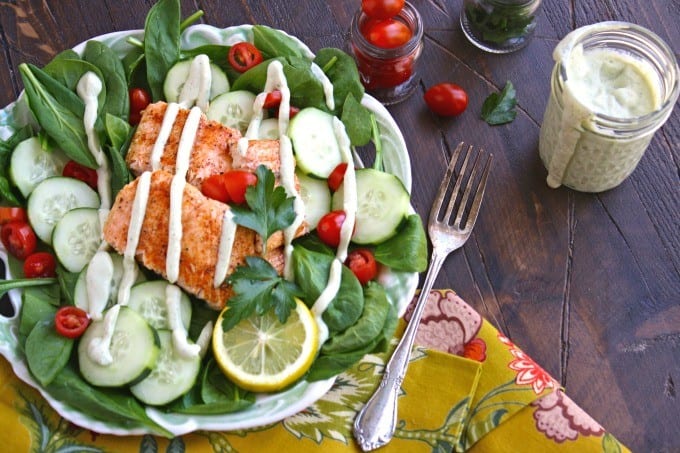 Patricia Conte
Ingredients
For the salad
1

6-ounce salmon fillet (or 2, 4-ounce fillets)

4

cups

fresh spinach leaves

1

cucumber

cut into rounds

1

cup

cherry tomatoes

cut in half

2

tablespoons

butter

1/2

teaspoon

salt

1/4

teaspoon

ground black pepper

1/4

teaspoon

paprika

2

lemon slices for garnish
For the dressing
8

ounces

plain tofu

1/4

cup

DREAM Ultimate Almond

unsweetened - extra as needed to thin the dressing

3

tablespoons

diced white onion

2

garlic cloves

1

tablespoon

lemon juice

1

tablespoon

fresh parsley

1/2

teaspoon

dried dill

1/2

teaspoon

salt

1/4

teaspoon

ground black pepper

1/8

teaspoon

dried thyme
Instructions
For the dressing
Add the ingredients to a blender or food processor and blend until smooth. Taste and adjust the seasoning as needed. Add a bit more almond milk to make the dressing thinner, if needed.

Refrigerate until ready to use, and stir before serving.
For the salad
Preheat the oven to 400 degrees F. Season the skinless side of the salmon with the salt, black pepper, and paprika.

Add the butter to an ovenproof skillet over high heat. When hot, add the salmon, skin side down. Cook for 3 minutes.

Transfer the skillet to the oven and cook for 8-10 minutes, or until cooked through.

Remove from the oven and allow the salmon to cool slightly.

Carefully separate the salmon from the skin, and cut it into 2-3 large pieces. Set aside.

Arrange the spinach on a large plate, add the salmon pieces to the top and garnish with the cucumbers and tomatoes.

Drizzle with the dressing, garnish with lemon slices, and serve immediately.

Refrigerate any unused dressing immediately and use within several days.
Patricia Conte
Patricia Conte is the writer, recipe developer, and photographer behind Grab a Plate. She credits her love of cooking, baking, and entertaining to her Italian immigrant family who is also passionate about all things food! Visit her at Grab a Plate where she shares her love of food, recipes, and bites in between. Follow Patricia on Twitter, Facebook, and Instagram.