Salmon with Spicy Strawberry Salsa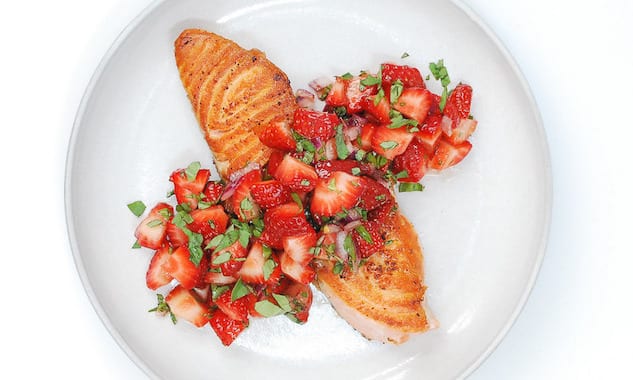 Seared salmon is topped with a bright, bold strawberry salsa that also makes a beautiful dip for summer snacks.
By Laney Schwartz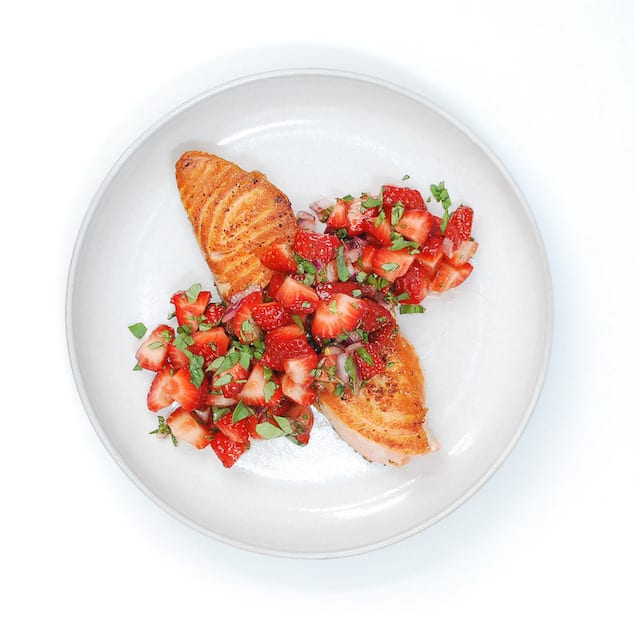 I'm loving the freshness of this dish. Bright bold colors make for bright bold flavors.
Strawberries and salmon? Who knew?! Now you know.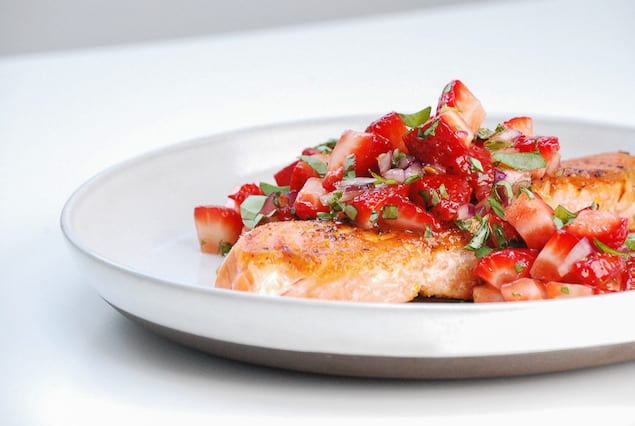 Technically I could eat this strawberry salsa with a spoon and be perfectly happy. Or with a bag of chips. It's perfect for summer and so easy to make.
But topping off this seared salmon with it, makes the perfect light summery meal. I promise you can do it.

Salmon with Spicy Strawberry Salsa
Seared salmon is topped with a bright, bold strawberry salsa that also makes a beautiful dip for summer snacks.
Recipe Type:
Main, Seafood
Ingredients
1 pound salmon
¼ cup olive oil, plus 1 tablespoon for cooking
¼ teaspoon salt
¾ teaspoon garlic powder
½ teaspoon lemon zest
½ teaspoon orange zest
1 cup diced strawberries
2 tablespoons small diced red onion
1½ teaspoons olive oil
1½ teaspoons honey
¼ teaspoons red pepper flakes
1 tablespoon chopped basil
Squeeze of fresh lemon juice
Instructions
In a small baking dish marinate the salmon in ¼ cup olive oil, salt, garlic powder, lemon zest, and orange zest for at least 30 minutes. Set aside.
While the salmon is marinating, make the salsa. In a bowl, combine the strawberries, red onion, olive oil, honey, red pepper flakes, basil and lemon juice. Stir until the strawberries are well coated. Set aside.
In a large non-stick skillet heat 1 tablespoon of olive oil over medium/high heat. Cook the salmon 4-6 minutes of each side. Serve with strawberry salsa on top!
Laney Schwartz
Laney spends her time being a home cook, mom, wife, workout junkie, and ultra crazy food lover.