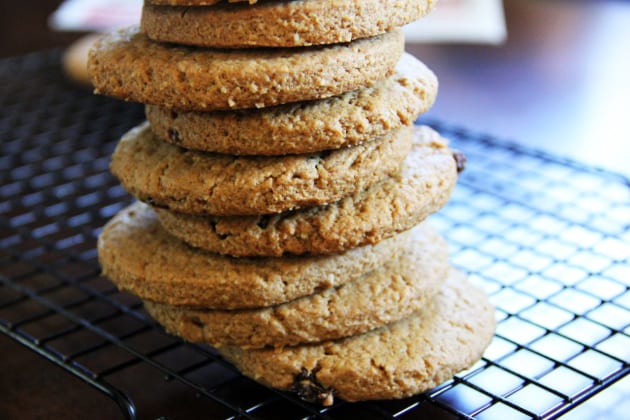 Oatmeal cookies can be divisive, but if you're a fan of these crunchy cookies try this vegan version which is great dipped in milk or even acting as a cracker to a spreadable cheese.
By Yuliya Childers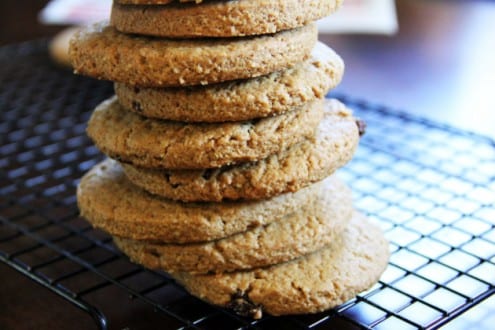 Russian Oatmeal Cookies
Oatmeal cookies can be divisive, but if you're a fan of these crunchy cookies try this vegan version which is great dipped in milk or even acting as a cracker to a spreadable cheese.
Ingredients
20 g (2-1/2 Tbsp) dark seedless raisins (currants), roughly chopped
198 g (scant 1 cup) coconut oil (margarine in the original version)
295 g (1-1/2 cup) sugar
8.5 (1-1/2 Tbsp) g ground cinnamon
1 tsp vanilla extract
34 g (3-1/2 Tbsp) molasses or dark corn syrup
170 g (1 cup + 1 Tbsp) oatmeal flour
75-118 ml hot water
5 g (1 tsp) salt
4 g (1 tsp) baking soda
397 g (3 cups + 1 Tbsp) all-purpose flour
Instructions
Chop raisins with a knife or in a processor.
In a bowl, mix chopped raisins, coconut oil, sugar, cinnamon, vanilla, and molasses.
Dissolve soda and salt in hot water (it should be quite hot and barely touchable by hand), and add to the bowl.
Add oatmeal flour immediately and mix everything very well for at least 3-4 minutes, allowing oats to absorb as much liquid as possible.
Add the all-purpose flour and make the dough. Dough should be kneaded well to create soft, rich, slightly tacky mass, but not longer than 6 minutes.
Roll the dough out into a ⅜? thickness.
Using a cookie cutter or a glass, cut out the cookies of the desired diameter.
Re-roll scraps and cut again, until all the dough is used up.
Transfer cookies onto parchment lined baking sheet, leaving a bit of space in between. They will not expand too much, but ½? distance is desirable.
Bake in the oven preheated to 400°F for 12-15 minutes. Exact timing greatly depends on the cookie sheet quality and your individual oven properties. Cookies should be lightly browned and fully set.
Yuliya Childers
Yuliya Childers is a self-proclaimed cooking and writing addict born and raised in a cosmopolitan city of Odessa on the Black Sea coast. She started cooking at quite an early age and learned most of her skills by watching others and reading cook books. Made-from-scratch naturally grown food is her passion. Yuliya believes that truly good food either creates or invokes memories. Her blog Eat Already! is focused on everyday creative yet un-pretentious cooking that anyone with basic skill can replicate. Yuliya's recipes are usually accompanied by childhood memories or family stories related to the dish in some way. Her recipes are honest, eclectic, multi-cultural, imaginative, and often outside the box. Currently she's into artisan breads, traditional cooking, and everything fermented… Yuliya is cooking and writing about it from Alabama.