Try this decadent rosewater and pear cheesecake from Gabriella Iancu.
By Gabriela Iancu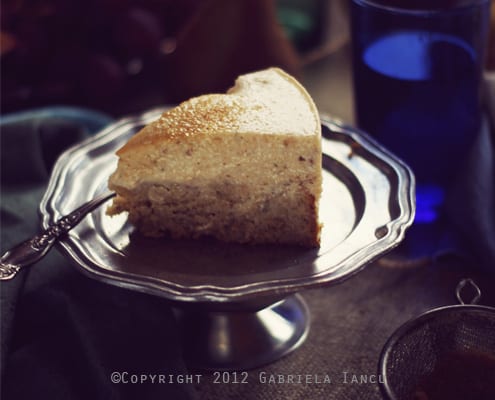 Cheesecake is a simple, yet very elegant dessert. I always preferred this dessert not baked, opting for a creamy mousse consistency of the cheese. In this version I played with texture and flavor using four type of flours for the cake bottom, making it thus more assertive and irresistible. I layered the healthy multigrain cake bottom with pear cream cheese infused with rosewater. An ultimate light dessert ready to seduce anyone.
Rosewater and Pear Cheesecake with Multigrain Bottom
Rosewater and Pear Cheesecake with Multigrain Bottom (cheesecake recipe adapted from Gourmet Traveller and multigrain cake adapted from The Sprouted Kitchen Cookbook)
Ingredients
Multigrain Cake Bottom (22cm spring-form pan):
3/3 cup (100ml) pouring cream
1 egg
4 tablespoons unsalted, melted butter
1 teaspoon vanilla extract
¾ cup (90g) whole flour
1⅕ cup (90g) oat flour
¾ cup (60g) almond flour
⅓ cup (40g) white flour
½ cup (100g) muscovado sugar
1 teaspoon baking soda
1 teaspoon baking powder
½ teaspoon salt
Rosewater and Pear Cheesecake (for 22cm spring-form pan) :
3 egg yolks
⅔ cup (120g) granulated sugar
1.14 oz (50ml) citrus juice (1 lemon and ½ grapefruit)
4 leaves gelatine, softened in cold water
1 cup (200ml) pouring cream
1 cup (200ml) ricotta
4 tablespoons rosewater
2 ripe pears, puree
Instructions
Multigrain Cake Bottom
In a large bowl, mix pouring cream, butter, egg and vanilla extract. In another blow sift remaining ingredients and gently stir them over the wet ingredients, mixing until combined. Let the mixture stand 5 minutes.
Preheat the oven to 356°F (180°C). Spray with vegetable oil a spring-form pan (22cm) and pour the batter in it. Bake for 20-30 minutes or until a tooth pick inserted into a muffin comes out clean. Remove the pan from oven and let it cool completely before removing the cake form the pan.
Rosewater and Pear Cheesecake
Whisk egg yolks in an electric mixer for 5 minutes or until pale and fluffy. Combine sugar and citrus juice in a small saucepan over medium-high heat and stir to dissolve, then bring to the boil and cook until syrup reaches 248°F (120°C) on a sugar thermometer. With motor running on high speed, add sugar syrup to egg yolks in a thin stream. Return saucepan to heat, squeeze excess water from gelatine and add to pan, stir until just melted then add to egg yolks and whisk until cold.
Notes
Please adjust the quantity of rosewater used in the cheesecake according to your taste and intensity of the rosewater you use. I used Bulgarian rosewater, which is very delicate, is not rosewater extract, therefore the flavor is not that intense. The Turkish rosewater however could be more strong in flavor.
Gabriela Iancu
Romanian-born Gabriela Iancu is an IT professional and freelance food photographer based in Czech Republic. She is the author and photographer behind the food blog What Liberty Ate - raspberries and chocolate, a journal of photographic stories celebrating that freedom of speech that we sometimes lose. Gabriela is passionate about capturing the rustic, honest side of subjects - food and lifestyle likewise - producing conceptual stories with atmospheric-style. Her work has been featured on Decor8 and Design*Sponge and she is a regular monthly columnist food photographer and stylist for Millesime magazine, a leading Romanian magazine about culture and wine civilization. In 2011, she launched What Liberty Ate Magazine, an online project that aims to speak about and promote food photography around the world and lifestyle design projects.